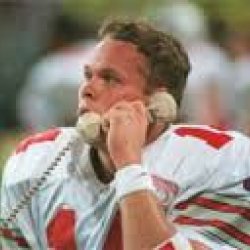 timhbomb
---
MEMBER SINCE May 24, 2012
Favorites
COLLEGE FOOTBALL PLAYER: Bobby Hoying
COLLEGE BASKETBALL PLAYER: Tom Hoying
NFL TEAM: Ross Homan
NHL TEAM: Adam Homan
MLB TEAM: Oakland A's
Recent Activity
Yep, sounds like a leader to me.
Yeah i live in norcal and have a free place to stay in Eugene.
They do a live online seat grab. So dont know yet.
Always think they should list the time and channel the game is on in these summaries.
Reddit streams work pretty well
red roof inn on olentangy charges 10 bucks. might be best to be on that side of town if you are heading to dublin after.
For me anxiety can be overwhelming. Made a New Years resolution to attack it from all angles. Exercise, diet, meditation and non traditional medicine in the form of CBD. Prior I would have rated my anxiety in the 8-9 range on a 10 point scale, now at the worst it is a 3 on bad days. I started a streching routine that I do everyday because I am a bit heavy and stiff all over. Now I can bend over and put both palms on the floor, it's made a huge difference for me.
attacking the off season with an enthusiasm unknown to mankind. at least he's good at something.
Shout his name into the wind.
But you won't see a moose if you're sitting on a plane.
I use Direct tv now streaming service. Still spendy but not as much as Xfinity was. Great sports packages.
Redroof inn off of Olentangy is 10 bucks. Hard to beat it...don't even need to stay there.

How much does Tate play in this game?
Feelings on the "fair catch" inside the 20 on kickoffs rule? Personally, I hate it and it takes all the strategy out of kick offs.
Good luck at TCU Joe!
Burrow transferring to TCU.
Just heard that he is going to be roomies with Austin Grandstaff.
Several questions, all phish related.
First show?
6/22/94 or 12/7/97, which do you prefer?
do you PT?
# of shows?
can you still have fun?
The Classic "Surrender Walrus"