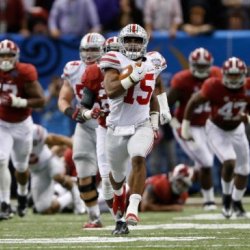 Tim
---
Columbus (via Cleveland)
Member since 30 August 2010 | Blog
Favorites
SPORTS MOMENT: OSU beating Miami for the National Championship
COLLEGE FOOTBALL PLAYER: Braxton Miller
COLLEGE BASKETBALL PLAYER: Current: Jae'Sean Tate
NFL TEAM: Browns
NHL TEAM: Blue Jackets
NBA TEAM: Cavs
MLB TEAM: Indians
Recent Activity
He could also be a small linebacker or a slow safety, so much versatility!
I wanted the Browns to take Hooker so badly. They still could have taken O.J. Howard or a lot of other highly regarded guys, but instead, they go with quantity over quality once again...
Upon hearing Curtis Samuel's 4.31 40 time, Tim Beck nodded to himself and thought, "yes, those countless swing passes behind the line of scrimmage were certainly the best way to use Curtis Samuel."
Another bad loss for a flawed team, but the refs should call fouls when the other team is trying to foul like the "jump ball" call.

Kam was fouled on our last inbound -- 23 grabbed his arm. And then they call an extremely weak call to give Nebraska the and-1...
This wouldn't have been so painful to watch if I didn't hate the Patriots, but refusing to run the ball in situations like these is such bad football. It's like offensive coordinators get bored with big leads and need to put their stamp on the game with a ton of passing yards or a long touchdown pass to "seal" the game.
Hurd is a beast, would be a huge addition if it works out.
Watching it live, I was worried Williams or Loving knocked the Nebraska defender down and they were going to call an offensive foul, but it was just a great cut and a great play. Go Bucks, .500 in the Big Ten here we come!
Two touchdowns on pick plays for Clemson. I could only root for the meteor in this game, but that's a pretty lame way to win.
This arrogance/laziness/whatever has driven me crazy for the last few years. Having confidence in your players is great, but purposely not disguising plays, formations, etc. is senseless. I think this attitude has also contributed to the excessive QB runs and the ball not being given to Hyde, Elliott, and Weber as much. Coaches have to be willing to adjust and use scheme to their advantage.
McMillan lived up to the massive expectations coming in as such a heralded recruit, and he sounds like a great teammate and leader. Definitely going to miss him next season, and I hope he has a great NFL career.
Watching Hooker was a lot of fun this year, good luck to him in the NFL!
You're right but after this, I'm just dreaming...
Is Darrell Hazell still available? Even though Tressel's offense didn't highlight receivers, at least his coaching staff seemed to develop a few better than what we've seen these last few years. Idk how to get a quarterback to regain his confidence or his ability to get rid of the ball though...
Dabo Swinney looks like a weasel.
I'm excited that we have a pass defense, unlike the last time we played Clemson.
Yep, this is what the college football playoff has become...
1. Alabama
2. Ohio State
3. Clemson
4. Washington
Non-conference games matter. Conference championships are not everything. Don't lose to Pitt.
Hopefully that prevents us from having to watch Vilma on any sort of regular basis going forward. Rants are fine if they make some sort of sense but that was so weak...
Hahahahaha Jonathan Vilma just said that Penn State should be in the playoff over Ohio State, still so salty from that title game...
I don't think a close, high-scoring win will convince the committee of anything, but who knows? The playoffs have only existed for two years, so while rewarding conferencing champions has been the precedent, we don't know what the committee really values. I think we're still in even if PSU wins.
Peppers seemed to love taunting the crowd (who can't control anything in the game) after his gift interception (apparently the only way he can intercept a pass), so it's not surprising that he can't accept losing (which he could actually control). I can't wait to hear about what a "passionate competitor" he is and how his intensity just got the best of him in that moment.
Harbaugh did a lot to put his team in position to lose (e.g. throwing deep on the first play out of their own endzone, committing an unsportsmanlike conduct penalty, continuing to run Peppers), but he's a Michigan man so of course he blames the refs.
I wonder if he's "bitterly disappointed" with himself for that tantrum.