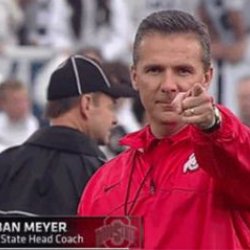 TicoVersion1
---
Member since 05 June 2012 | Blog
Favorites
COLLEGE BASKETBALL PLAYER: Scoonie Penn
NFL TEAM: Bengals
NHL TEAM: Blue Jackets
NBA TEAM: Cavaliers
MLB TEAM: Indians
SOCCER TEAM: Crew
Recent Activity
Great PSA, Ramzy. Stay safe out there kids!
I'm hoping this wasn't a Kevin Ware or Paul George type leg injury. Get well soon NB
I love that they got hacked just to post click bait.
"9 secret ways to beat OSU this fall, Buckeyes hate this guy!"
Clay Travis should be a #2 seed. He'll get smoked by Mark May but goddamn if I don't hate Clay with all the cells in my being.
I can think of one. I believe he "plays" quarterback for the Browns now. $$$$
What are the odds Cardale never leaves and takes his iron grasp on the Presidency?
With an enthusiasm previously unknown to mankind
I had a class with Parris last semester, really nice guy. I hope he breaks out this year
I almost passed out twice during the season. Both during Zeke's long TD runs against Wisconsin and Alabama. The screaming and jumping drained the blood from my head. I can only describe it as the greatest feeling ever.
I think you want "I wear Blue Jackets", but I'm going with "I want BJs"
The League, dude!
RAFFI BOMB!
Thank you, Birm. Great work as always
Might as well give it to him next week's honor right now. #0 is not going to stop
"The future is bright at Ohio State!"
Those were some Dank Memes, Bro.
I'd feel bad for Brady if it wasn't so hilariously spot on
Switch the black TV numbers to giant white ones so EZE can make his transformation into Eddie complete
Last year's game! My first away game, I was in the TTUN student section and all you could hear was me yelling when Powell picked off that 2 point conversion
This kid was destined to play defense. Mostly because if he played offense and fumbled we would call him Apple Turnover
I'm a senior at osu and this has got to be the best win we've had in my tenure.
Go Bucks, I love you all