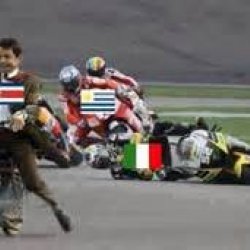 ticodillo
Iowa City, Iowa (via Columbus, Ohio )
Member since 18 January 2012 | Blog
Part American part Costa Rican Photographer/ Web Designer living in Iowa.
Favorites
SPORTS MOMENT: Being a Central American 11yr old and moving to Virginia and learning to love football.
COLLEGE FOOTBALL PLAYER: EL Guapo
NFL TEAM: Browns(only bcus they're frm ohio)
NHL TEAM: naah
NBA TEAM: Any one playing the Heat
MLB TEAM: double naah
SOCCER TEAM: Deportivo Saprissa, Real Madrid
Recent Activity
LOL ! Logged in just to hand you an upvote sir.
Glad you guys enjoyed it. I did think it was a bit on the long side of things, but it's always fun to get a glimpse into the day to day workings of our awesome Buckeyes.
Gee whiz! This sucks , it did seem like the injury was more from contact with Clay Thompson's knee than anything Kyrie did. Honestly though, this might be the kick in the pants the bench needs.
Go Cavs ! this is the #yearofohio
+1 so many good things about this play.
Really need the one where he flings the Ducks TE like a rag doll and tackles the rb in here. Just pure awesome, it was like
Look at Wisky #47 just trying so hard to catch The Teflon wizard , it's not gonna happen buddy, and even if you did you're not gonna bring him down.
I agree , no reason to give any bulletin board material to anyone, we already have a target on our backs being THE CHAMPIONS and all.
What he said later in the podcast was that they "couldn't have left FSU out because they were undefeated and part of a power 5 conf and the former National Champs" , don't know how much water this holds when they win every game by the skin of their teeth, but yeah.
My question for the committee is does TCU beat Minny in these conditions, in Minnesota?
My thoughts exactly , a baptism by fire of sorts. Hopefully the guys will have a better understanding of what's coming in East Lansing.
3rd down and Wilson is at the wildcat. "wonder what they're gonna do?"
Ha ha Joey Bosa makes the Penn State player Buttsack his QB !
Is it roughing the passer if you don't even touch him ?¯
Ha Oops maybe I shouldn't be posting after a game like this. ¯\_(ツ)_/¯ at lest we winned!
Brent, God only gives good gifts, so technically we ARE God's gift to college football. Step off the ledge buddy I know this loss hurts , but the potential is there and like Beau Bishop said this is a look in the mirror type of game,it will make us better. I mean ... can you imagine being scum,or Iowa , or any one else? Just thank your lucky stars we are Buckeyes.
Our D actually looked pretty darn awesome, set up numerous opportunities that were squandered by the bumbling clown show of an offense. 2 ints a fumble a couple 3 and outs , this loss lay at the feet of the offense.
If I'm not mistaken Messi also needed some sort of thyroid treatment that no soccer teams in Argentina wanted to pay for and almost ended up playing for Spain instead of Arg for that.
Forgot the biggest one! He plays for TOSU, and that is already a negative in the eyes of the people of other unwashed, butthurt masses of the other lesser schools.
Ha ha ! They can play what my 4 yr old plays, " hug football".
dude watch the video Wilson is getting held by our guy (to get him out ) and he was punched by multiple wolverdorks. this is outrageous !!
dude was totally _ugged by 6 wolverdorks