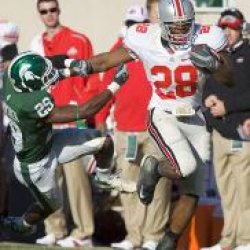 thunderhawks51
---
Cincinnati, OH (via Cincinnati, OH)
MEMBER SINCE February 01, 2011
Favorites
SPORTS MOMENT: Witnessing, in person, OSU win THE GAME in 06
COLLEGE FOOTBALL PLAYER: Troy Smith
COLLEGE BASKETBALL PLAYER: David Lighty
NFL TEAM: Colts
NHL TEAM: Blue Jackets
NBA TEAM: Pacers
MLB TEAM: Reds
SOCCER TEAM: USMNT
Recent Activity
What caused Cox to leave Georgia?
Calling that a game is a stretch. That was pure dominance
Which also begs the question, why the hell is that game at night?
Does anyone know when they will announce the kickoff time for our game against Nebraska?
All of the above. Minnesota stuck out more to me because that's all they ran the whole game. Purdue and Maryland had a little more diversity in the play calling
They probably watched our film against Minnesota and saw how much we struggled to stop it. Hopefully our new defensive staff has already addressed that issue
I would go with Dick LeBeau as my DC, let Fickell and Vrabel fight for the HC position, and make the loser coach DL or LB
Also I believe some of the Hamilton write up from yesterday was accidentally left in today's article in the state championship section. Love these articles too! I look forward to them everyday.
You're correct. However, there's a footnote at the bottom that says this is based off of information made available this year. They're a private school so they don't have to disclose it.
An interesting piece of trivia about Portsmouth is that the Detroit Lions were originally the Portsmouth Spartans.
I know at least one of the forfeited games came against a playoff team, Lakota East. Also having coached and taught high schoolers for nearly a decade, I can almost guarantee they lost some down the stretch they shouldn't have once the season was torpedoed by the forfeits. The sad part is, from everything I've heard, it was neither the players or coaches fault.
Actually they were pretty damn good. They had to forfeit a bunch of games because their AD messed up the eligibility for a lot of kids, football and other sports.
Maybe it was more than just his attitude behind the reasons Day didn't fight to keep him around.
I would say UCLA (used to be relevant but are a shell of a program now that only points to past success) but that's not fair to the Bruins
I think Kentucky is the better comparison. Ohio State football and Kentucky basketball recently have been known more for their draft/professional success than national championships, but they're always right there.
Not a browns fan but I like the move because it hopefully gives Haskins a better line in New York
I recall a thread that asked everyone what they expected from the Urban Meyer era when he was first hired. You were not in the minority by expecting multiple championships.
"if there was any Band-Aid to the bruise"
Just another example of why they're so soft up there. You should stop putting Band-Aids on bruises after the age of 3.
Try Google. Dude is a hall of famer.
I love the cowboy. Sometimes he's a little too campy but his analysis is spot on.
Ms. Universe settled for a minor league baseball player?!
I still have a piece of the turf from the very last game played on grass (The Game '06) in my freezer.
My freshman year at OSU I went to get off the elevator at Steeb Hall to pick up my pizza outside when some short dude cut me off, nearly tripped me, and then proceeded to act like I wasn't even there. I was really tempted to say something but decided it wasn't worth it. Man I was glad I kept my composure when the same dude got to the pizza delivery guy and told him he needed his pizza for Lance Palmer.
In 2010 my Dad and I drove 32 hours one way to LA to watch us beat Oregon in the Rose Bowl. Flights to LA were astronomical around the holidays. We saw some crazy things on the road, and I'm pretty sure we nearly died a couple times while driving through a nasty snowstorm. However, the trip was a great experience and great bonding with my dad.