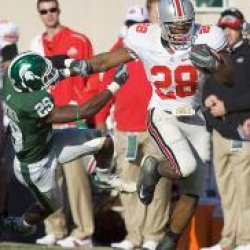 thunderhawks51
---
Cincinnati, OH (via Cincinnati, OH)
Member since 01 February 2011 | Blog
Favorites
SPORTS MOMENT: Witnessing, in person, OSU win THE GAME in 06
COLLEGE FOOTBALL PLAYER: Troy Smith
COLLEGE BASKETBALL PLAYER: David Lighty
NFL TEAM: Colts
NHL TEAM: Blue Jackets
NBA TEAM: Pacers
MLB TEAM: Reds
SOCCER TEAM: USMNT
Recent Activity
Oh ok. Yeah I skipped the video. Thanks.
Did I miss the part where it said it was drug related or is that just the writing on the wall?
Harlon is a product of Princeton High School in Cincinnati. I've had the pleasure of meeting him and talking football before, and he is a fantastic person. Even though I can't stand FSU, I wish him all the best.
I know it doesn't matter for this season at this point. However, with the selection committee analysing strength of schedule and looking at the wins and losses of opponents, it doesn't hurt our resume to win in a more successful conference. Look at USC this year. They had a somewhat similar resume to ours but weren't even in the conversation because their conference is deemed inferior. I know the solution is to win them all and not worry about it but that rarely happens anymore.
We made fun of the scouting reports that said he couldn't cook but the meat of the criticism was his immaturity and lack of Independence. I guess they were right. Hopefully he gets it all figured out and turned around.
I'd have to dig up the article but I recall seeing one saying that he was voted as one of the most feared pass rushers by his peers
Considering he is one of the top pass rushers currently in the NFL, I don't think it's considered romanticizing. His numbers are low because his time was short. Doesn't mean he wasn't a beast.
Both. We were in final consideration for both and lost to both.
Who would you rather have there, Saban or Dabo? Sentiment is he'll make a homecoming.
Have you had Skyline since your initial introduction? If so, how long ago?
Go read the specifics of what he did and you'll see he hasn't done nearly enough to pay for what he did. The guy is a sociopath.
I agree that he's a piece of shit but i wouldn't wish that on him only because that would imply there were still dogfighting rings in existence.
There's no doubt that he was an amazing athlete. If you read the specific things he did, you'll see they're borderline sociopathic. A man like that should not be celebrated. Art Schlichter isn't going into our Hall of Fame because of what he's done, and those aren't nearly as bad as Vick's transgressions. I don't mean to imply you think Vick should be celebrated, because I don't think you do. I just wanted to reply to your comment because it was relevant to the topic.
Interesting article. If you would have made me rank them just from casual observation, I probably would have picked that same order.
At this point, I don't think we should wait around for Goodwin. If there is someone comparable that wants to get in the fold, sign 'em up!
I was also shocked to see how far he has dropped in the rankings.
What an awesome picture! It's so cool to sift through it and pick out all the faces. Man I miss those guys.
I've said it before and I'll say it again. Dobbins is going to be special.
The rim trail is by far the best! Love those views!
That may have made this timing a little better, but I really think it came down, like they stated in the press conference, to waiting for the recruiting battles to play out.
Can someone let this Android owner in on the response?
Any information as to why his is only a one year deal when everyone else received 2?
I wonder if Wisconsin receiving a commitment from St. X's (Cincinnati) QB this month has anything to do with their actions.
That kid is already cooler than I've ever been.
Since last year's all Star break, they've been a winning team. People can moan and groan and say the wheels will fall off, but this is a brand new crop of talent. These kids are too young to know they're supposed to start sucking. Enjoy the moment. I'm not saying they're going to maintain this trajectory, but they have the potential to stay above .500 and do some damage.