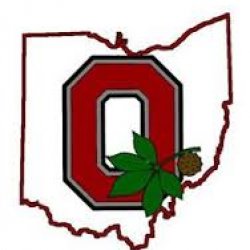 thowen79
---
MEMBER SINCE August 23, 2012
Favorites
COLLEGE FOOTBALL PLAYER: Braxton Miller
NHL TEAM: Columbus Blue Jackets
SOCCER TEAM: Columbus Crew
Recent Activity
Spoke too soon
Bucks are choking big-time.... they have lost the Championship halfway through this session. Saturday doesn't even matter anymore other than for Snyder
This clip should be played on a loop at the WHAC anytime a recruit is in the building. Let them know that if they come to THE Ohio State University, LeBron will become their biggest fan.
I agree with everything you said except the player was never in the offside position to begin with. If you look again she is, at worst, directly even with the defender when the ball is passed. And if you look at the assistant ref they are out of position and trailing the play by several yards, even after taking the camera angle into account.
These are two different things. Men won the Capital One Cup. This is talking about the Director's Cup.
Great job getting the win but they did not play well. WAY too many turnovers. Hopefully they can clean things up for Duke. Let's go Bucks!!
Nice! This team will be dangerous in the championships​.
PSU with 2 goals to start the 2nd half, Bucks need to clean things up or this could get ugly quick
His first takedown attempt in that 3rd period was that last one with 10 seconds left. Bo attempted 7 takedowns after he escaped. I agree, horrible officiating.
I must be missing something...I always thought Zeke was eating his invisible Wheaties.
The OSU hat is a darker gray than the rest, which means he must've picked it out specifically...Can only mean one thing...
Seems like we heard this before, like maybe after the Penn St game
Why does it matter, they both should be fired IMMEDIATELY.
At least he's trying, which is more than you can say about our play calling.
Good Offensive coordinators call certain plays to set up for plays later in the game. I don't see ANYTHING even resembling that from ours.
Offensive coaching staff needs an overhaul
No sarcasm and I understand what you're saying, but it's not like they'd be riding in some old piece of crap church bus crammed in two to a seat. Maybe it might be a better option than risking a night in a crappy hotel where opposing fans could keep them awake all night.
Can someone explain to me why they even need to stay overnight? It's only a 5 hour trip, they could leave at 8 am stop for lunch and still get there 5 hours before game time.
I love soccer and like others have said, it's that and Ohio State athletics. I have my 8 and 6 year old playing in the local soccer organization, both of them playing up an age group. I would love to be able to take them to a USMNT sometime.
My wife was speaking with another one of the soccer moms from my daughter's team, her husband is a cop and said that there have been 3 arrested in the last couple weeks in the Clermont county area(east of Cincinnati.) From what was said, it's apparent that these people are not just "messing around" and are definitely up to bad things. This is something everyone should at least take a few minutes to talk to their kids about how to respond if they encounter one of these clowns. Also had a guy I work with show me a text he got from his partner saying she just found out that the elementary school evacuated the playground yesterday after someone saw a clown nearby.
Yeah, there's definitely some stress involved, we've at least had a couple months notice. Haha, we filled a dumpster to the brim already and there's still some junk we need to get rid of. We're having trouble selling our house but hopefully that changes soon since we're planning on moving in 3 weeks. Good luck with everything.
This is incredibly creepy bro, I am in the process of this very thing right now. Moving to Milford for my wife's job in Batavia. Have a son on the autism spectrum who will also be heading to first grade. Pretty much lived my whole life in a small town in NW Ohio. We decided to rent a house, maybe save some money for a year to buy something closer to what our dream home would be.
Yes
There really is no way to pick just one, but I'll choose Mike Doss- you could tell that guy loved playing for and representing Ohio State and came back his senior year to bring us a NC! Others on the list: Braxton, John Simon and about 20 others.
I would like someone to explain how they can believe that men who were amatuer pilots and had absolutely no training in flying commercial airliners were able to fly one so perfectly (on the first try no less) into the side of the Pentagon, that it neither hit the ground BEFORE hitting the Pentagon, but it also didn't hit the roof causing the jet to break apart before exploding in a huge fireball, thus leaving clear and obvious debris. Does anyone really believe that a 44 ft tall jet with a 125 ft wing span could completely dissapear into a 16ft wide hole??