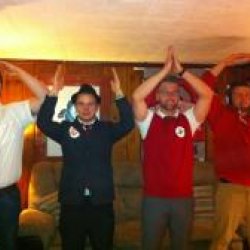 Thomas
---
Member since 02 January 2014 | Blog
Favorites
SPORTS MOMENT: Every saturday in the fall. Minus 2011, that is a black hole in my memory.
NFL TEAM: mmmffff the browns....
Recent Activity
JT is the truth, dude is a stud.
Vols add the 2 point conversion to make it a 3 point game.
Wisky looks like ass today.
What the hell is happening here?
Cancer just sucks. Prayers go out to him and his family, sad day for sure.
Well that didn't take long.
It hurts so much more knowing its the truth..
Great news! I did not see that coming.
Wish the man all the best.
I'm trying to figure out why he isn't in jail, let alone being suspended from the NFL for two games. Two games is an absolute joke.
I'm damn happy for him, but son of a bitch, I wish he was still in a scarlet and grey jersey...
Were 1- 3 in the last four games. If we they don't get things together they could get beat by Cincy. Just venting, I'm still angry...
The Browns in a nutshell.
Leaving us in front of VT is a slap in there face and proof that the polls are garbage. I love my Buckeyes but, that doesn't make much sense.
I agree, would have been nice to see him get a few handoffs. So much about last night just doesn't make any sense.
When he was in Florida his offense was revolutionary. Now everybody is running this offense and defenses are built to stop it. It's time to evolve this offense. I wouldn't mind seeing a little under center once in a while. Is that to much to ask?
That was painful. Always going to support the team though. Bad day for the Big ten thats for sure.
Watching this team sometimes is like slamming your nuts in a car door.
I'm so glad we can hit our free throws....
The first two min. have been this season in a nutshell.
This is getting brutal to watch.
Sometimes I tend to scroll through the skully's, today was different. This is gold, great job DJ!
Dude from NW threw a punch he's gone too.
just able to get here, can't believe the score, somethings never change.