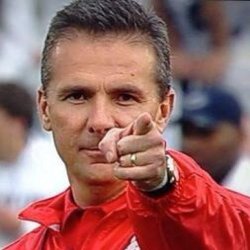 TheVictoryBell
---
MEMBER SINCE January 06, 2014
Ohio State football and basketball junkie!
Favorites
SPORTS MOMENT: Will Allen INT in the 2002 tun game to send the Buckeyes to the national title.
COLLEGE FOOTBALL PLAYER: Mike Doss
COLLEGE BASKETBALL PLAYER: Aaron Craft
MLB TEAM: Pittsburgh Pirates
Recent Activity
The guards were really impressive in this game! Duane Washington set the tone early when he nailed 3 straight 3's. Great energy in the Schott. This was a huge win for the program. Let's keep it rolling!
This team is tough to beat when Muhammad and Washington are hitting 3's.
What a fucking start!! Duane Washington came to win baby!!
We need scoring from the 2 guard posistion. Muhammad, Duane Washington or Carton if he's on the floor with CJ Walker. I think Carton needs to play more regardless. The crowd needs to be a factor too, but I'm not optimistic about that.
We need a home court advantage to beat a top 10 Villanova Wednesday night! If you can, get out to the Schott and root this team to victory!
Not ideal but Chase Young was only going to play a half of football the next two weeks anyway. He'll be fully reinstated in time for the Penn State game. All eyes will be on him and he'll have a massive game.
Big key for this team moving forward will be the 2 guard position. Luther Muhammad and Duane Washington need to score for this team.
Great win to kick off the season! The offense got going in the second half to the tune of 45 points. Good adjustments at halftime. 1-0!
Let's blow this game open now! Don't let them get back in it.
Good start to the second half. Keep bringing the energy!
Awful first half offensively. Couldn't shoot from 3, couldn't make free throws.
This team better come out firing to start the second half. Can't get down anymore.
Ok game on now. Let's forget the first 8 minutes of this game ever happened.
Not surprised we haven't scored yet. We rolled out a starting lineup that can't score. There's one guy that can score in the starting lineup.
Year 3 of the Holtmann era! I think this team exceeds expectations. Let's get it started tonight!
Hopefully the home crowd provides some energy.
Big game to start the season! Need the Schott rocking tonight!
I can't wait for the opener at the Schott! Big game against the Bearcats.
I think this is a good move by the NCAA. Ever since Tatgate the NCAA's rules have been exposed as being ridiculously antiquated. You'll see a lot more guys staying for their senior seasons now too.
As long as it doesn't turn into a pay for play situation then this is a great move.
We won't know if Minnesota is for real until their game against Penn State in two weeks. That will be their first test. They played Group of 5 & FCS teams in the non conference and struggled to win those games, then they had a bye before B1G play and they've been blowing the doors off the bottom feeders in the Big10. Credit to them for beating everybody in front of them. Fleck has done a good job up there. I'm interested to see what they look like against Penn St.
It was awesome to see Hilliard flying around out there. Glad he stuck with it! That's an awesome quote from Ryan Day too.
Huge scoring drive before before halftime. Defense is playing great. True Silver Bullet mentality. Justin Fields has settled in.
Let's see if the second quarter magic can continue.
I love Chase Young. He is the face of the resurgence of the Silver Bullets.
If J.K Dobbins can outshine Jonathon Taylor next week he'll start getting some Heisman love. He's been awesome this year.
The team did exactly what you should do against a team like Northwestern and that's totally dominate.