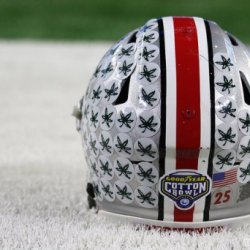 thesweatervest1
---
The Ohio State University
MEMBER SINCE October 12, 2017
Student at THE Ohio State University. Former Varsity Athlete. Class of 2019.

Born and raised in Old Columbus Town.
Favorites
COLLEGE FOOTBALL PLAYER: Joe Thomas Barrett IV
NFL TEAM: Indianapolis Colts
NHL TEAM: Columbus Blue Jackets
NBA TEAM: Cleveland Cavaliers
MLB TEAM: Cleveland Indians
SOCCER TEAM: FC Bayern München
Recent Activity
ZERO! ESPN is garbage nowadays!
The GOAT will be the first player to return a kickoff since Jordan Hall against TTUN in 2010
As a current student I'll second David's opinion. Plus if OSU really wants more students at basketball games they should charge far less than $150 for basketball tickets and run shuttles for every home game from the dorms. Transportation is the main reason I don't get to as many home games as I would like and I think many other students would agree. Factor in that this team wasn't supposed to be good at all then it's not very surprising that students don't go to games. If the price was lower and there was easy transportation to the game I would definitely go to more games.
I assumed it was at time played, my b
I'm not sure how accurate this list is considering Troy Smith's win against TTUN in the Game of the Century and JT's win over Wisky this year are listed as top 10 wins but not top 5. So it misleads you to believe JT is the only one with a top 5 win.
I was only 5 at the time but it's one of my earliest memories. My parents were at the game and I was home with grandparents and little brother. I had the flu or some awful thing where I was vomiting almost all night. I remember puking over the toliet asking my grandparents the only thing that mattered, "Did we win?"
I'm 20, almost 21, so I completely understand what you're saying and where you're coming from. However, I simply disagree. I hate TTUN more than anything. I root for them to lose every game and for them to be terrible every year. Whether we beat them every year for the rest of my life and lose games to other teams, I will still hate them. I've heard about and seen way too many horror stories about the 90s and TTUN glory days in the early 1900s (lol) for me not to hate them. It's all about the tradition of the greatest rivalry in all of sport. The Game will always be more important to me than any other game. This year especially since they could go 4-0 during my time at Ohio State. Either way this forum had guts so props to you!
Might as well hang a SEC west and SEC champion banner too. Go Knights!!
This is the most underrated topic that no one is talking about. Every team should play 9 conference games. Make it universal.
JT is the greatest Ohio State QB in my lifetime and I will argue he is the GOAT until I see another. As for Monday night, it's nothing more than the first day of classes and another excuse to drink. I will not be watching.
I have 2 tickets but do not know the section because I can't pick them up until 4pm CT tomorrow at will call. I'm only looking to get $75 each for them. I'll email you as well! Go Bucks!
I'd bet the rent on Ohio State covering the 7 point spread and winning this game by 14.
Just got my Student tickets today. Not expecting as many students to make the trip as there was in Indy last weekend but I'm excited to see Texas and Beat USC for the first time!
Just found out last night that I will be attending the Cotton Bowl on the 29th and it was the only thing that could make me forget about what happened on Sunday at noon. As a kid, I was in the Shoe in 2009 when Matt Barkley turned into a superhero and led USC to victory. I was devasted but beating the Trojans for the first time since '73 and seeing JT's last game in Texas will be an incredible experience!
Let's all hope the 2018 season, my senior year and thus my last as an undergrad at THE Ohio State University, brings home a natty!! My class missed the 2014 title by one year. Being a born and raised Buckeye, winning a title my senior year would mean everything and we should be damn good!
The only ESPN game I will be watching is when the Buckeyes play. Other than that, I may watch the other 6 or so games on CBS and FOX networks. Just think of that, 6 of 41 games are on non ESPN networks. It's time for FOX or CBS to step up when the contract is up. ESPN has been tanking for some time now so it's time to give them the the final push. Their clear SEC bias and influence on the CFP and Heisman finalists has gone on far too long. It's all a joke!
I will be watching the Buckeyes on the 29th and that's it. The semifinal games wont even be close. Clemson and OU will wipe the floor with both SEC teams. I thought we were done with the SEC bias after all year the B1G was talked about as the best conference but then we don't get in the playoff? The committee is a joke.
"that final loss coming against the No. 7 team Auburn and a very competitive game" Did Hocutt even watch the game?? It was over from the first snap. Auburn DOMINATED Bama in all phases of the game.
I will not be watching the CFP as well. The big ten champion has gotten snubbed now two years in a row (both coming out of the toughest division in all of the FBS btw). The committee has shown it is a complete joke. Clemson and OU will house both SEC teams and the Buckeyes will house USC. Bet the rent.
Can't wait to be there Saturday! Section 406 Go Bucks!
This is my first time going to the B1GCG or Lucas Oil. Are there metal detectors going into the stadium? I don't want to risk getting my 11W flask confiscated! Also, we obviously need to win convincingly but by how much do we need to win by to get into the playoff? I think we're in as long as it's a 7 or 10 point convincing win (not on a last second field goal). Can't wait to experience it, GO BUCKS!
16-5 born in 1997. I only remember the 2004 and 2011 loss!
4 is the perfect number whether or not you use the CFP, BCS, or this formula as long as you get the 4 best teams (or all of the conference champions excluding one). Those who want 8 teams how do you expect the student athletes to carry over into the second semester? The national championship is already played in the first 1 or 2 weeks of classes for most schools. We have to remember that college is an amateur sport, and the integrity of it must be protected in my opinion. Without decreasing the number of regular season games I don't see how an 8 team playoff would work because it would be simply too many games for the college level. With 8 teams it also becomes too much like the NCAA Basketball Tournament in which the hottest team wins and not necessarily the best team. I think 4 teams is the perfect idea and I enjoy all of the debate that comes with it. In order for the 8 team playoff to work I think the regular season games would certainly need to be reduced. Agree or not this is a great post!
Which is more salad? Fruit salad or pasta salad?