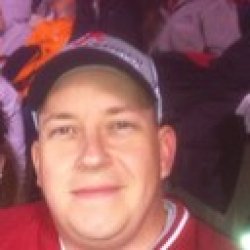 TheSweaterVest
---
MEMBER SINCE November 24, 2010
Favorites
SPORTS MOMENT: Boston from Germaine
COLLEGE FOOTBALL PLAYER: Keith Byars
COLLEGE BASKETBALL PLAYER: Carter Scott
MLB TEAM: Reds
Recent Activity
I enjoyed this game-ending layup attempt by Craft much more than the last one.
If it's analogous to McDermott in basketball, you're looking at Marvin Lewis, Lovie Smith, Mike Stoops, and for out of coaching maybe Gene Chizik.

The 98 game was pretty similar but was a little closer because Paterno-Sandusky University had Lavar Arrington.
Grouchy old man says, again, 1979!!!! Voted for 2006 mostly to vote against 2016, which isn't in Top 10 historically, even though it's number one for oppposition coach whining.
Yeah, can we listen to the UM radio team on the play-by-play of the kick again? Classic.
Hmm, let's see. 2016 with a chance to get blown out by Clemson and claim 2nd in the division.
Or, 1979 with a chance to go to Pasadena and play USC for the MNC. But you have to take your first-year coach and play Bo in Ann Arbor, knowing tOSU had scored only 3 field goals in the previous 3 years against them.
Yeah, I don't think it's close. I'm going with the blocked punt and the late Todd Bell.
Coop and Tress also lived in UA; not as modestly as Coach Hayes. So did Buckeye Olympic gold medalist Bill Hosket. Maybe Troy Smith too.
And this one just squeaks in.
Cardale being there on the big screen makes me think of JFF. Not in a good way.
That 83 game I believe was the game when we learned no two Ducks, and as we later saw, no two other guys- could take down Keith Byars.
You guys are awfully hard on the interim Alabama provost. Or he might be dean of the graduate school; they kind of look alike.
Interesting too that the list of players "Alabama Nation" now adores have fathers and uncles and grandfathers who may have been just as good but still not allowed to play for Alabama, even after they got federal marshals to escort them to class.
The year that Cleveland State knocked Indiana out of the tournament, they would have won in St. John too except that Dennis scored 42 or so. Had Alford not been in school at the same time, he'd be a lot more well known.
He's a class act and is a credit to the university, like so many of the Eldon Miller guys, though he was the best athlete of any of them.
My dad bought two of this set in 2003. He gave one to Tress and one to Geiger. From one he got a hand-written thank you note. From one he never heard anything.

But they don't have Plaxico or Robaire Smith this year. Or Nate Clements's helmet.
OopsiePoopsie! I didn't know that Brooks was in Columbus for a while, so he could have multiple sources, but I do think Hooley makes sense. Or Herbstreit.
Agreed that this is well done. Thanks for pointing out the role of Brooks and his 'hearing'. From whom was he "hearing" that?
The name Dennis Talbott wasn't made up, and even if he's not in the NCAA reports, he was still selling stuff and golfing with the Tat-5.
Would Brooks have been "hearing" from Outside The Lines staff? Or someone in town, like Hooley?
I loved watching Carter Scott. Jim Smith was exactly as you described. I thought that 79-80 team did get pretty far in the tournament; highest seed in their region to get to the regionals, losing only to the runner-up for the whole tournament.
They lost eight games all year- besides 80 tourney runner up UCLA in the tourney, they lost to 79 champ MSU, 80 champ Louisville, and 81 champ IU on the road in overtime, barely missing out on a share of the conference title- and yet somehow they were a 4 seed and got sent out to AZ to play 2 Pac-10 teams.
Maybe Williams could have beaten IU, or at least Wiscy, but I think Eldon got a pretty tough road in the tourney. Kellogg fouling out didn't help, neither did the 35-10 FT disadvantage.
This is well done and yet obviously done by someone who never saw him play and didn't interview people who did.
He was Special K and billed as kind of the next Magic. He threw behind the back no-look passes and could rebound better than any other Buckeye in my lifetime. I saw him get rebounds one-handed, like in the photo above, and then throw the outlet pass without ever putting his left hand on the ball.
That high school class of 79 was so incredible, and he was right there, though behind Sampson, and I think he and Ralph were likely the reason we scheduled a home and home in 80 and 81 with UVa. People here were so excited that he was coming. The championship high school game against Granville Waiters, who was being recruited hard by ScUM, was on the radio, was much-anticipated, and I still run into people who remember listening to it on the radio like I did.
A highlight in 80 was the one point victory in St. John over Indiana, which was cathartic after the Charles White Rose Bowl loss. I am 95% sure freshman Clark went to the line with less than 10 seconds and hit the two free throws to go ahead of freshman Isiah and a team a year from winning the tournament.
He got hit in the face in a Big 10 game and lost at least 1 front tooth. His first couple years in Indy he came back and did Majestic paint ads on TV in Columbus. Maybe he just hadn't gotten used to the teeth, but I was stunned later when he became such a well-regarded broadcaster because the ads were pretty rough.
Thanks for the flash.
I'm going to go out on a limb and say that Heathcote quote is actually from 78, not 79, but it's still hilarious. I bet he said it just to piss Magic off.
If Kenny Page hadn't gotten in trouble, that would have been an all-time great Buckeye backcourt.
I cannot believe I got sucked into thinking that SE Michigan University would do anything but choke in a game when a championship was on the line.
Congrats to Crean et al for a masterful job getting those guys to miss their free throws, and for the expert boxing out at the end. Coaching triumph from one of the classiest guys in the business on that bench.
I hate being glad when SE Michigan University scores.
I wouldn't read too much into the fact that Torg purchased hundreds of FaceBook likes to stave off the inevitable second shifts at Citgo. Couldn't happen to a classier guy. I cannot believe that his absence will result in any loss of listenership.
That's Thomas with the boxout.
That poor Nebraskan gets another phantom foul.