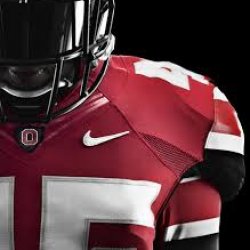 TheScarletNut
Columbus, OH (via Wilmington, OH)
MEMBER SINCE February 13, 2014
My Mom Calls Me Kyle
Student at THE Ohio State University
Male Model, Buffalo Wing Expert, Proud American

Favorites
SPORTS MOMENT: 2015 CFP.... #NuffSaid
COLLEGE FOOTBALL PLAYER: Tie - Troy Smith and Eddie George
COLLEGE BASKETBALL PLAYER: Greg Oden
NFL TEAM: Seattle Seahawks
NHL TEAM: Hockey is stupid
NBA TEAM: Lebron James' Team
MLB TEAM: Cincinnati Reds
SOCCER TEAM: Team USA... Duh.
Recent Activity
Witfong is the Director of 247, I'm pretty sure he is running the show over there.
This is just one guy's opinion but I thin Bijan will be a significantly better RB at the next level than Milton. Milton ran a 4.76 wihtout pads on and if you watch his film, sure he looks bigger and stronger but it seems like he struggles to pull away from defenders at time, Bijan and Trayanum for that matter don't have this issue. I think Bijan will end up more like JK and Milton will end up more like Rod Smith or Brionte Dunn. Call me crazy but I think we should all be hoping for Bijan over Milton.
Kurelic said this morning that Lachey has infomred him he doesn't seem himself at Ohio State, also said that he would be "SHOCKED" if Johnson and Henry aren't Buckeyes.
Can tell you as someone who went there for the game last season, State College as a town, nothing to write home about lol
Going for a Bachelor party this weekend, there will be 16 of us... anyone have suggestions for transportation for when I am 20 adult beverages deep after the race? My boss said you can't even get an Uber and we are staying about 15 minutes from the track.
If you read the full context it would imply this, Larry Johnson Sr. asked the agent of his son's agent to pay star defensive end Aaron Maybin 10,000 dollars to stay in school.
For what its worth Aaron Maybin is considered an ALL TIME bust.
A good friend of my brother's was a 5 year player under Tressel and played OT, he never got playing time because he couldn't get to 300 lbs. now that he doesn't play anymore he's down to 230, its ridiculous how much does into this stuff we don't see. Just look at Joe Thomas now.
Carpenter was saying that its usually a giveaway if someone says they're not interested right now, he said if they truly aren't interested in a player most good teams will say they're looking at all of the options so they dont tip their hand.
According to Carpenter he said on 97.1 his sources said the Giants had dinner with Haskins at The Avenue last night and were trying to keep it quiet.
Could not agree more with this, Campbell has pretty pedestrian hands.
From what I understand when it comes to throwing at the combine you are throwing mainly to guys you've never worked out with before and have no chemistry with. A lot of agents don't want their guys going out and throwing it to a bunch of guys that could make them look less than stellar. Most 1st rounders don't throw at the combine they wait until pro day to throw to their college teammates.
Sounds like he has been caught in a pretty sticky situation. It's hard to imagine this won't rub a few fans the wrong way. I'm sure he'll be tugged out of the public eye for a few days.
I think Wilson is by far the most likely. I've heard comparisons to Jarvis Landry and that he is very polished in his route running with great hands for a freshman. Will be almost impossible for Fields to do that, and I think Harrison will just have too many other guys around him to rack up that many sacks.
IMO, if they go where he is projecting, Campbell and Sheffield will be over drafted and Jordan will definitely be under drafted. I don't understand how Mike Jordan isn't a first rounder if he is playing guard.
From a playing style, I see a lot of Tavon Austin. Better at designing plays around him and getting him into great match ups and out in space than say putting him out there on the boundary and throwing it. I think he will be more of a role player in the league, I don't know if he has the route running skills and hands to be a number 1 or number 2 receiver.
If you look at the numbers and awards that Haskins has racked up this season, along with his physical attributes, I think you're a fool if you expect him to stay. With what Haskins has done this season and what the NFL looks for in QB's he has first rounder written all over him. When you take into consideration Haskins working out with guys like DeShaun Watson and Antonio Brown in the off-season, I think it's pretty obvious what his goal has been and I fully expect him to thank god and go pro within the next month.
Wow I remember when his mom talked about how academics were incredibly important to both of them. Clearly he was focusing on his academics with that General Studies major he isn't finishing.
2 big factors that you have to take into account, first of of all this is the same model that had us in last year. Second, the committee has liked OU more than us for the majority of the year year.
BR is a joke, so many people took his word as gospel when he had no concrete sources. Haskins probably doesn't even know for sure yet. If he has a disaster game next weekend I could see him staying. If he throws for 300 yards next weekend and wins Big 10 POY, HE GONE. We play TSUN next week, people need to forget draft talk at this point, a lot high stakes ball left. Everything out there is speculation at this point until they can get concrete sources.
I'm sorry but saying we control our own destiny in the playoff just isn't accurate, Oklahoma will get in over us if we both win out. No chance they take an inconsistent Ohio State team that lost by 29 to Purdue over a one loss OU that lost on a last second field goal in a rivalry game to a top 25 team. Just being a realist, we need OU or Clemson to take an L and to win out if we want to feel good on that Sunday morning.
Take this FWIW, I was with a member of the Olentangy coaching staff last weekend and he said Harrison's phone background is him in a Michigan uniform. Have also heard Battle likes Alabama a lot now and I doubt we are getting Darnell Wright...... awesome.
Snell seems a tad bitter, not to say I wouldn't be, but we DID take an RB from Ohio that cycle and he happened to be a top 50 recruit so.... there goes that argument for him.
I remember this, he left Gorman and then couldn't play at the new school so sat out like half the season and went back, it was a weird situation. Also heard his gf talked him into Nebraska at the last minute and he de-committed without saying anything to anyone first... all in all a weird one. Whatever, hope he can find success either on or off the field.
Went with my dad and many of the Penn State fans were polite to us. A lot of them wanted to make sure we had a good time one of them came out and directed us towards the restaurants in State College (Not many), many of the ones we sat next to were very cool about the loss, they were far classier than expected. Biggest gripes I have with Penn State are A. Not a lot of dudes bathrooms, weird B. Parking is absurdly tight C. That F**king lion roar in the stadium. Overall 10/10 game glad we went.