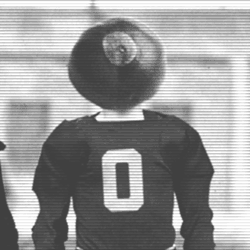 TheRoot
---
Member since 07 November 2013 | Blog
Recent Activity
*special operations forces. There's only one Special Forces. :)
Everyone wants to believe it's going to be CCTs and PJs learning from this, but in reality it'll result in a bunch of CV-22 jockeys getting box seats and SOWT guys having to sit through new powerpoint class on how to lose weight.
Couple that very good point with the fact that it's been a wider problem for the B1G. Go back about two years and start analyzing bowl matchups from 2002 onward, and you see the B1G consistently playing better teams in bowl matchups. Sometimes that was the result of the SEC or Big XII/Pac-12 putting a team in the BCS title game, and sometimes it was a result of how well B1G teams travel in general. Regardless, the B1G often found itself in games it had no business playing.
Secondly, the B1G and OSU were slow to adapt to new offenses, slow to pay for better coaches, and generally late to the reality that CFB has become a talent and dollar war. The league has mostly righted the ship, though Purdue, Rutgers, Nebraska, and Maryland are still a basement below the cellars of other P5 leagues.
The bowl record of OSU is spotty, but that's for a lot of reasons that transcend "were they angry or not." Correlation, causation, etc., etc.
That's quite the response from the "make friends" proponent. I'd ask for your copy of that book, but it seems you haven't availed yourself of its teachings quite yet.
Possibly the most useful analysis I've seen on a football forum, ever.
Oh please baby jesus. Send him out of Columbus. Let my offense....GOOOOOOOO.
I don't think you get how agreeing to disagree works.
I met him at TCF Bank for the OSU @ Minn game in 2014 (so damn cold). He seemed okay. He was taking happy-snaps with people and not demanding money. I think he may just like the schtick.
Different strokes. Perhaps some people take the word "dumb" to be more hurtful than the average, whereas I thought it was pretty tame (especially in light of the common dialogue on here). We'll agree to disagree. Have a nice day.
Deep stuff there. I'll give you points for brevity.
It's dumb to compare how John Cooper's teams 20 years ago fared in bowls to Tressel or Urban. Or Woody or Earle. Different players, different coaches, different eras. There's no thread connecting them, and that makes this article a dumb one. I get it, it's filler for the long stretch of nothing until bowl time. 11W usually doesn't disappoint. This time is different.
Just as lame as these guys spewing the hate is your insinuation that you'd do something to them. Internet tough talk.
First, 11W needs to learn the differences between slander and libel, and when to use either term or neither term.
Secondly, yes, people said mean things. Fame is a knife that cuts both ways, isn't it?
Catch the ball, kid. This is getting old.
Yup. Can't argue with that. ND is a master at pretending to discipline. For any other student, "expelled" means you don't get to come back. At ND it means you get to preserve a year of NCAA eligibility and work on your skills.
They do not know their branch/specialty yet. They will choose later in the year, so unlike NROTC there is no "Marine Option." They have a pre-req program, but none will be Marines until the senior class chooses their paths later this year.
Check out these guys. Written by a couple USMA grads, I think. Lots of good insight into the new Army team's development.
http://gfor3.com/2014/07/27/animal-farm/
I despise Navy to the core of my being. As a USMA grad, I have no choice. I relish in loathing the sea-faring squidbillies. Go Bucks. Also, Navy has multiple three-star recruits.