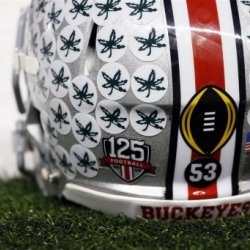 ThermalShock
---
Pataskala, Ohio (via Pataskala, Ohio)
Member since 19 August 2014 | Blog
Favorites
NFL TEAM: Pittsburgh Steelers
MLB TEAM: Cincinnati Reds
Recent Activity
Chris Spielman approved. Slobber-knockers everywhere!
Meyer called out the receivers, let's hope Herman calls their numbers! Ready to roll!!!!
Personally, I am tired of hearing the excuse of having a young team because that is all that is, an excuse for failure. I put this loss squarely on the coaching staff, administration and alumni. The loyalty to failure will only continue to breed more failure. Fickell is not a defensive coordinator or even a linebackers coach. The administration, alumni and whoever else thinks he should stay needs to step back and ask themselves if they want to get back to championship caliber. It won't happen while he is coordinator. Stay loyal to him & we will continue to have a terrible defense and under developed linebackers. Herman must have a play book the size of a pad of sticky notes. Success against blitzes comes from quick slants and swing passes, not the same deep ball over and over. Have we even dialed up a pass play to a tight end? How about leaving the running back in the backfield to block or at least slow the blitz? Bring in a second back? As long as these two coordinators are on the staff we will continue have games and failures like this.
Doing the same thing over and over again and expecting different results = insanity.
Ready to flip my desk over and run through a wall!! Jacked up!! Saturday night can't get here fast enough!
Glad to see he is getting the best. Look forward to seeing him recover and finish his amazing college career on a good note. Best of luck Brax!
Thanks for the correction! Should have said an untested redshirt freshman, not unknown.
I still believe that we can make a solid run towards the NCG. If memory serves me correct, didn't an unknown redshirt freshman win the Heisman and lead his team to a National Championship last year? I have solid faith in the coaching staff and the multitude of weapons we have. We'll be just fine.