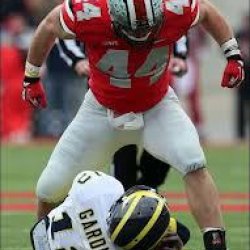 ThePreachingBuckeye
---
from Belpre Ohio
MEMBER SINCE April 12, 2018
I preach two things. Jesus Christ and Ohio State Football.
Favorites
COLLEGE FOOTBALL PLAYER: Nick Bosa
NFL TEAM: Indianapolis Colts
Recent Activity
I logged in just to upvote this.
This is what I am thinking as well. I am hoping that's the case. If anybody can get the young DB's ready it's kerry coombs and he will have a great leader in Shaun Wade to use to help lead them.
I had some stuff to take care of this morning. I was out and about. I came home to check 11W just to verify he went pro and boom he is coming back. Not the biggest shocker I have ever seen but this was surprising for sure and I am super pumped. His leadership along with his talent is going to be so needed for the backfield next year. Other DB's please open your ears and learn from this guy. He is great.
I second that. This offseason is going to be so long. I thought to myself I can make it easier on myself by not following the buckeyes until like spring or summer right before the preseason camps. But who am I fooling. Of course I'm still gonna follow recruiting, spring practice etc.......
They have been in it what now 3 years in a row, 4 times altogether. They are getting killed tonight and last year they made the game interesting (kind of) really late but were getting BLOWN out like this evening early. It's definitely time to move on from them.
Man I love the confidence from the DB's. I get that Clemsons wide outs are legit, but the narrative going into this game is that they have already beaten the secondary for Ohio State. I mean we have possibly two 1st round and maybe 1 2nd round picks in our secondary? That's nothing to shake a stick at. I have just gotten annoyed that the game hasn't even been played and a lot people are already assuming our secondary will lose that battle.
I just want our offensive linemen to simply push thfor undersized d linemen around. I just want jk and Teague to simply run over their linebackers. I just want fields and our great group of wide outs to simply gash their DB's. I just simply want our defense to play fast, physical and nasty. Finally I just want the buckeyes to go out there and hit them in the teeth with a pack of chisel's and walk over them. Simply WIN!!!
Could not be happier for this guy. He has gone through so much with his injuries. I still feel that this kid could possibly be a star in the making if he can stay healthy and stay on field with a solid amount of playing time.
This is my question as well. I mean that narrative coming into this season was now that Urban is gone it's jimmy's time........NOPE. Honestly what does jim harbaugh do now? He is 0-5 against MULTIPLE coaches. Day's first year was a spanking.
Man our offense is electric. At Halftime I was hoping the offense would come out and score on the first posesion, get the ball back and score again. That is EXACTLY what happened. Can we go ahead and say that DAY and this offensive staff OWNS Don Brown and Jim Hairball? I mean what do you even say if you're Jim Harbaugh? Not even trying to be arrogant or beligerant but really what do you say?
I am glad to hear Ryan Day address the fumbles the way he did. Hopefully Fields and Dobbins use it as motivation and come out next week laser focused ready to dominate on the field.
Dawand has a great attitude toward life. Very raw player as of now but hoping in a couple years this kid will truly be a brick wall.
WOW that's quite a surgery to have before a game like that. Thanks for the encouragement.
Thanks for the info man. I am hoping that will be the case with myself as well.
I feel like all season long they have been very conservative (wisely) with running fields. Excited to see what happens when they really let him loose. I bet he is going to be so dangerous.
I am so pumped up for the game that is coming this weekend. However, it's a bummer that I have to have my gallbladder removed Friday morning. Never had surgery before so I am hoping the pain meds won't keep me from enjoying the game. I typically pace during big games and get animated when the buckeyes play well (jump and shout). Probably won't be able to do that this weekend but I expect the Buckeyes to bring it.
It looks like Maryland has just thrown in the towel. Not taking anything away from the Buckeyes. They have dominated.
Sean Clifford with 2 PICS.......2 PICS
Why put this on here right now?