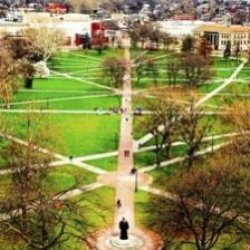 TheOtherDJ
Deployed (via Louisville, OH)
Member since 02 September 2010 | Blog
Navy hinge just trying to keep up with my alma mater (B.S. Education '95). Loyal reader since summer 2007.
Favorites
SPORTS MOMENT: The Game '94 (OSU 22, U-M 6), finally winning after 7 years of frustration, during my senior year.
NFL TEAM: Browns
NHL TEAM: Penguins, Blue Jackets
NBA TEAM: Cavaliers
MLB TEAM: Indians
SOCCER TEAM: Crew
Recent Activity
The Plaza District is actually in Missouri, directly south on Main St/Grand Ave. Wasn't my favorite place to hang out when I lived in KC, but good for showing someone around. Everything else is spot on.
Yep. Agree with both Tim's starting five and your second team. No arguments here.
I call b.s. While I think Thad Matta has been terrific at OSU, his teams' FT percentages in his 11 years here have been mediocre at best, but mostly awful (all stats via Basketball Reference):
This year: .675 (ranked 230 nationally)
Last year: .689 (206)
2013: .708 (126)
2012: .709 (107)
2011: .701 (138)
2010: .696 (153)
2009: .701 (129)
2008: .687 (177)
2007: .703 (137)
2006: .718 (84)
2005: .656 (257)
Combined: .6948 (average rank: 159)
If it's a sickness, it's lingered for a really long time, not just this year.
I ranted about this on Twitter during the game. Even in the 1st half before he was hurt, Barrett was a statue in the pocket, rather flat-footed and still IMO, instead of on his toes and ready to roll out. I don't know whether he just doesn't like to roll out, or the coaches don't want him to, but he has to develop a passing game while rolling to his left or right. You pointed out the one time he did early in the 4th quarter led to an easy 1st down pick up, just by opening up the passing lane and moving the pocket. If the line is suspect, and he has a hard time seeing the field from the different blitzing looks, rolling out is the best antidote. He didn't do it, and it drove me insane the entire game.
It's kind of/sort of a neutral site game...in reality it's a home game for Navy. It was decided to play there vice Annapolis, as Navy/Marine Corps Stadium is pretty small, and the USNA wanted to accommodate a larger crowd (as did OSU)...so it was moved up the road to Baltimore.
Same thing as when we play Cincinnati at PBS, or when we played Toledo at Cleveland Browns Stadium. Both are away games for OSU, but at larger venues for the home teams to generate more revenue and accommodate the larger throngs of Buckeye fans.
Good stuff DJ.
Wow, Jason, very happy for you and everyone involved with the site on a great 2013. Been visiting and following since late 2007/early 2008 when I was still living in Japan, desperately looking for OSU updates, and it was just you, Chris and Corey running the whole shebang. My my, how far you've come.
I don't comment much here anymore, but I still visit a couple times a week as time allows, and follow most of the writers on Twitter, and I'll still visit as often as I can. And I'm definitely looking forward to the redesign. Congratulations and looking forward to more exponential growth in 2014!
Vandy is the only SEC school that has my complete respect. I have some respect for some aspects of the academic reputations and quality of Florida and Georgia, but that's it. The rest are hot garbage...no matter how many national merit scholars you claim enroll at your school.
Not Sure, but it's clear Upgrayedd has nothing on this guy.
I can never get a read on Dilbert's boss. He shows the way regarding college sports networks and new revenue streams, yet he held off so long on a playoff. Then he essentially endorses exactly what I've always wanted: National semifinals on the campuses of the highest seeds. So confused.
Nicely done, DJ. I'm still the original though...
Of all the 1 loss teams, OK St's is probably the most forgiveable. The Pokes lost on the road in double overtime to a bowl eligible team...less than 24 hours after a horrible tragedy befell their university. Those kinds of losses are not as big a deal as home losses, no matter who they are to. Bama may have only lost by 3, and Boise by 1 by missing a FG as time expired, but both losses were at home. Stanford got buried at home, as did Va Tech.
OK St should be in very good shape, if they beat OU on Dec 3.
Actually, LF earned his lone pair of Gold Pants as a player in 1994 (22-6)...my senior year at tOSU. Had a class or two with him as well...good guy even then.
Just because people report things doesn't mean they shouldn't follow up or make an extra call to ensure the right people got the info, so fair enough (e.g. was my/our report passed onto the proper authorities? did we find out who the boy was? etc). Regardless, everyone is at fault, not one person.
I don't care if he's not 'technically' a law enforcement officer. He's their boss. That's gross negligence and covering up. Hell, Paterno wasn't 'technically' Sandusky's boss in 2002, either...but he's just as wrong as Schultz. Reports should have been made, and in Schultz's case, all he had to do was call the actual Chief of PSU Police...also known as his direct surbordinate. You won't convince me otherwise, so don't bother trying to change my mind.
Sad thing is, Paterno is really no different from an overwhelming number of coaches in college football (or basketball, for that matter). How often do we hear of Luke Fickell talking about how he has no idea what is going on in the world other than football practice, games and film room study? That's how head coaches at these programs operate. They literally don't try to look at anything else...just keep the machine running.
Speaking of which, everyone attached to a leadership position at Penn St is responsible for this, even and especially the Board of Trustees, who ignored investigations into Sandusky's actions for years. IMO, they're just as guilty as Spanier, Curley, Schultz, Paterno, etc. Schultz, by the way, was in charge of university police. As far as I'm concerned, when McQueary was called in to speak with Schultz and Curley, he was talking to the AD and Chief of PSU Police. Let that sink in: The Chief of PSU Police had the information and did nothing. I find that more offensive than probably anything else.
That's why I felt that PSU should not be allowed to play football the rest of the year. The way I see it, the institution and its leaders have forfeited their right to field a football team for the rest of the year due to its egregious failures. Instead, they still continue to cash in on being Penn St Football both home and away, and could even get paid at the Rose Bowl. They talk about using it to raise awareness of child abuse? I call b.s. Even a systemic coverup by the university leadership and its football program of the actions of an assistant coach, both while active and in retirement, can't stop them from cashing in on being a big time football program. Just keep the machine running. (I know I'm in the very small minority with that stance. But that's my opinion.)
I've always respected Penn St, and I'm sure I will again; good school, great alumni...but it'll take awhile to respect their leadership again. My thoughts are with the victims; may they find the peace they need to overcome what they experienced.
HIS blown opportunity? Petersen didn't miss TWO chip shot field goals that would have won the game (26 yards at the end of regulation, 29 in OT) at Nevada, which was a really good team last year too, and played their best game of the year. Despite the plethora of dropped balls and execution mistakes, the game plan was sound. That loss is all on the kicker.
O, and there's this. And this. And don't forget this.
Bottom line: Chris Petersen's teams always perform well on the big stage. They simply don't lay eggs. They are always prepared...even last year at Reno. My question is, how would he do with access to talent he simply can't get in Idaho?
So what's the investment, William: Winning and winning only? Or an investment in the current and future successes of the student-athletes? What truly is more important: Success in the classroom or success on the field?
If forced to pick, I pick the classroom...every time. Sure I want tOSU's teams to win and be competitive, but that's just pride in my alma mater and state. I don't want a program whose first, second and third priorities are to win; if you want that, go to the SEC, where education is not valued whatsoever (outside of Vandy, and maybe Florida/Georgia).
Side note: Sure many of the players wouldn't get into tOSU without football. Over the last three years here at UNC I've had student-athletes in my classes (including football players), and while many are academically gifted, others are clearly not. They got no special treatment from me: If they put in the work my class required, they passed; if not, they didn't.
Well said. Booing college kids has never sat well with me, but I do understand that, in this case, the booing is probably not directed toward them. (Booing H.S. kids is even worse, and it's fairly common, as I discovered when I visited Ohio this past month.) Still, I wish fans at the Shoe would embrace silence as opposed to booing.
Having said that, the coaching staff, particularly the offensive staff (pun intended), is likely dead men walking, and deserved to be booed with that performance. I see not only no improvment, but the opposite. The recruits OSU has had come to C-bus have generally regressed over the last five years; I'd argue that Nick Mangold has been the only lineman who got better over his career, though Mike Brewster has had his moments as well. The offense not only looks unprepared, but like they cannot even execute basic fundamentals. That's always been my problem with Jim Bollman...not just an unimaginative playbook and predictable tendencies in playcalling, but terrible execution of the playbook.
*side note: I'm not bitter that I had to give up my username to you... :(
Agree; definitely not too old to crawl. My crawl in 95 finished at Papa Joes, which was an absolutely huge blowout. The next year, when I came back to do it again with my friends, there was nothing but a hole where Joes burned to the ground. However, both were epic. Have fun!
RIP Papa Joes...and Mustards, Maxwell's, South Heidelberg, Larrys, Not Als (in all its incarnations)...