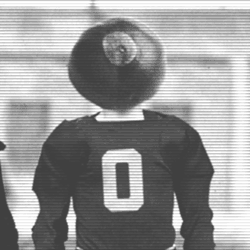 THEOSUfan
---
Berlin, Ohio (via Ironton, Ohio)
Member since 01 April 2014 | Blog
Originally from southern Ohio but now live in Amish Country/Holmes County. Married to my college sweetheart for 32 years. Father of a son and a daughter. Grandfather to one beautiful little girl. Health care professional with a couple degrees (not from OSU). Have loved the Buckeyes all my life - football in particular. Attend a game or two a year at the Shoe. Try to not be an irrational nut about it, but usually I fail.
Favorites
SPORTS MOMENT: Uh, it's been too long ago in terms of myself playing sports. When Ohio State won the National Championship with Krenzel, Clarett, et.al. I declared, "Now I can die." But the truth is I would like to see another one... or two... or ten.
COLLEGE FOOTBALL PLAYER: Archie
COLLEGE BASKETBALL PLAYER: A Craft
NFL TEAM: n/a
NHL TEAM: n/a
NBA TEAM: n/a
MLB TEAM: Reds
SOCCER TEAM: What is soccer?
Recent Activity
I think the scUM game may be fresh in the mind. Lol.
I have only been thinking about 1, 2, and 5.
But I also had:
3) Secondary. We assume that they are just going to reload here and perform like they did last year. Assuming is a bad thing for CFB fans. Take it from a chronic assumer.
4) WR group (which I suppose is part of 1). No matter what anyone says, these guys have not shown that they can be elite. They certainly have the talent. I think the big question is whether they have the coaching.
On 5), I think we lost one of the best punters in OSU history. Amazing given the emphasis on the punt in the previous regime, but true nonetheless. The kicker has kicked big FG's before. The punter hasn't punted in a college game. He was highly recruited, but can he get it off against an 11 man rush in the last minutes of the game? I don't know, and we won't until we see it. That can win or lose you a game. Ask scUM.
I'm not going to say that Saban did the right or wrong thing here - because I don't know, and there is no way for me to get the information I would need to know.
No fan of Saban here, but I look at how CFB coaches discipline like I do how parents discipline their kids. We have all been there. You see some brat acting up and you say, "If that were my kid..." But it's not your kid. You know nothing of the personality or history of that kid, what they have recently been through, what the parents' goal is in discipline, what they have done and intend to do - and yet you know what should be done. But you don't.
In this case, I don't know anything about Hand - his behavior history, character, personality, or anything. I don't know what he would respond to best to fix his problem. Since we are talking about big time college football, I'm sure that a coach will be very tempted to factor in how their discipline affects their ability to win games during a suspension - especially if one of the games is, say, a team like Florida State. But I also recognize that Hand may learn from his mistake and correct it without a suspension - and shouldn't fixing his problem be the ultimate goal? Again, I don't have the information that I presume Saban does, so I will defer.
If Hand gets arrested for a DUI again some time down the road, then I think we can rightly criticize Saban. If he doesn't, I think we have to assume he made the right call.
For the record, with my son my wife and I's discipline philosophy was "when in doubt, bust his tail with a wooden spoon". With our daughter, an expression of my disappointment in her was usually enough to bring her to repentance. I'm sure I made some wrong calls with both, and I'm sure there were times when uninformed onlookers thought we were too harsh or lenient, but they are good adults now and love their dad and mom, so I'll rely on that.
I look at how CFB coaches discipline their young men like that. I will extend that grace to them because I know I needed it when I was parenting.
Just stretch the field by being able to threaten and occasionally hit something long, and the rest of all this stuff will take care of itself boys.
Best smell on earth.
I did know what a GIF was tho. My kids force me to be current.
I have been confused at times about language shortcuts like FIFY, IMHO, and a hundred more. Google is my friend. Lol.
I have placed a lot of my hopes for football happiness over the next 6 months in this group. They need to be what I think they are for my emotional health. I give Larry Johnson permission to use that as motivation for them.
Yeah, but we old geezers know other important stuff like what a mimeograph is, or a rotary phone, or rabbit ears, or balancing a checkbook... lots of good stuff. :)
All I know is if the unit struggles to run routes or get consistent separation, Zach "Series of '100' emojis" Smith will have nowhere to hide. The man can recruit with the best of them, but it's pointless if he can't turn four and five-star athletes into consistent depth.
This.
I have no problem with anyone who wants to see the full video of the accident at the state fair. My wife is such a person - and she is a good person. Has to see the whole thing. She has followed fire trucks to fires and accidents and things like that. I guess it is just an intellectual curiosity.
I just don't have the desire. I don't want to know for some reason. Maybe I don't want to feel deeper emotions. Funny thing is that I'm good in a tragedy. I keep my head and generally do helpful things. I've had people die in my arms from horrible injuries. I'm OK there, but don't want to see it when I'm not involved.
Anyone with a psych degree want to explain my weirdness?
I respect Bill O'Brien more. What that guy did with a very scaled down team was pretty amazing. When those sanctions came down, I thought Penn State was gone for a decade. They need to put a statue up of that guy over there.
That said, I respect Franklin too. He irritates me some, but mostly because he is so all in for a school I don't particularly like. I'm getting too old to hate someone for coaching another team. Plus, no one can ever approach Bret Bielema in terms of hating a coach. That guy sets the all-time standard.
College football tends to bring that language out. Well, golf does too.
I had two kids. I have cried two times as an adult man - when they were born healthy and their mom was OK. They were tears of joy.
Kids are the biggest joy and trial of your life. But the best thing about them is they can eventually give you something that is all joy - grandchildren. As a friend of mine put it, "Grandchildren are God's reward for putting up with all of the bullshit of parenting." :)
Congrats.
I love me some Tom Herman. Is he arrogant? Successful people are to some degree. Sure, there are other factors in the success Ohio State had in 2014, but there are a few indications that Tom was crucial and essential. When was JT Barrett at his best/who was his OC - and what was the OC situation with the alternating JT/Cardale saga in 2015, and the JT regression resulting in the shitshow known as the Clemson game last year? What happened to Cardale's play after Herman left? The evidence is that this guy is some kind of QB whisperer who can get good QBs to play great and get their minds right.
Urban is going to be gone in 5 years or less - whenever Shelly has had enough of Ohio weather. I'd love to see that next coach be Tom Herman, but I don't think it will happen. If he succeeds at Texas, then there will be no impetus for him to leave there, and if he doesn't succeed, the confidence that he can lead a premier program will diminish.
The only scenario I would see where it could still happen is if he is very successful, but gets tired of all of the booster and outside meddling that is known to go on in Austin.
I am one of those fans who loves to go into Ohio Stadium every 2 or 3 years. My first game was in 1981 for a game against Sparty. Nothing will ever equal the wonderment of walking in there for the first time and seeing what I had only seen on TV a few times a year throughout my childhood. A smaller sense of wonderment still hits me, but it doesn't last the whole game, and I'm generally ready to get the heck out of there by the 4th qtr - and that gets stronger the more I go down there.
You pay 20 bucks to park, then walk 1-2 miles, then sit with your knees in someone's back and someone's knees in yours, eat and drink over-priced food and beverages, pee in a trough, sometimes have drunks sitting around you who sexually harass your teen daughter, nearly get into a brawl, finish the game, walk 1-2 miles to car, sit in a traffic jam for some amount of time (it was 1 1/2 hours for the Wisconsin night game a few years ago), and then drive 2 hours home.
OR I can sit comfortably in my leather recliner in our living room, watch the game in HD, eat my favorite Mexican bean dip and beef jerky, drink my cheaply purchased beverages - which I only have to walk a few steps to get - pee in my perfectly sanitary bathroom in private; if there are jerks present, I can throw them out on their head without having to worry about bail, and when the game is over, I'm already home.
I appreciated Ramzy's comments about having your innocence taken away by learning how the sausage is made. I don't want to know how the Ohio State sausage is made. I do know, mainly, but I don't want every dirty detail because I want to continue to love the Buckeyes.
Went to a weekend marriage seminar in NC a few years ago, and was randomly sat next to a guy who played TE for Alabama and 8 years in the NFL. He was chatty, and I asked him a ton of questions about life in the NFL. He told me things like: he usually had 0-1 friends on his team; the other TE's hated his guts and hoped he would break a leg or die so that they could have his job; "team" is a mirage in the NFL and is done by the fact that they wear the same colors, but what most people think of as a team (a bond of brotherhood) doesn't exist; it is a stone cold hard business. It took a lot of the shine off of the pro game for me, and I almost don't watch it anymore.
I once went to Nashville to become a country music star. They ran me out of town. Said I had no talent. That was Nashville, Ohio. Between Millersburg and Loudonville on SR 39.
I kill it on karaoke night tho.
I found it interesting that the scout said that Ohio State has the best secondary in the country. I talked to a scUM fan the other day who said he feels good about Speight tearing up that young, new OSU secondary. Lol. To be fair, he also said he wouldn't be able to do that if the scUM OL can't stop the beasts that will be trying to break Speight's bones.
Here is my big contribution to this sad issue:
If it's harmful, then it is a big deal. Or am I missing something?
If I'm following you, alcohol kills a lot of people and we have accepted that, so weed should be dealt with in the same manner because it kills less people, and isn't as dangerous.
My example is tragic... and personal. I get that if it were legal to smoke, it would be illegal to smoke and drive (above a limit), but I don't get the good that comes from legalizing another intoxicant so we can have even more of those examples - but pot users seem to be very committed to that. Makes no sense to me, but, then again, maybe brains with plenty of THC have higher understandings and insights into that logic.
My guess is that he did stop, but not soon enough. I'd bet his agent was testing him and he was showing positive, so diluting was the least damaging course. While a diluted sample is treated as a positive, there is still a degree of plausible deniability.
Oh, one more thing that's pissing me off - the whole "weed is no big deal thing". It's a big deal to me because in November 2015 a 21 year old kid who was way high on it fell asleep on a back road and killed another 21 year old young man - who was like a son to me. If you want to sit in your LR and be a pothead, knock yourself out. But don't tell me weed is harmless. I know how much damage it can do, and the proof is over there at the graveyard.
I have enough drama. Kid makes a decision, doesn't need coddled, and just takes care of business. Bodes well for his future in Cbus.
I couldn't believe it when I saw this article. I have never had the hate for scUM basketball as I do football - except when they have had characters like Ramzy mentioned. This years team - with the plane thing, how they were playing in the B1G tourney and early NCAA, I just liked what they were doing as a team on the court. And I can't manufacture any dislike of their coach. Damn it.
I texted my buddy a week or so ago and asked this question, "I know the answer, but is it wrong for me to like watching this scUM team?" He gave me the answer I anticipated, but Ramzy, nonetheless, verified that I wasn't the only one conflicted between what is right and what I felt.
As for the NW, IA, MSU, and Illinois teams cited, I have always resented those guys because Ohio State had better talent (and better everything) than those guys, but they had some magic that trumped what OSU had. I always felt that there was a bit of illegitimacy with them because they were not the better team, but ended up at the top of the heap with the aid of sorcery/magic/luck and/or scheduling inequities.
That PSU team, taking my biases out of it and looking at them solely as a football fan, was one of the best and most talented teams I have ever seen. So, they are legit in every way - and I hated them for it.
When I read that Gerald and Clark were out this morning, and understanding that the program is still 1-2 over the limit (depending on a gray shirt of the K), Alex was the guy that popped into my head as next. I watched him in HS. Certainly a great player, but with the guys Urban is recruiting at WR, he was going to probably never break into the 2 deep.
Wish him the best, and hope he lands somewhere that he can thrive.
I looked at the roster, and if there is one or two more to go, I'd expect it to be a TE or CB.
Could we please play those SOB's in some decent weather? That's all I'm asking.
There is some undefinable balance that has to be achieved in play calling when playing from ahead in the 2nd half. You have gotten the lead, commonly, by making big plays via the passing game and running game (which makes either/or easier) OR you have gotten turnovers, some fluke plays, and/or some defensive/special teams scores. Regardless, you have to decide whether to keep trying to make big plays, or to try to run clock and be happy to punt.
If you got the lead through aggressive/riskier play calling ("When you throw the ball, only 3 things can happen, and two of them are bad"), do you try to expand the lead by what got you there, or do you play it safer and run the ball to shorten the game, forcing the other team to make big plays in order to catch up and win? I don't think there is a right answer. It depends on your team's and the other team's mental state and whether your team is comfortable executing a more conservative game plan.
A lot of games have been won by imposing a run-the-clock-be-happy-to-punt-rely-on-your-defense running game on the opponent. I give you Jim Tressel, Mark Dantonio, et.al. Many games have been lost trying, but failing, to do that. I would only point out that the essential element of football is aggression. Some teams are mature enough to handle playing with different levels of aggression. Other teams struggle with that. Some teams can do it with 8 min or less left in the 4th qtr, but can't with 8 min left in the 3rd. The wisdom or foolishness of going to it depends on how a particular team can handle that at the place in the game where it is gone to.
While I understand this dilemma in football, I couldn't coach dogs to bark, so I would tend to defer to coaches who are in a better position to know what their players are capable of handling. At the same time, it is extremely hard to watch your team lose a game they had a lead in when they become conservative, risk-averse, and tentative when they were winning the game with aggressive, more risky, and bold play calling.
"Holy Buckeye" still gives me chills. It happened when I just watched it there. No lie.