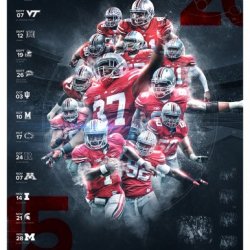 theopulas
---
MEMBER SINCE July 04, 2013
Recent Activity
Does McMahon own the league?
Allegedly... "Allegedly" two stupid kids doing something dumb... no way justifying their "alleged" actions... Duke canceled a entire season on the same type of allegations.
You do know they're working for money. It's just not about if he likes Cincinnati. He's gone. He will be MSU's next coach. Good career move and his wife has sacrificed enough, and will have much say in Luke passing up a bigger job and a big pay raise. They know this won't be their last move, so go get financially set, while you build the resume. Even if it doesn't work great, after being HC at a BT school, he could go get a NFL asst. job at will, which looks good on future big time college res.
I don't think MT3 will be our starter by week 1.
That's a vision alright. But I think Bo ran harder then Chris O. He surly was stronger and faster with that one cut and go style.
This kid grows one more inch taller, and he becomes a 5*, top 25 player by the end of July... his touch is better then most college QBs now, and his arm strength is evident. With his QB talent, I'd bet he never lost a QB competition in his young life!
Even though it's from the book, the explanation is so clear, I have to thank you for posting it... uv..
True. And who wouldn't be in the best possible place if they were in NO... in the right situation Brees may/could have been considered the GOAT..
You spoke those words for 100,000 fans, and you deserve 1,000 up UV...
That is a stupid argument. Anyone of those would have lead to us winning, but saying a second half, defensive go-ahead TD, being called back, didn't effect the outcome is mistaken, unintelligent, and clearly wrong!
I just meant that Munford, who is a good tackle, has to go to work. On a line with Davis, Myers, and Miller, who are workaholics, and with a now 303 pound 5* NPF, with top notch tackle skillset, and working with Coach Mike is getting stronger everyday, Mun could be the weak link on a line where there isn't a weak link. There may already be 2 first round picks on this, he needs to be one of them.
That nuts. The reason Munford isn't going is because our tackles was the weakest part of our line, and he may have been the lest of the 2. If Paris was in his second year, Mun would go pro!
Stop setting yourselves up guys. Chase, O, and Dobbins are not coming back! I'm just glad that they aren't injured, or didn't decide to sit out! If Bosa wasn't injured last year things may have been different.
Under Coach LJ who arrived in 01/14... NC 2014, Big Ten Defensive Lineman of the year 2014, 2015, 16, 17,(I could go on, like mention 11 first round draft pick but) Dre'mont Jones was even first team AA in 18',... Now comes Chase, and Zach, and the next 5* DE who wants to become a great NFL DE, and more important... a good man!
He never said that, never insinuated it, never discussed it... and because someone wrote it in a forum isn't convincing enough to say such a thing, then state it as a fact!
I don't think he roughs the passer often... does he? Roughing can happen to anyone in the heat of playing hard and fast. But smart players don't consistently get penalties, and I think Chase doesn't get called much because he doesn't rough the passer often...
HARD! Hit him with fair, fundamentally sound, fast hard violence.
I think you(I'll kindly say) overstate some things there sir! He was a starter this year from day 1, why would he transfer. I don't think or recall him ever giving that impression. Not doubting you that someone may have wrote it in a article. And as a Buckeye, the idea that he would even discuss going to... "That team up north", I think he would find insulting!
Every back he started is still playing in the league. Not sure if it's him or the talent he recruits, but he surly isn't messing it up, or doing a bad job!
With some coaches, the opportunity to coach at OSU is worth a two year commitment. But if a school contractually stipulate a two year mandatory for coaches for all coaches, you would miss a lot of top coaches. Top coaches have a lot of options! Being illegal to mandate through NCAA, the school that does would have to lower expectations.
These are young men, and if they chose to not follow instructions, they can't be stopped. The summer isn't a off-season. The commitment has to first be his, then comes the support... well, moms have much more power and say over them, but coaches always must rely on a players commitment.
It is not a over statement to say that he is one of the top five guards in the nation. He surly wouldn't have been recognized at RU! Have to give that one to the Coach for picking the right restaurant... unless he picked up the check, because then... never mind...! GO BUCKS!
My Queen... Your husband, like all men... we aren't worthy