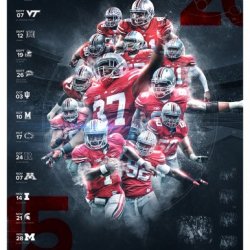 theopulas
---
MEMBER SINCE July 04, 2013
Recent Activity
Myers may be the best OL we have next year, and Miller won't be ignored!
I think Miller will compete for the left guard spot because I don't see anyway they move Josh. I also think that Myers and Davis returns because the league never is high on 1 years starters with eligibility. They would get drafted, but the money between a first rounder and a 3 or 4th rder is worth coming back. Both tackles I think will be open(NFP), and surly a guard.
I think Wade is gone if he, along with our defense, continues to get better. He will be a 1st rounder, and 1st round don't stay!
The question is, how long will Fic be at UC? As long as he doesn't go.... there... I will root for him wherever he goes!
You guys stop being wusses and looking to create a issue. He was trying to compliment Josh for having character and integrity. Justin may feel the same way and happy for his brother!
He has eligibility, but that doesn't mean he is coming back. He may not want to come back, or the coaches may not want him back. I guess we will see. We need 2!
Thanks... not insinuating, just saying that we have some very good DT playing. But some are in there last year... get well soon Big Fella!
I am just super glad that Vincent hasn't entered the transfer port... !
Said while picking up your morning newspaper on the front porch, in your robe(that just won't stay closed), and shaking your fist at the neighbors... "GET OFF MY LAWN" Curt Flood will be revered as great by CEO's and the Wolves of Wall St.
I surly wouldn't mind that. I believe the 2 1/2 year direct competition, while growing a friendship out of that direct competition, made them both better!
Everyone mentions him running, but he hasn't ever faced speed like this defense in his life. And even if it isn't being said, Werner is getting better every game... the speed on this defense kills... and they will hunt him down... like .... a PREDATOR!
That was before Zach got here... but fortunately we'll have two open DE spots next year!
A writer in his home city in Ohio made the comment last night that he won't last the season. The entire place went silent! You could feel the indignation... but know one said a word... know one disagree...!
While I MIGHT not say that KJ is better, and Victor is as good, I surly wouldn't say Olave is the best by far... but he is a steal, and him and Fields with another year together, along with Wilson (who may be the most gifted receiver on the team), can be better then special, with Rucker at TE!
He's to much a Buckeye... I don't think they would... But someone might've said the same things about Bo!
Judging from that one game, Jackson not only was clearly the best linemen on the field... he was the best player on the field. He was dominating! They really have to begin to jell because it looked like the entire OL wasn't a unit, but individuals trying to do just their job, with no cohesiveness...
That was Fields first ever start!... Day, Myers, Davis... that's a lot of offensive guys. No where to go but up!.. GO BUCKS!
The Yankees.... people 21 years old, who never been to NY, that doesn't even watch BB until the playoffs, and don't have a favorite team, still hate the Yankees...
I believe you should always play the clearly better player. But lets not act like a highly recruited, good student/athlete who has always competed hard for 4 years, and followed the rules, his seniority, and his loyalty means nothing. If Bowen is very close in positional skill, he should start!
You don't have surgery for high ankle sprain...
Having the best arm is what is required as a professional, and those guys started where ever they went because they had a big arm. Maybe their team wasn't good enough, but a big arm always starts over a not big arm!
You must be a new kind of OSU fan... 2 losses is not will never be a cause of celebration for Ohio State!!