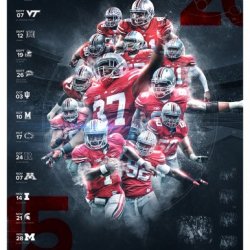 theopulas
---
MEMBER SINCE July 04, 2013
Recent Activity
My Queen... Your husband, like all men... we aren't worthy
Glad to know that your big enough to say it.... I think hate you!
Ya well... don't let it happen again!
It is not absurd to compare JT to Justin, but it is like comparing Tebow to Russell Wilson... not a good idea... and I like Tebow and JT!
You don't pull any starting QB if you're up by 14... ever...! Everyone has seen 2 TDs scored inside a minute, and this is a championship game. YOU PLAY TO WIN THE GAME, or you sit. Without his mobility, the backup isn't as good, but isn't that much worse then Fields.
I think women's bb can be up for grabs if we focused some major attention on it, but I never understood why we didn't get more 5* men's bb players... I think now we will start!
I think that was James something.... maybe James Dean or J. Ward. Anyway, I think we shouldn't underestimate our backups. Our DL maybe be top notch, our LBs will be top notch, and we have some 5*, and enough 4* DBs that may that may become studs playing behind a experienced LB core.
I have seen so many people decide to just get there degree and move on, and not have half the serious injuries... After you've been going through injuries for three years, and it doesn't seem like you can catch a break, and you're watching younger guys pass you, and incoming guys become the flavor of the month.. it is easy to decide to get your all paid for degree and move on... playing for OSU is a LOT of very hard work.. this is a quality guy, and his leadership will be ...
I think next year, when Ruckert is the clear starter and not split time with upper classmen, he will have 30 receptions. Ruck may get AA mentions in his senior year!
Over confidence is a weakness... I hope the team doesn't read this!
You don't bring in transfers to the same position where you have 3 or 4 top recruits coming, not in the portal area. These guys haven't even signed, so you don't acknowledge or discuss that. And recruiting the position like we are, you shouldn't consider it.
The difference in a top 5 draft pick and second rounder is about 25 mil guaranteed... those are the only good points to some...
If Lawrence doesn't play another down, he will be the first or second person drafted in 2021.
So now when a player is ranked or even rated a top 10 NFL draft pick, he should sit out. Maybe any 1rst round ranked player should shut it down and wait for the draft... I guess it depend on the point of your view!
what's upsetting is the ncaa, OSU, networks, broadcasters, and those who advertise make money, and the kid has to borrow money to take a girl to the movies or dinner...
I don't think Auburn or Florida would beat Wisconsin, and Cincy has only one loss and is a good team who may not lose again!
Because Scott is a beast, super skilled with speed, and barring injury, will be a starter before his senior year.. He is entirely to talented to not have on the field!
I don't understand why some feel the need to say negative things about OSU's previous coach, while commenting on the greatness of this team. He is obviously a great coach, with his fingerprints everywhere on this team. Not in no way insinuating that you can/can't, should/shouldn't, just wondering the good it does them, or what thrill they must get?
wow... didn't know that… can you give me a link or tell me where I can find that about him on Dominicans? I'll have to stop listening...
You are spot on... at the time it was said that he wasn't really interested in being HC. I admit I question that saying that every asst coach wants to be a HC... then friend on the faculty their said the school asked him to not dispute the HC story because it might send a unwanted message to future recruits. Asked him for one last show of loyalty, and he felt he couldn't kick them while they were down!
3 top 5 draft pick(maybe number 1). Not even close...
Young is clearly the best, and by far the most dominating and disruptive player in the nation... but Joe is a QB with long wavy hair, who looks like Elvis, and plays in the SEC, with the opportunity to tell a story of OSU against the SEC. Don't doubt the business aspect.
if there was a Manning, or Luck coming out then yes, they might take them. But this year Chase will be the 1st pick, and they will be saying it nationally by December.
If they beat ND tonight, they will show up. And no matter what they say.. they believe they will win out, and they strongly wish we lose.... I know people like the... and the Browns will win tomorrow, and then they will win the SUP.... never mind... !