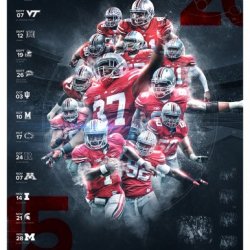 theopulas
---
MEMBER SINCE July 04, 2013
Recent Activity
The top high school RB in the nation, and you think he has to manufacture interest... 4.0 student and you think...
Edwards and Henderson isn't going to the same school... and regardless of how Edwards feels, Henderson is just to good not to take... and his HS coach knows it!
You never stop recruiting your verbally committed, because that's just a "I like you more than I like her if you like me too" note..., but if she puts out... well, she is pretty, but I think I like you more... for now!
It's a Achilles... he more then likely won't play this year. It may not take well over a year anymore, but I doubt if he's playing in October!
I wouldn't say counting on... Gill, Harris, Baab, Saunders... and a couple of good TEs that may come first to be counted on a little too...
woooe…. slow down with the CC comparison! Lets not start with a all world, HOF, top 15 ever comparison...
only the best WR in the world right now.... amiright or amiright!
Oh... so you are the ones responsible for... never mind... but I won't forget you and yoin'!
I think you are underestimating how good Cooper could be this year. If his game takes just a little tick up, he'll be 1st team B10. If it does take the step he is working hard every day to take... we'll see! Vincent and Tog can make us great if they go to work!
Does McMahon own the league?
Allegedly... "Allegedly" two stupid kids doing something dumb... no way justifying their "alleged" actions... Duke canceled a entire season on the same type of allegations.
You do know they're working for money. It's just not about if he likes Cincinnati. He's gone. He will be MSU's next coach. Good career move and his wife has sacrificed enough, and will have much say in Luke passing up a bigger job and a big pay raise. They know this won't be their last move, so go get financially set, while you build the resume. Even if it doesn't work great, after being HC at a BT school, he could go get a NFL asst. job at will, which looks good on future big time college res.
I don't think MT3 will be our starter by week 1.
That's a vision alright. But I think Bo ran harder then Chris O. He surly was stronger and faster with that one cut and go style.
This kid grows one more inch taller, and he becomes a 5*, top 25 player by the end of July... his touch is better then most college QBs now, and his arm strength is evident. With his QB talent, I'd bet he never lost a QB competition in his young life!
Even though it's from the book, the explanation is so clear, I have to thank you for posting it... uv..
True. And who wouldn't be in the best possible place if they were in NO... in the right situation Brees may/could have been considered the GOAT..
You spoke those words for 100,000 fans, and you deserve 1,000 up UV...
That is a stupid argument. Anyone of those would have lead to us winning, but saying a second half, defensive go-ahead TD, being called back, didn't effect the outcome is mistaken, unintelligent, and clearly wrong!
I just meant that Munford, who is a good tackle, has to go to work. On a line with Davis, Myers, and Miller, who are workaholics, and with a now 303 pound 5* NPF, with top notch tackle skillset, and working with Coach Mike is getting stronger everyday, Mun could be the weak link on a line where there isn't a weak link. There may already be 2 first round picks on this, he needs to be one of them.