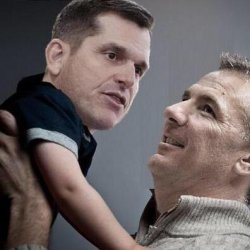 TheNorthernBuckeye
MEMBER SINCE December 26, 2013
Buckeye in enemy territory
Favorites
SPORTS MOMENT: Rushing the field in '02/Dancin' in my apartment in '15
COLLEGE FOOTBALL PLAYER: Mike Doss, Maurice Clarett, Troy Smith, Aj Hawk, Ted Ginn, Sean Taylor, Donte Whitner. EZE
Recent Activity
Lost in the actual news I wish college football would adopt this.
Unlike some I have actually been watching this. I need something to get me through the offseason. Plus, a 5 loss Michigan team is pretty funny.
I actually find it fascinating I really believe this will hurt them more than help. I knew Harbaugh was off to begin with but he is super awkward and Winovich is equally as strange.
I deserve all the crow after criticizing the staff missing on Carmen.
We aren't Michigan. We'll be fine.
Apologizes for the dubplicates.
It's a damn shame you can win a title after not even winning your division. Penn state got screwed last year, we got screwed this year. Conference champs only. Saban also sold his soul to the devil
OSU could've beat Clemson
I thought we were getting the Urban that stepped on teams throats back when he was at Florida. Disappointed we only saw a half of good football
I'll take the win but I'm not very pleased with it. Don't understand the offensive output and no points in the second half is unacceptable.
Yesterday sucked and was a definite groin kick. Hard to even think about being excited. Losing 3 of your top 5 targets probably. Brutal.
I don't really care if I'm a half empty kinda guy but those are 3 big losses. Tough day.
Missing on one or two down the stretch is one thing but losing 3 of your top 5 probably is just laughable.
Can't wait to swing and miss on Jones, Carmen, and Woodbey. Yet half the fans here live in a magical world with sunshine all day and nothing goes wrong.
Measured takes are laughable. Shame on me for being disappointed with not getting the best OL in the state. Geesh.
Missing on the top guy in your own state when you are a premier University is just laughable and flat out unacceptable.
What a god damn fucking joke. How do you miss the number 1 player in your own state?