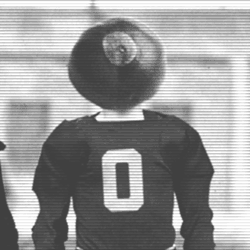 themostbrian
---
Clintonville (via Columbus, OH)
MEMBER SINCE August 30, 2010
Favorites
SPORTS MOMENT: Matt Sylvester hitting that shot to beat Illinois.
MLB TEAM: Pittsburgh Pirates
SOCCER TEAM: Arsenal
Recent Activity
1. Is Matthew Baldwin in the class no matter what? And if so is that because he's a lower rated long-term project QB who is not a threat to transfer without an early chance to start?
2. What is the latest on Trevon Grimes? Is this a re-recruiting situation? Should we be reading into the surprise recruitment of Cameron Brown that Grimes may not be returning?
3. Tackles are desperately needed in this class. Is all quiet on the Jackson Carmen front good news? Is Culver a stop gap if Walker and Petit-Frere fall through or could we see Carmen, Culver and Walker/Petit-Frere in the class?
4. Assuming Oweh is onboard, what are our DE options if Cox flips to Alabama and Tyreke Smith chooses PSU? DE is looking thin on the 2018 depth chart.
5. It doesn't make a lot of sense to bring in three elite safeties in one class. Is Tyreke Johnson's commitment a sign that one or both of Woodbey/Proctor are flipping elsewhere? Or does the staff see him as a corner who can coexist alongside those two?
Agreed but that's coaching/scheme not talent. Worley and Baker are NFL players. Booker is an elite athlete who won the starting job LAST year before getting injured. There's no question of talent. They just need to be put in a position to succeed.
I think it depends on who the best five guys are and how they can be organized. Right now, I think these are the best 5 offensive lineman for next year: Michael Jordan, Isaiah Prince, Brandon Bowen, Demetrius Knox, Thayer Munford.
Given that, I could imagine a scenario where Prince/Munford are your tackles, Knox/Bowen are your guards, and Jordan is actually at center. He's a bit tall to be a center but it would fit well with how the center position has worked the past few years, with guards (Elflein, Price) shifting from guard to center.
There are two big questions for me with the O-Line: (1) What happens with Brandon Bowen? and (2) Who plays center?
Bowen won the RG job this year and played well until he was injured. He can also play tackle. That gives you immense flexibility:
Jordan can (theoretically) play any of the 5 positions
Bowen can play everything but center
Prince can play RT/LT
Munford can play RT/LT
Knox is locked in at Guard
Taylor is locked in at Center
If Taylor is one of your best five lineman than put him at center and build around him with all the other guys. If he's not, is there someone else you can get up to speed at center in order to get your best five on the field?
Myers is definitely going to be an interior player. I don't think he has the lateral quickness or pass protection instincts to be a tackle.
100% agreed. I can remember the first time Gareon Conley played and he looked lost - 1st Rounder eventually. Same with Denzel Ward. Coombs has earned our trust and I expect to see both Arnette and Sheffield take a leap forward next year.
Yeah, there's been some buzz about that for sure. Which is why I listed him as a possible early entrant.
I would love to see Hilliard live up to his potential.
Agreed on Baker. He felt like a 100% leave at the beginning of the year. Either way, though, I think the LBs will be strong next season.
I listed him below the depth chart based on some of the whispers that he is pretty far behind the learning curve on pass protection. I hope he surprises us next year!
The student could've taken it even further and explained that regular exposure to germs is healthy because it stimulates and strengthens your immune system. That's why we play UM once per year.
I'm positive 11W has better sources than I do but I'll share a tidbit I've heard.
I play basketball regularly with a head coach of a local HS program - he recently met with Holtmann and his staff and apparently Holtmann shared that he plans to use Tate extensively at point guard this year.
So take that for what it's worth.
Players I'm excited about who could make a BIG impact next year:
Offense: Dwayne Haskins, Rashod Berry, Thayer Munford, Trevon Grimes, Jaylen Harris
Defense: Chase Young, Jonathon Cooper, Jashon Cornell, Haskell Garrett, Baron Browning, Keandre Jones, Jeff Okudah, Isaiah Pryor
Very promising times, indeed.
OP is spot on.
In particular I would lay a good portion of the blame with the receivers, Zach Smith, and Urban Meyer. I'm not a JT apologist but I recognize that JT has proven his ability to play at an elite level when surrounded by top talent (2014).
1. The receivers are simply not good enough. McLaurin, KJ Hill, Campbell, and Dixon are the worst foursome Ohio State has had at receiver since Verlon Reed, Philly Brown, Chris Fields, and Evan Spencer in 2011. I have a lot of hope for Victor, Mack, Grimes, and other youngsters to bring us back but that is not happening this year.
2. Zach Smith has had six years. His 2014 success is notable and buys him some time but the receivers over the last two seasons are his guys that he recruited and developed and they are NOT good enough. This is at least 50% coaching. The #Zone6 stuff is fun and he's youthful and connects well with recruits - all great - but I think even the coaching staff recognizes that the strategy hasn't produced results on the field given the shift in WR recruiting philosophy from smaller hybrid athletes (Campbell, McLaurin) to big bodies with more developed WR skills (Mack, Victor, Grimes). I will be genuinely surprised if Zach Smith is WR coach at OSU next season.
3. Urban Meyer has experienced dramatic successes in his career and won three national titles. The first two were with his preferred set up - spread offense, dual-threat QB, quick tempo. The most recent (2014) had that same flavor UNTIL JT went down vs. Michigan. Then the reins were handed to Cardale (and, crucially, to Tom Herman) and this Herman-Cardale pairing led OSU to a national title that featured a wildly unconventional approach for Meyer - big pocket passer, downfield passing, bruising running game. That team had the receivers to pull it off (Smith, Thomas) and a once in a generation backfield talent (Elliott). The following season Herman was gone and Meyer was left to his own devices with basically the exact same pieces (minus Devin Smith) and the offense flopped. Back to JT and we missed out on the playoff with an uninspiring offensive performance throughout the season despite the generational talent. My point in sharing this narrative is that Meyer is heavily invested in a particular offensive approach because he has had huge success with it - dual-threat QB, spread offense with athletes in space, quick tempo - and he has not displayed the flexibility to innovate and move away from it when it's not working or when he doesn't have the players for it. The 2014 example was successful because of Herman's genius and the forced application of Cardale's particular skills - but when Herman left Meyer couldn't replicate it. Meyer is unquestionably a brilliant coach but we have to recognize that he hasn't won a NC with his preferred offense since 2009. And perhaps defenses have caught up to it some and perhaps we just don't have the right kind of talent for it right now and perhaps he hasn't been as flexible as he needs to be to innovate and make changes when it's not working. My prescription: Hand the reins over fully to Kevin Wilson and ask him to make it work given our existing talent.
Holy shit this comment aged well. Kudos to you!
Please continue this feature after every game! Would be great to have a breakdown so we can see what players are rising (more snaps) and falling (fewer snaps) and what the rotations at each position look like.
This is helpful because it helps us see positions of great depth (high rotation - WR, DL) and positions that are a bit thinner in terms of game experience.
1. Derwin James
2. Christian Kirk
3. Saquon Barkley
4. Orlando Brown
I'm not saying play them. I'm saying they're true freshmen that are not on the list above.
Luke Farrell, Wayne Davis, Gavin Cupp, and Dwayne Haskins needs to be added.
Definitely gone: Zeke, Cardale, Michael Thomas, Joey Bosa
Probably gone: Vonn Bell, Darron Lee
Probably coming back: Tyvis Powell, Pat Elflein, Eli Apple, Jalin Marshall, Cameron Johnston
Urban Meyer and his coaching staff are absolutely, 100% a public employees. By any definition of the term 'public employee'.
Let's talk about how The Ohio State University is a public institution funded in part by tax dollars.
Let's talk about how Urban Meyer and his coaching staff are among the highest paid public employees in the state of Ohio.
Let's talk about how I have every right to voice my opinion (for good or ill) in a public forum where those public employees are doing their job.
I pretty much agree with his analysis but I think the most significant element that has changed since last season is the Ohio State offensive line and the effectiveness of Elliott. That's why I do expect a close game but an OSU victory - the slobs and Zeke will wear down the VT front seven and OSU will win by 1 score.