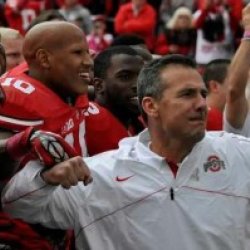 TheKid94
---
from Hilliard, OH
Member since 24 July 2014 | Blog
OSU 2012-17 B.A. in History, and a Buckeye for life from Hilliard, OH. Currently in Mississippi for grad school, on a mission to infiltrate SEC Country.
Favorites
SPORTS MOMENT: OSU defeats Purdue in OT in 2012. It was my freshman year at OSU and my oldest brother, an alumnus of OSU, came back and attended the game with me in South stands. Not only was there an exciting finish (Guiton for the win and Urban pumped up before Carmen) but it was at that game where I realized how truly special it is to be a part of buckeye nation. The atmosphere of the game combined with my brother's visible emotion gave me the experience of a lifetime.
COLLEGE FOOTBALL PLAYER: Chris Gamble
COLLEGE BASKETBALL PLAYER: Aaron Craft
NFL TEAM: Cleveland Browns
NBA TEAM: Cleveland Cavaliers
MLB TEAM: Cleveland Indians
Recent Activity
Where's CampusParc and shamrock towing when you need them?
The Hiroshima article is an excerpt from his book, which I happened to read this past semester in my History 3015 course at OSU. It's not too long, a good analysis of the perils of "total" war.
I've said it once I'll say it again, Cardale needs to stay and move to the O-Line. Throwing dimes from the RT spot is an unbeatable innovation to any offense in today's game. Plus, he only would need to gain like 2 pounds, right?
Picture of PC Principal from South park, saying something to the effect of "Hey Saban, check your privilege, bro!" #SECBias
Honestly very uncomfortable making a joke about someone dying like that. Maybe I don't have a huge sense of humor, but I feel this is in bad taste. Just my two cents.
"Jeff Greene is alive"
I was surprised by this. I assume it has something to do with improvement in blocking now with the scheme change. Had Urbz said anything about this before the game?
My guess is MSU. But they do keep adding new wrinkles. This week it was having Brax in the wildcat but instead of lining Jones up outside like they had been doing, he was the "RB". Braxton fake-pitched it to him and ran every time but I liked that flash of an idea. I hadn't seen that one prior to this week that I can recall. They'll keep toying around with things just about every game from here on out. No doubt one of these times, they'll actually let Brax throw or pitch back to a QB. Even if it doesn't work, it'll keep the defenses honest.
That's a pretty decent explanation for the play. Regarding the running back's head level, we do have what are called "low-risk indicators" meaning things that may signify reasons not to call targeting depending on different factors in each situation. One of which is the player's head level changing, but that's more reserved for a more drastic change in position such as a dive or slide, whereas on this play it was a difference of a few inches maybe. Cam Williams would've hit his helmet either way, most likely.
It was a good call. Made contact above the shoulders leading with the crown of his helmet.
Actually, the targeting calls are trying to prevent the game from changing from what it is. Most of these plays would already be penalties a few years ago but the increased emphasis on player safety is an effort to prevent people from playing in a dangerous fashion. If we keep seeing concussions and injuries happen because guys aren't being penalized for making dangerous plays then there WILL be rule changes. There are some weird discussions happening even at the NFL level right now as a reaction to injuries (for example, getting rid of 3-pt stances). As an OHSAA official, we've been told that it's on us to keep the game from changing. If we see these illegal hits and penalize them correctly and consistently then players will be reminded to tackle in a safe and legal manner more often. It is possible for defenders to make clean, legal, and efficient tackles and the thought is with targeting calls, the players and coaches are more likely to figure out what those ways are.
I'm a student, and I'm not fond of the chant, but the take his shoes part is the dumbest thing ever. It's only like 2 guys saying it in each section and it's not that funny because they keep trying to make it happen when it's definitely not a thing.
ND down 1 score with ~9 min left now...not so fast...although either way someone from that game is getting their first loss
Finger wagging should have been UC, especially how long he did it for. I mean the guy fully extended his arm and put his finger less than a foot from the ND player's face. I had no problem with the TD celebrations though.
Right, it's not what it was, but it is what it became.
Ooohh, that's a bingo!
Is that how you say it?
Heading to Temecula now to claim my seat for the inevitable fight.
Ramzy article+anything Jennifer Aniston=Pure gold.
Obligatory
Look I love the 'shoe and I love the Buckeyes, but I was just offering my honest opinion on one detail of it. And I did offer a solution (make it look more like the old facade, updated) on how to improve it. I accept that some people might not agree, too, but to me, my view of the 'shoe is that this one aspect is lacking, and I think being honest about it is important.
Other teams with similar or worse weather have somehow managed it, I'm not sure how it's impossible for OSU with their resources to find the right people and tools to do it.
If my hot #take with the facade doesn't garner enough support, I'd be willing to settle for real grass in the 'shoe.
Damn. Forgot that, my apologies admins go ahead and delete the post if you want.
I can't waste my time by looking 3 inches above the forum topics and check the content that's already been posted, then someone might beat me to posting it first!
Looks like a letter written to Santa Claus