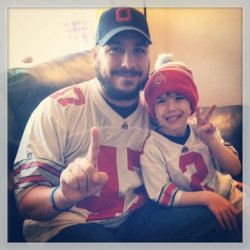 theevol1
---
Rosemount, MN (via Bellevue, OH)
MEMBER SINCE April 26, 2015
I was 8 years old when Coach Bruce beat *ichigan in his final game as Head coach. It was the first game that I really felt like I was a part of. I have bled Scarlet and Gray ever since. I was at the 'Shoe in 2002 when we secured our perfect season against *ichigan and earned our shot against the "Unbeatable U."

I live in Minnesota now, but I will be a Buckeye until I die. I am a husband and father of 3. I'm back in school and on my way to a Bachelor's in Electrical Engineering.

O-H...
Favorites
SPORTS MOMENT: 2014 Buckeyes National Championship and 2016 Cavs World Championship.
COLLEGE FOOTBALL PLAYER: Joe Thomas Barrett
COLLEGE BASKETBALL PLAYER: Aaron Craft
NFL TEAM: Browns
NHL TEAM: Jackets
NBA TEAM: Cavs
MLB TEAM: Tribe
SOCCER TEAM: USA
Recent Activity
I'll bet his next comment was about SAT scores...
Superstitious types who believe that history is just waiting to repeat itself may want to look away, but in the '75 season in which we beat UCLA and then lost to them, at one point in the 3rd quarter of the first matchup, Ohio State was ahead by a score of... 38-7!!!!! Hahaha! I didn't think that Wisconsin matched up with us particularly well the first time and I really haven't seen anything since that makes me feel like anything has changed. The best thing about this year's team is that bad weather favors our style almost as much as no weather does.
Yup, the site I use would have OSU at about -13.5 on a neutral field. Give 3 for homefield advantage and 10.5 is about right.
I don't want to steal this artist's thunder, as his work is incredible, but if any of you are interested in another great Buckeye artist, check out this Instagram: https://instagram.com/jmd.graphics?igshid=3u9xe8yna72d He does amazing photorealistic pencil drawings of former and present Buckeyes!
394
449
466
171
What type of person doesn't consider Alabama or Ohio State a blue blood in football? There are 5-10 schools who should be unanimous and those are definitely 2 of them.
Legend. One last tip of the fedora. Rest in peace Coach Bruce.
John O'Korn. He's already earned a pair of gold pants.
When do you need applications in by? I would really like to do this, but I need to dig out my 360 and find my copy of the game. (PLEASE MAKE THIS BACKWARD COMPATIBLE ALREADY, FFS!!!) I don't have a ton of spare time, but I can probably free up an hour or two a week. If my 360 still works and I can find the disc, I'll likely join.
Exactly. My kids can say four letter words in 2 instances: I don't give a damn for the whole state of *ichigan And... The best damn band in the land.
Held a good team under 100. Never thought we would see that again this season...
In Holtmann we trust! Go Bucks!
I love "Surrender Cobra Corner" just up above the backboard! Hahaha!
What a magical Wednesday!! GO BUCKS!!
I love this! I love it as much because it means the Bucks are a great surprise as I do because I was thinking pretty much the same thing when I heard Dakich say this! Glad I was wrong...
Kyle Snyder right behind the quarterback in the wishbone with Weber and Dobbins. Somewhere Woody Hayes is smiling!
Any map that ends up with Appalachian State owning a controlling interest in that state up north is fine by me!
#BOOM!!! Started the evening off right! Hopefully more good news to come!
I think Kizer has the tools to be successful, but he's in a tough situation. To be a Brown, he needed another year in college. Had he been drafted by a team with an older veteran starter and a good qb coach, he was fine to come out last year. He seems like the kind of player that the Patriots draft and then 3 years later unload him for 3 picks to a desperate team needing a qb. I wish the Browns had the luxury of patience, but too many people want overnight results and that's just not realistic.
Let's not forget that Fresno State lost by 2 scores to UNLV. Bama's best non-conference opponent lost to our worst...