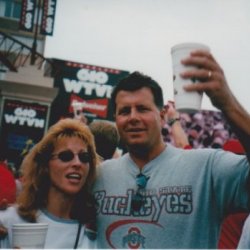 Thedrw
---
Green, OH (via Canton, OH)
MEMBER SINCE July 29, 2015
Favorites
SPORTS MOMENT: Getting dunked on by Carter Scott (at least it's something to talk about).
COLLEGE FOOTBALL PLAYER: Current: JT All-time: Archie Griffin
COLLEGE BASKETBALL PLAYER: Aaron Craft, Jimmy Jackson
NFL TEAM: Browns
NHL TEAM: Blue Jackets
NBA TEAM: Cavs
MLB TEAM: Indians
SOCCER TEAM: Crew
Recent Activity
Our fans whine just as much as Penn State's
Seems like the kind of player John Dorsey has drafted in the past. Keeping my fingers crossed for the Browns!
QB gets hit just after he begins his forward throwing motion. He is on his own 43. Ball lands on his own 40. Incomplete pass.
My parents. So many things I wish I could ask them now that I have more of my own experiences for perspective.
I opened this thread thinking there is no way a course that I have played will be listed. You proved me wrong.
Let them come back and compete. Maybe a new staff will get a higher performance from them.
3 has worked out well for us in the past.
Yep, If I remember correctly, 2 were ejected from their bowl game v UCF.
While this is true, it is helpful to remember that ball control offenses tend to make defense numbers look better.
I have gone to hundreds of games through the years, sitting in nearly every area of Ohio Stadium. Not once have I heard an older fan tell a younger fan to sit down on 3rd down.
Above average D-Line among top 25 teams.
Average D-Line among top 5 teams
Below average D-Line among previous Urban Meyer coached teams
What changes in tactics did we make that would lead one to conclude that we were kinder/gentler or coasting? Or are we just coming to that conclusion based on results?
That bulldog and its handler ran like little bitches.
Mayfield is way better than I thought he would be.
You are incorrect. All four teams beat every team on their schedule.
5 teams beat every team on their schedule. We were not one of them. Quit complaining.
If Alabama and Clemson win, they will have 4 teams that beat every team on their schedule.
We will be a one loss team and B1G champs, which is good, but the marquee non-conference win for our entire conference was Maryland's win over Texas. Our West Division Champ did not have an out-of-conference win.
Here is list of all the successful linebackers he has coached:
1.
So "10-1 going into a game with 4th ranked Michigan and the winner goes to the B1G Title Game with a shot at the playoff" isn't considered contending?
This is why newspapers are failing.
Because newspapers never published opinions before the internet?
I want the facts, and only the facts
...he said as he opined on someone else's opinion.
If we are fortunate enough to win out and get selected to participate in the playoff, watch all of the posters who say we suck to start questioning the manhood of guys who think we will lose to Alabama.
You're rarely as bad as or as good as you think you are.
The correct answer is that said player performs better in practice, meeting skill set requirements and executing assignments. Whether Fuller or White is more effective is based on those criteria, not some imaginary controversy.
Why would a coach give a player preferential treatment?