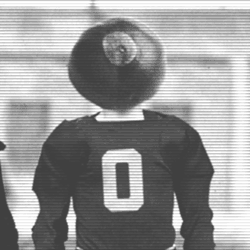 TheButcher
---
MEMBER SINCE March 24, 2015
Favorites
SPORTS MOMENT: OSU Championship game against Miami
NFL TEAM: Browns
NBA TEAM: Cavs
MLB TEAM: Indians
SOCCER TEAM: Hahahah
Recent Activity
So media ranks OSU over Michigan but they also say Michigan will win the B10? Ok.
Yep. Not even as hard as finding Waldo ;)
Still better than the 5 defensive lineman set against Iowa a few years ago...but then again, what isn't?
Rise above. Wish him well and then move on.
I don't know who would win but as far as "watchability", I would give the nod to Meyer by a landslide.
Not sure how many cans were thrown at the TV during the Tressel era.
...is it 8/31 yet? tick tock...
I would use a animal analogy, but I don't.
I'm confused:
"I'm not into making animal analogies...."
"But like an anaconda, you want to just keep squeezing it tighter and making it better, and that's where our football team is."
I cant see the crowd for all the smoke!
Preach it!
We've seen great Defensive Ends that were not dominant as freshman. Too tall an order in my opinion.
Having said that, he'll probably end up with 20 sacks this year. /s
"...Ohio State fans should hope Okudah leaves for the NFL with him because it would mean he had a successful junior campaign."
Hmm...I hadn't thought of it like that. Worlds are now colliding.
Pretty sure the writing was on the wall before the season even started. We thought it was going to be bad and now its confirmed.
Will get worse before it gets better too.
Very sad!
Did you hear about the Clemson cheerleader who got VD from a tractor seat?
Same deal.
I use 3 factor...ask the wife first.
Home of "The Buzzard" baby!
Probably explains why Fuller didn't turn pro.
I'm hoping we don't get 62 put on us with these changes.
ichigan had the athletes to play defense and they got embarrassed when playing good offenses.
Perhaps he took "Kool & The Gang - Celebration" a bit too far?
Was thinking the exact same thing.
I like the noon start time but they could put it on at 2:00am for all I care as I'm still watching.
I seem to remember a certain backup QB that had to be pulled late in a blowout game and JT reinserted...