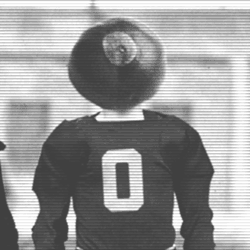 thebrig
---
MEMBER SINCE January 18, 2015
Recent Activity
Another poll that doesn't matter.
Should be a night game. 8 pm
Haskins , and then Elliot, Melvin Gordan, Deshawn Watson. But the biggest snub was Christian Mccaffrey.
Only 2 ACC teams in top 25. Ouch
You couldn't pay me to watch a NFL pre season game.
Clemson runs a dirty program. Cheaters
Wisconsin should be in the top 25.
Look at 1979 when OSU had to face A really strong undefeated USC team on their home field at the rose bowl. All Bama had to do is beat a mediocre Arkansas team played at the sugar bowl. Bama is the luckiest team.
By time Monday comes, they will be giving tickets away for free lol.
yes interesting I would like to see his source?
BIG 12.....0 PLAYOFF WINS

WAKE UP COMMITTEE!!!!!!!!!!!!!!!!!!!!!!!!!!!!!!!!!!!!!!!!! YOU SUCK
Captains don't quit the team.
OSU got beat by a bad VT team. VT lost to a 3-9 team that year and got obliterated by a bad Miami team. One bad game means nothing. Its how you finish the season.
Not watching this holiday invitational tournament. One is a ACC championship game. Yawn.
The Big Ten will get zero credit if they have a good bowl season. 7-1 last year and the conference still got left out of the playoffs this year. No respect at all because the system is rigged for the southern teams.
Some bad bowl matchups this year including the Rose bowl. No reason to go except for it being Urban's last game.
OSU got robbed AGAIN by this fraud committee. Will be boycotting playoffs again. This committee is a joke. Until it expands this isnt worth watching. They keep excluding the 1 team that can best saban. I REFUSE to watch the rose bowl and wish the whole team would boycott the game in protest.
ESPN SOR(strength of record)
1.Bama
2. Clemson
3. ND
4. Ohio State
5. Oklahoma
6. Georgia
How bad would OU lose to Bama?
I think 6 teams is the right number
Playoffs or bust. I have no interest watching a 12-1 team against a mediocre Washington team.