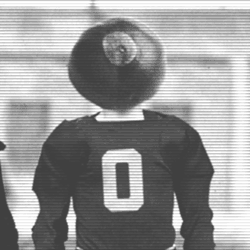 thebrig
---
MEMBER SINCE January 18, 2015
Recent Activity
What Zeke did during that post-season run in 2014 is unmatched imo. My #1
Based on what? Bama and Minnesota had a common opponent..Auburn.
BIG was the best conference this year. Most teams ranked in the final AP. Sec wouldn't go 8-2 if all the bowls were played up north instead of the south. And OSU would've beaten LSU.
They only beat one(ttun) ranked team all year.
Not the best. Fields and Haskins were heisman finalists in their first year as starters.
Or how about all the bowl games played in the north...instead of the south. Bet the sec wouldnt had gone 8-2.
They have clemson ahead of LSU.
What the real top 10 should look like.
Ohio State
LSU
Clemson
Minnesota
Penn State
Oregon
Georgia
Oklahoma
Iowa
Notre Dame
Alabama and Penn State ahead of Minnesota? What a farce!!
They only averaged 4.3 yds per play when Wade was in the game.
I would put OSU at #1
OSU
LSU
CLEMSON
MINNESOTA
OREGON
PENN STATE
GEORGIA
ALABAMA
IOWA
OKLAHOMA
I was at that game. Threw my OSU program in the garbage on my way out of the shoe. Couldn't believe it.
No question Minnesota should be ranked higher than Bama. Minnesota had 2 better wins.
I will never get over this loss until we finally beat Clemson. Tired of people saying 0-4.
Two classless programs..along with Clemson.
Its all over the media that the refs robbed Wisconsin at a chance to win the game.
He's probably a ttun or Clemson fan trolling.
I doubt I will ever get over this heartbreaking loss because the better team did not win on that night.
Only bad call? What about the no calls in clemsons favor?
Howard Griffith from BIG Network stated the other day that the difference maker in the game would be Shaun Wade. He was spot on. Clemson scored 0 before he left the game.
I feel like the better team did not win. Look at the stats. Refs killed us.
We've owned both ttun and Penn State the last 10-20 years, so not surprising a few butthurt fans.
Thats what happens when you have southern refs. PAC 12 refs would've been more fair.