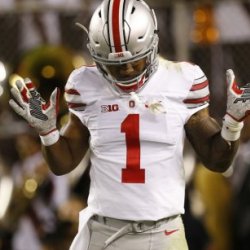 thebraxtonmillershow
---
MEMBER SINCE September 14, 2017
Recent Activity
Its the Modern NFL offense (More specifically LA RAMS). Spread mixed with double TE sets.
Klay is the same height as Kawhi (6'7") hes a big guard.
Hes plenty athletic enough. He's just not in the shape he needs to be in. And I'm sure these teams are going to tell him what exactly he needs to work on.
When will people realize that
1. college isn't for everyone
2. a degree is no where close to being what it uesd to be worth, lets say the 80s for example.
Less and less companies are requiring college education because you can learn so much through the internet as well as trade schools becoming more popular.
Am shocked that you care more about yourself then the players. It doesn't matter if its 1 or 100 players. If they can't make any money off themselves then they shouldn't be forced to play a game for free when they could be making millions.
I know right, the hypocrisy is hilarious.
Well Cornerback is the hardest position to play in college football. Now in the pros I would say Quarterback edges them out but its close. It keeps getting harder and harder to play CB.
Not sure I do, I've seen him throw a few times in practice and don't think he's close to good enough. But we will see, still got an entire off season to improve.
How is rush attempts per qtr. relevant at all??
I also dont understand why you are comparing the Mich game and Purdue. In the Mich game we controlled the LOS. Our OLine was dominate. In the Purdue we didn't. So YES I do see a difference.
We were down 14-3 at halftime. 21-6 after 3 quarters. Our longest run was an 11 yarder in the 4th quarter. Your argument that "we had no choice but to throw the ball" isn't true. It was a 2 score game, for the majority of the game (until late in 4th).
We had 76 Rushing yards on 25 attempts. The reason we struggled in red zone was because we couldnt run the damn ball. The reason Haskins was asked to pass it 70 times was cus we couldnt run the ball. Like honestly you have no clue what you are talking about.
Purdue had 161 rushing yards. 161 to our 75. But sure blame Haskins.
2014 JT isnt the same as any other JT. In 2014 we had both JT and Cardale be game managers. After that our OC left (Herman) and both wanted more control (to develop as a QB). This is when you saw JT hold onto the ball far longer then he should have. He wasn't good at reading defenses or anticipating receivers.
Haskins didn't even have a bad game. Reasons we lost
1. Couldn't run the ball
2. Terrible defense
3. Bad red zone offense
Then what happened the next week against Iowa?
Agreed, it's not the only thing. But from a fans perspective, we don't see them in practice every day. So seeing people judge who the better QB is based on a spring game is just funny.
How does that mean jack? When you are saying Burrow > Haskins based on a spring game. It's funny how reactionary people are. Tape against opponents that matter should be the only way to judge a player.
So basically what you are saying, is that it's too much to ask/expect for the best players to be playing? Because Urban has shown that he values loyalty over ability. We saw it with Tyvis starting over Hooker and again with JT. Oh and stats don't win you championships.
How isn't what these collegiate athletes do, not a job/career? For a lot of them it's the biggest decision of their lives so far.