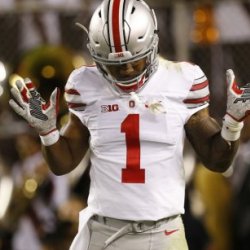 thebraxtonmillershow
---
MEMBER SINCE September 14, 2017
Recent Activity
Zero chance that happens. Almost all their money generated is TV revenue.
I mean sure, but I would also find it hard to believe we dont have antiviral drugs out in 2 months or so. It isnt a cure but should be very effective.
Hopefully, since he's very talented. But I dont mind getting TE's like this since we mainly use them as extra OL. So unless they have elite upside (like Ruckert), I'd rather take the blocking TE over the more athletic TE every day of the week.
Just our type of TE. A good blocker and is capable of catching passes (not that we throw to them anyway).
Im guessing it has something to do with what position he was going to play. Since he also plays Defensive Back at a very high level. Position definitely affects rankings.
I mean we have to take another LB right?
Also made Day interm head coach over Schiano.
Man you are doing anything but ruining the board. You are posting your opinions. It isn't like you are trolling or anything like that. If you enjoy it, keep posting.
Can he? Sure, but he's very slow. Similar to Haskins in athletic ability.
I think its a bit higher than that considering our current situation at RB. We have hardly any depth while also having a top 5 offense every year.
Man what an ignorant take. This isn't about people from ages 10-50 getting it and being fine. Its about someone from that age bracket getting it and giving it to someone whos 75+ who has a significantly higher chance of dying from it.
Anyone who actually understands basketball knows that rough patch wasn't on Holtmanm. The biggest flaw this team has is that our guards aren't very athletic so they struggle to finish at the rim. So when we aren't hitting 3s its gonna be tough to win (I know thats the case with a lot of teams). We are 10-9 when we hit less than 9 3s and 10-0 when we hit 9 or more.
As someone who actually watches NBA basketball (I know most of you don't on here). I will say he isn't playing in the league. He can do fine in Europe tho.
Well a strain is a partial tear in most cases and since he's gonna be out for a while I would guess its a grade 1 or 2. But I would guess it isn't that bad or he would have already had surgery to repair it.
So he didn't completely tear his achilles? thats great news if so.
Ones that can play right away. We didn't do that...
Neither are homerun hitters. But 1 should be able to get over 1,000. Don't see how you don't in this offense.
Been saying the same. Fleming is a 4.4 guy. Wilson is a 4.6. (and yes I know speed isn't everything) While Wilson is a year older, Fleming is already a grown man and such a well polished WR. Wouldn't be surprised at all if he starts out wide with Olave.
lmao I did the same. Don't regret it either. Will probably binge it again before the new season comes out.
No disrespect to Crowley or Chambers. But since they have shown little to anything at Ohio State and also taking into account their HS film. They are no where close to the talent level of Edwards.
Reality is speed kills and its especially true at RB. You ain't getting that much faster over a couple seasons either. So based on 40 times and film, I wouldn't be surprised to see him ahead of both.
Honestly think once he gets more confidence he will be a force. Some of the plays he's made this season, shows you how good he can be.
Right now, he's far too hesitant when he gets the ball and often doesn't know what to do with it when he gets it. Buts that normal for most freshman.
Yep, their best players definitely didn't play their best games, but thats credit to our guys for stepping up on defense. But their depth is so good.
Huge win but damn, Maryland is a good team. Took one of our best performances all season and we still had claw tooth and nail at the end. Difference was our free throw shooting was incredible in the 2nd half.
Ok, my understanding that it was the same as the Phillips situation where he was committed until he signed with Utah. Figured he would just sign with another team if we didn't re-recruit him. Of course we didn't get that chance with Phillips since he wanted to sign on National signing day.