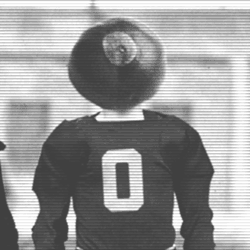 TheBigCat
---
Member since 01 September 2013 | Blog
Favorites
SPORTS MOMENT: Being on campus for The Game in 2006. Probably the best sporting environment I've ever been a part of, and one of the craziest weekends that I'll ever be a part of as well.
COLLEGE FOOTBALL PLAYER: V. Bell
COLLEGE BASKETBALL PLAYER: S. Thomposn
NFL TEAM: Cincinnati Bengals
NHL TEAM: Columbus Blue Jackets
NBA TEAM: Golden State
MLB TEAM: Cincinnati Reds
SOCCER TEAM: Do we play soccer in the US?
Recent Activity
Is this really what you want? I hate the bullshit out of conference games, it's boring and predictable.
we lost by 31 to an in conference opponent. I'd rather we have confidence to handle business against shit teams than schedule fluff nobody wants to watch so we have a game in hand. Iowa is shit this year and we weren't prepared and got rolled. We got what we deserved.
Yes. And if we win by 3-4 TDs I think we are having a different discussion this morning. Meyer rolled with JT. And we get what we got.
31 point loss to Iowa probably had something to do with it. Iowa almost put up 60 on us. Iowa.
Say what you want, but Bama doesn't get blown out, ever. I think that is part of the decision.
If we would have gotten rolled again by the same team in consecutive years it's bad for the brand and conference. Remember how long it took to live down the 06 and 07 debacles? Crazy thing is I would have never thought that would be a concern with Urban Meyer as the coach.
I think this has legs. Let's face it, Bama doesn't get blown out. If we make it in I could unfortunately see that as the outcome. And that alone is telling. We aren't elite with JT under center, too predictable and one dimensional against elite teams. And Wisconsin isn't an elite team -retry apparent they were outclassed last night.
committee will hedge their bets, a blowout loss will look very bad for them.
It may be news to you that Schiano had ties there but it wasn't to our AD when Ohio State made the hire. It was addressed at the time and due diligence by the university was done. If there were concerns OSU would not have touched him with a 20 foot pole. It's not like a new bomb shell was dropped, which is what makes this issue that much more ridiculous. All that said, more people should do what you outline, which is to do more digging before formulating an opinion. Unfortunately most take the word of a dipshit like Clay Travis and probably think Schiano had a role on the same level as Mccreary (sp) which is sad.
And he was sitting right next to Collier on the sidelines. He needs to be behind center and win a big game, who h he has yet to do. Urban said it, QB's are defined by their championships, of which JT has 0.
Troy Smith and I don't even think it's close. JT has excelled against lesser competition. Let's see how he fares in the next few games In primetime.
How many big ten titles has he won?
Hope they didn't print too many JT for Heisman posters.....
2&10 QB draw?! Bahahahahahhaha
Hang tight guys, we have a couple QB draws dialed up here they are not expecting.
Playoffs start with the conference championships. If UGA can't beat Bama on a neutral site they aren't going to get a mulligan to try again in a ~month, and vice versa.
UGA will have a loss going into the champs game. They won't beat Auburn on the road, too one dimensional.
Don't disagree, butwearesaying that about a 5th year senior. That's telling.
Time to get 7 "game ready"
Pretty damn close....good work, also equally sad for our coordinators.
Bollman'esque
Yawn...new day, same worn out rhetoric. Should have dropped some E+R=O shit in there for good measure. Just want a QB who can throw the damn ball!
This is where I'm at too, just simply over it. We may stick with JT and win more games, but it's not even fun to watch. The play calling has become Bollman'esque. QB draw, QB rollout right with a throw away, and then a JT sack after holding onto the ball for too long. I'd rather lose games and have it be exciting than watch this. Our offense looks so inept when you watch other programs. Until we go for a change at QB I'm done.
Legendary QB who has 0 BG titles to his credit?
So you think TO running to the star in Dallas was fair game? Get a grip, that's highly disrespectful, and as an alumni I take great pride in that block O. To the riches go the spoils, I get it. But there is a line and Mayfiked and OU just look classless.