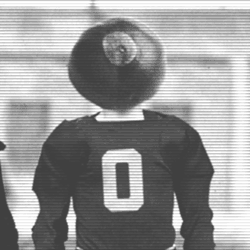 TheBigCat
---
MEMBER SINCE September 01, 2013
Favorites
SPORTS MOMENT: Being on campus for The Game in 2006. Probably the best sporting environment I've ever been a part of, and one of the craziest weekends that I'll ever be a part of as well.
COLLEGE FOOTBALL PLAYER: V. Bell
COLLEGE BASKETBALL PLAYER: S. Thomposn
NFL TEAM: Cincinnati Bengals
NHL TEAM: Columbus Blue Jackets
NBA TEAM: Golden State
MLB TEAM: Cincinnati Reds
SOCCER TEAM: Do we play soccer in the US?
Recent Activity
Wow, i gave him no shot at that....thats huge
Now thats how you blow up a good drive....in this weather got to take poonts where you can....brutal
Damn Chase Young is the man
Playcalling is stupid, we have too many athletes, have to open it up.
Day doin his old buddy a solid. No reason not to drive your 2 minute, especially after the first down run. Oh well, wiukd have been nice ti at least try to get in FG range.
Jesus football has gotten soft
Telling in many ways that Fickell chose ro go for it.
Oh shit, ol dick fickell getting aggressive, better 4 and 1 playcall than outs, touche
Glad fickell just needlessly blew a timeout for 5 yards on a punt, always thought he was a shit game manager
Ol Day really out think himself there
Wish we would have ditched the "OR" thin this year, there can only be one starter.
Still feels like this staff is putting a big priority on seniority. Lot of young guys that in my opinion should be higher up on the depth chart. Hopefully the on-filed play will sort itself out quickly and I hope this staff truly plays the top guys.
Just feels like other programs are giving priority to the high-ceiling guys and getting a solid 2-3 years from them.
And just like JT, his ass should have sat when he wasnt 100% and a detriment to the good of the team. If he is ass again this year he needs to see the bench, he can captain all he wants from the sidelines. After the coin flip, dude needs to ride pine.
And its not like our volume of carries was down, just the YPC wasnt as productive. Not like we went all air raid.
And hilarious that we have a "reputation" now, coming on the heels of JTB and Braxton, and guys like Hyde and Zeke.
History would say in the past ten years if you start at RB at tOSU youre going to get drafted and more than likely start.
Sure it sucks tk not snag the shiniest object on the recruiting trail, but I thjnk we have some guys on the roster that are going to show out this year.
I dont think this will have any impact. The Kliff hiring was unusual from the jump, guy got shit canned from Texas Tech. He wasnt a hot shot coach in college, that hiring makes zero sense.
Also, when you have 20 captains that changes things. Should go back to 3-4. Also, co-started needs to go away. Youre either the first guy on the field or you'r not, and rarely the "co" guy was ever getting the nod.
Shaun Alexander? Derrick Henry is streaky but a freak with HIPO. Josh Jacobs this year. Regardless of success in the NFL, Bama is churning out talent at the collegiate level. They seem to always have a 1/2 freak combo. Not a Bama fanboy, but they're definitely in the convo.
Feels like one of those articles that tries too hard to be abstract, and ends up just falling flat. List makes no sense, no definition of what constitutes overrated. Clarett, one season, a Nati, play of the decade. Underwhelming, sure, overrated, abdolutely not.
Its as if Herbstreit wrote this with all the Buckeyes on the list.
Yup, I think this is the thread. Highest rated recruit in program history following a record breaking QB and a first time HC. There's a lot on him.
And, after transferring, this is probably his last shot so he needs to take advantage of it.
Should probably try to do a bit of research before calling people out. Goes to show the type of knowledge people commenting on this thread have regarding the sport.
Nice try though bud, maybe next time.
Hardman was anything but under the radar, he was a composite 5* and top-15 guy nationally. OSU was recruiting pretty heavily. That was a bogus statement
Yea, I would trade Dalton for just about anyone at this point, so that's not saying much. April fools joke was the Bengals signed Kaep and I got excited if that tells you anything.
Baker looks like an out of shape accountant who lost his razor. Lets see how he progresses in year 2 and with expectations, thats a much different animal.
Hell no. Guy is a huge choad and as a Cincinnati native and fan of the local teams it actually brigs me joy knowing that Browns fans have to embrace this ass wipe and like him.
All the jokes and hot takes on here about his arrest video and the fact he wasn't athletic enough to outrun an average cop. The attempted flag planting. Same people talking that shit are now tagging him as the savior. He disrespected the alma mater in a big way and that's not forgivable.
Cant wait to see him go down in flames, will bring me much joy.
OSU loyalty before pros any day. shameful take on an OSU website