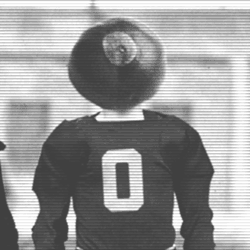 the419
---
Member since 27 January 2012 | Blog
Favorites
SPORTS MOMENT: "We've always had the best damn band in the land. Now we have the best damn team in the land." - Jim Tressel
Recent Activity
I wholeheartedly disagree. First of all, Korver is one of the best shooters this league has seen and Love and Smith are outstanding shooters, so who are you going to get that shoots better to replace them? Second, your plan is essentially to beat the Warriors at their own game. But that isn't possible because they have the three best shooting scorers in the entire league. KD, Klay, or Steph are all capable of getting 50. You can't beat them playing a three point shooters surrounding LeBron game, that gets you what we just watched, a 5 game series.
They need a big man, along with some other pieces that can muddy up the game. The only weakness Golden State has is at the 5. Problem is, they say go for it and trade 3s for your big man's 2s. They aren't very beatable without another super team to go at them.
I did watch and I am in no way saying Love isn't good or that he wasn't good stats wise in the finals. What I am saying is that he is not the answer to defeating the Warriors. He is completely guardable for them. He doesn't finish real well in the post, can't create his own offense, and isn't reliable in crunch time unless you get him a spot up three. I love him as a player, but I don't think you beat the Warriors with him as your 3rd best player. Obviously you beat everyone else though. I think Cousins is a player no one on the Warriors can guard. He can put up the same numbers as Love, and meanwhile create a matchup nightmare that requires double teams, which frees up their shooters and LeBron and Kyrie to have more space up top.
Aldridge is not the answer in Cleveland. He is a far worse fit than Love. He is weak in the post, slow, doesn't rebound at an elite level, and was totally overmatched against GSW in the playoffs this year. I like him as a 15 foot jump shooter off a driving Kyrie or LeBron, but we can find plenty of cheap options to do that.
Start by getting rid of Kevin Love. Good player, but not going to beat the Warriors with him.
The thing I would love to see is them get DeMarcus Cousins if possible. How would Golden State defend him? It would be demoralizing if they could continually destroy them in the post with him, because it slows the whole game down. With LeBron and Kyrie and Cousins, it would be interesting. Then it would be nice to tack on a Wade or someone that can score and lead while LeBron sits. We are trash when Kyrie or LeBron is out.
I'm an OSU alum and I live in Clemson. The everyday fans and athletic dept people here are some of the best people you will ever meet. Those comments are coming from ignorant fans, which the South is in no shortage of. Anyone I have spoken to here respects the heck out of us and Urban and are genuinely thinking this game is 50/50 and will be the best one of the bowl season.
Its unfortunate how many things are represented online solely by fools.
Thats pretty well exactly what I just said. Mix of Q and turner.
im thinking hes more of an evan turner and laquinton ross mix. ross's mixtape coming out of HS looked a lot like this. he is smoother than Q, but a better athlete than turner. not sure from this video if hes much of a shooter, appears he is average.
i hope whoever got paid to do this doesn't get within 100 miles of our uniforms
I think it would look fine if they disconnected the S and the T in the middle, and also the T and the E at the end. it just looks super weird without the white in the text. keeping them connected make it look like a huge blob of text.
can you imagine having to watch penn state vs nebraska? shoot me in the face.
I bet Dakich is doing games because he cant get a high school coaching job in indiana
Dan Dakich sucks. And the town of Fort Wayne agrees with me.
Tirico is embarassed
Dantonio is Italian for Outback Bowl
20 - 17 osu
basil is the hero with a 49 yd game winner
now i totally get the helmet stickers in a new way. i just found myself looking at every post so i could comment and get more stickers.
well done.
William Buford has to be getting paid. He is literally unplayable. Worse than last year against Kentucky. Wow.
why don't they just make them wear a navy and yellow jersey. that would motivate me enough to work my ass off
Erin andrews has contributed more to this game than buford
At least we wont have big ten refs in the tourney
Trey burke is the best guard on the floor and we gave him to michigan
No foul? Wow i hate big ten refs