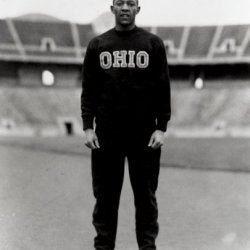 The Buckeye Bullet
---
MEMBER SINCE October 19, 2015
Recent Activity
Amazing!
Thank you for sharing that awesome letter!
Enjoy retirement.
Short Time Table is very good news for Urban and Buckeye fans.
I expected this to be a never ending witch hunt type investigation.
The bright side is now Urban can go out and get an NFL quality coach to come in and really make our WRs great.
Smith came off as a juvenile twitter troll along with questionable professionalism.
Imagine My Shock.
Now hopefully Urban can go out and find an NFL caliber WR coach to these guys.
Hopefully Urban runs for Governor after he retires from OSU Coaching.
What a gift Urban has been the The Buckeye State!
YUGE LOSS for he Buckeyes!
Good luck Joey in College and NFL.
Not a good feeling for 2018 Bucks.
Clay Travis is always on the money. Agree again!
And ESPN Sportscenter is down 40%.
SJW is not very attractive to normal people.
Who cares & why would you expect them to act any differently than they do?
These are very immature people you are discussing.
Football is getting too soft these days.
I am old enough to remember when people weren't obsessed with hurting "MUH FEELZ" of the opposing teams.
JT is my favorite all-time Buckeye!
I knew he was a 1st Amendment Absolutist & not a Snowflake!
Bravo JT, much respect.
Seems like Urban is still running the show on Offense.
Same Basic B!tch QB run / option plays and no throwing to TE's, weak WR routes and no meaningful Play Action game.
Sad!
Try the meds and also find a 12-Step group in your area to address the root of the problem. God bless.
Wilson is an old-school ballcoach who didn't make the proper adjustment to the Snowflake Generation.
I am sure he has course-corrected and will be just fine going forward.
What an awesome hire, now let's hope Urban gives him the autonomy to do his job.
2 years of endless Q Runs ends in this...
Hopefully Urban turns over Offense completely to Wilson and doesn't allow his ego to meddle in it.
Defensive Backfield went from our greatest strength to greatest weakness in one week.
Good luck to Lattimore!
Agree 100%, we are at a competitive disadvantage due to the disparity in Offensive Coaching talent and competency.
If you re-watch the Michigan game, you will see multiple egrigrous Offensive Coaching staff mental errors that easily could have lost the game.
Hopefully Kevin Wilson is given full control of the the Offense and this is resolved fully next season.
QB Run 15-25 times per game.
Doesn't matter much if they don't throw the ball downfield and instead run the QB 15-25 times a game.
Fleck probably wants an Offensive Staff that is balanced and doesn't Q Run 15-25 times per game.
Good decision by Fleck, he is a rising superstar in College Coaching.
Hopefully Urban doesn't have to reverse course and find a spot for a lame duck coach, the Offensive Staff has too many cooks in the kitchen.
Give Wilson full control of the Offense and the Playcalling.
Excellent news!
Now turn the control of the Offense over to him entirely.
We cannot continue to have Playcalling by committee - it is a total FAIL!
Another under-utilized HomeRun Hitter we hardly knew...
Good luck Curtis - Beastmode is coming to the NFL again!
As long as the OC gets full control of the Offense next season all will be well.