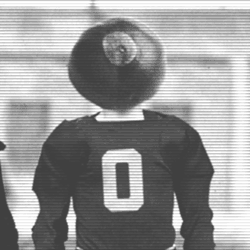 thatzuhYikes
---
MEMBER SINCE August 08, 2018
Recent Activity
as is tradition with Wisconsin.
Yeah Werner was also a problem last year too, just not as bad as Borland because Werner is faster. Teams continue to run straight at 32 and it works, I don't see how you can say that isn't true. When 32 doesn't blitz he gets burned
people here said that about this game, and he gave up every big run tonight
Walk on lb better than borland
Oline playing like dogshit and day calling all 30 yard pass plays
I mean high school football is a shit show even at the highest level. Not impressive.
Mack is such a great receiver in traffic. He gets the short end of the stick a lot, always gets blasted on the difficult catches and awkward tackles.
post this on r/CFB for some juicy drama
then why was the flag planted on the moon?
Kitchens game plan - If they have a great D line, run the longest developing pass plays known to mankind. Worked against the rams right?
No one is attacking his character
it was clearly a snark comment.
And your comment demonstrates your complete lack of understanding of how advanced analytics systems like SP+ rate teams. Lol
Good win. Fields is a too casual still when scrambling.
Borland NICE MISSED TACKLE
Borland NICE MISSED TACKLE
MSU has a serious dirty player history
Hill is really good at not running north and south, that simple bubble screen is a 12 yard gain if he does
this is some shit play calling Day
He cannot get infront of or out of a block, its a waste of a player an 11th player
Borland was never actually hurt, he still runs like he has a peg leg
GET BORLAND OFF THE FIELD, HE IS SINGLE HANDILY giving them this drive
WHY ARE THEY ALL STANDING AROUND