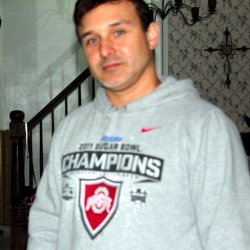 Thajinn
Toledo, Ohio (via Same as Above)
Member since 19 January 2012 | Blog
Favorites
SPORTS MOMENT: Well 1981,84,88,89,95 49ers Winning Super Bowls, 2014 college playOffs dahh
1984 Tigers winning the World Series
1997 Red Wings winner the CUP Rest was Great but
2002 Game 7 WCFinal Red Wings Blow out Win vs Avs was BEST!! the Crowd Chanting PATRICK!! when he was finally pulled was AWESOME!!
2002 DAHH GO BUCKS!! No one thought they would or deserved to be there hmm Same as this year.. No Respect!!
2011 Hiring of U.Meyer as Buckeyes New HC

COLLEGE FOOTBALL PLAYER: AJ HAWK, Ted Ginn, Eddie George, Cie Grant, Bennet, B.Miller
COLLEGE BASKETBALL PLAYER: none
NFL TEAM: 49ers
NHL TEAM: Red Wings
NBA TEAM: none boring
MLB TEAM: Tigers
SOCCER TEAM: lol
Recent Activity
and what about Spring Sports..are they starting soon?? Softball/ baseball T-ments?
I don't think it is weird, he was at UC, it was like the MSU job you mentioned. I think NDU Fans/Alumni and boosters have ridiculously high expectation year in and year out. that is most likely becasue of the NBC and ESiPN Over hyping of that school's year expectations and the Media's silly ( I think preposterous or absurd) Pre-season polls..they need to go...
if anything.. we will get to see how good that TTUN coach and his staff really is.. dealing with a younger team...
Although...I still want them to be 11-0 when they vs tOSU.. Becasue only the Buckeyes should beat them, is they way I want to see it play out every year..
it be a interesting game..but as for Bama shying away? lol with OOC of home vs Fresno State and (Who the F is) Mercer .. lol and the game FSU is in Atlanta .. no not a big gamble... Bama and all SEC schools need to man up and play Nov games in north vs Good Schools..and take off their sched all the HS games..
Al Blades Jr. ?? not understanding why he even on this list.. no offer..no tOSU visits or coach visits.. am I missing something...
Money talks bullshit walks...on that contract. depending bow much UFC.gets and how much they can use this fight to promote there product as well..it can be easily done..
She even though they where not starters in 2014..they still enter the draft with those Rings..also..
USC, FSU, & TIDE OR CLEMSON. .But all three every yr. Home & Homes
Lol..looks like something my 13 or younger son can make on a cheep computer painting or drawing software...cheesy..if this is really it...
With your logic we should NEVER USE COMMON SENSE and READ MOST TO ALL POST in a thread before posting an already answered question over and over again. You look stupid and it insults all us Buckeye fans that are associated with fans like you..but also to yourself. Don't be lazy and look ignorant, and control your I emotional impulses to post something your annoyed with. My post towards your post here.yes this one is a PRIME example..I just did what your frost one did. Posting my emotionally annoyance of your post..
It clear to me we have still a lot of uneducated fans. That say we have plenty of film, game recordings of how the offense played out but they don't really watch them and see what really went wrong. It really quite simple ..the OFFENSEIVE LINE never completely played well in BIG games and NEVER gave any of our QBs time to get into rhythm or get there feet set..so we saw those outcomes. Poor passes...no wide receivers open on side of field that the Qb is already running for his life..terrible play calls also is a problem this yr..but main one the LINE...PROTECTION!!!!
ok. I guess I need help on understanding the Assistant coaching count at tOSU football staff.. Are they Subtracting Luke Fickel's spot, who has also left?
I get that Ryan took the other Spot that Beck opened up, so to me it makes sense that Luke's spot is now filled by Wilson??
Or did I miss a New Hire for Defense?
Bungle fan.. you don't seem to understand or have good eye to what the offense problems was this year. to me it was easy, PROTECTION.. the LINE overall was terrible in BIG games.. PERIOD!!. they NEED WORK..it was good news that Price is coming back, with Jordan..but rest need a TON of WORK or no matter who is QB will to you .. will SUCK...even if we had Tom Brady or D. Watson at QB they would suck.. no time to get plays off or time to get into a confidence in pocket or game play rhythm...
I done with College football this day forward till next fall..IDK about rest of bowls games.. Its Hockey Season this point forward.. but tonight need to DRINK.. to forget this crappy ending to a Season , I just want to PUKE
is this Hell of a Nightmare over yet? will Myer have Pizza after the game??
I'm 1000% sure that if Jordan can Not come back and play solid healthy blocking at the line there's no point in watching the second half. Think I'm going to play some Xbox..
If UFM just goes after a linebacker coach then I can see maybe and see NCStates: Dave Huxtable or Western Kentucky's: Nick Holt??
Here is a name I thought of ..not sure if a good fit or just terrible..Tim Beckman??
Buckeyes have about a month of Mark May, Vilma and other CBS, ESPiN and other commentary sports articles we can call it Hate, bias or envy..but it will happen ..Let it come.. I pray there is a Ton of tOSU is not worthy because not conference champs
I disagree, I would have been fine with 6 teams this year with the top two getting a bye with 1st round. That 1st round is played the week of Christmas we would have two playoff games. The winner play top two seeds next week. Same days and Bowls as now. So it be would been tide tigers byes . tOSU ether at home vs PSU or in smaller bowl game Like music city/holiday/ tax slayer bowls. The game Huskies home or small bowl vs TTUN. I would love to watch those games...
I see the dirsrepect Bias that still largely out there against tOSU. Clemson almost lost to Vtech in last mins of there game last night. the Clemson defense is suspect. If Prince and tOSU offensive line tackles issues if FIXED Clemson is in trouble..but if not Clemson defense line will be eating JT all game long and will be one and done..
Hell no...Toledo has many more Buckeye fans then TTUN here..just ask the retail stores they stock more Ohio State stuff even the grocery stores like Kroger's does more than theY sell ever of TTUN stuff.. you owe all us Toledo OHIO STATE fans apology unless you're really a fan for the team up north
If you watched ..Prince was getting beat all game long..he is tOSU weak link..