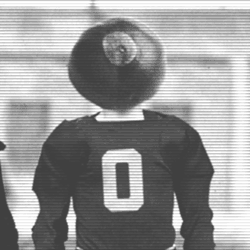 texbuck
---
Member since 14 October 2010 | Blog
Recent Activity
It's like that damn dress all over again.
Kind of interesting that the source didn't mention Davis when talking about why the staff is so high on each of the DB recruits. Maybe I'm reading too much into it, but I wonder if that means that the staff shares our doubts that Davis will end up as part of this recruiting class come signing day.
All of their students must be busy shooting "hip hop" videos.
It's so beautiful seeing that long list of offensive linemen on the depth chart, most of whom are on scholarship and actually viable options. It seems like there were times during the Tressel/Bollman era where the list would have been barely half that long.
Except for Penn State, of course.
Based on the comments we've heard from players, it sounds like Vrabel's coaching methods will fit better with the NFL. Not saying he wasn't a great coach for us and didn't get great results, but I think his move will end up working out better for all parties involved.
Stauskas has the most punchable of faces.
Seems bizarre that Froholdt committed to Arkansas of all places. Is he really looking forward to playing for Bielema and getting his butt kicked by Alabama, A&M, and Auburn every year?
I imagine your statement that Adriatico's is the best pizza on or around campus is going to start a heated discussion.
Yea, that's exactly what I mean. That way I could just do a ctrl+F and search for 52-14, instead of also having to search for 52 to 14, OSU 52 Buffalo 14, etc...
52-14, Bucks
Also, I'd like to propose that we standardize on a format for these score predictions, so that it's easy to do a quick search and make sure your prediction hasn't been made already. It seems like XX-YY is the most used format, so how about everyone uses that?
I had a senior design class with Antonio my last quarter at OSU. On the last day of class, our professor had everyone in the class go around and tell everyone what their plans were after graduation.
When it came around to Antonio and he said he was going to play football for the Colts, the professor was stunned. He had no idea the whole time.
Awesome preview, Corey. Minor grammatical nitpick, though. The first sentence of the third paragraph makes it sound like it's Wright State who will be playing the Gators on Tuesday, when it'll actually be our Bucks.