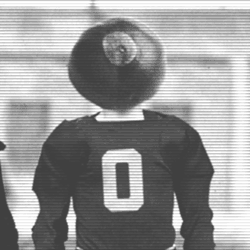 TexasBuck11
Lubbock, TX (via Cincinnati)
Member since 09 January 2012 | Blog
Favorites
COLLEGE FOOTBALL PLAYER: James Laurinaitis
COLLEGE BASKETBALL PLAYER: Jon Diebler
NFL TEAM: Cincinnati Bengals
MLB TEAM: Cincinnati Reds
Recent Activity
I'm looking forward to Tom Herman's early test in a night game at USC.
It wouldn't be so bad getting smoked in that bowl.
Stupid non-OSU fan: "Blah Blah Blah"
You: "I agree completely, the offensive play calling was horrendous and Zeke should've gotten more touches."
I'm going to binge eat cheeze-its
Who cares? We won last year so I'm fine sitting this one out. Focus on #BeatMichigan week and then stop watching football until next year. Well, I will be watching the Bengals since, go figure, they are in the hunt for a title and OSU isn't...Ironic....
I'm tired of my hesitancy to log on to the great 11W to fear the titles of blogs instantly populating on my screen. When did we become so jaded to the notion? An OSU win is an OSU win. Let's celebrate these moments as we experience one of the greatest eras in Ohio State football history.
2 cats - Braxton and Barre(tt). Never thought I would be a cat guy...
I think the errant snaps were due to the 3-4 scheme and the nose lining up over Boren. With less practice reps against this scheme, it was bound to be ugly at times.
I'm not going to let sloppy play ruin a 38-0 win. An ugly win is always better than a pretty loss.
Good to hear! I thought Zach Boren was going to have to move to WR
tOSU becomes the first to have two Heisman trophy winners in one season. Zeke and Braxton both eclipse the 2,000 yard mark rushing thus winning co-Heisman trophy honors.
It's human nature to want what we don't have and it's tough when we think we might get it and we don't. I'm sure all fan bases are this way regarding recruits. The difference is the standard the fan base has become accustomed to. Fans of Top tier programs are disappointed to lose out on blue chip recruits. Middle of the road teams have fans who are bummed after being spurned by three and four star recruits and the bottom feeders, well, they actually probably don't follow recruiting.
Mine too. Got a kitten on Saturday and she named him Barrett. She is a Texan yet made Cincy style chili and Buckeyes for the watch party. She talked a little smack to our Oregon friends during the game. She's a keeper!
I hear Burrow is visiting Iowa since Hilliard's brother plays there
My tv guide shows this on NBC but that channel is playing cartoons. Is it on a different NBC?
My thought was that he had the matchup he wanted, as he said after the game, but that he was also rewarding Spencer. The senior comes up with a huge play covering the onside. Also, Corey Smith had multiple hits on special teams and he was rewarded with a long ball try not long after. It goes back to Meyer's philosophy that you earn your keep on special teams.
There's no record because it never happened.
You are correct. I was thinking the same thing. That was a great play picking off Mallett.
"Graduated from high school, off to cali, then January 12th start at The Ohio State University #blessed"
Same day the Bucks begin defending their title.
48-41 Bucks! 12 Gauge is MVP
What a pleasant surprise!! I'm still stunned and feel like it's Christmas morning! Go Bucks!
I'm a non-catholic cincinnatian so I had no other choice than to become a Buckeye fan. I was definitely the minority growing up but something about the scarlet and gray was enchanting! Go Bucks!
I love the "O" face of the cheerleader in the background. She had the same reaction as I did!
Dantonio for obvious reasons.
Hazell at Purdue. Like seeing him have success there.
Snyder at K-state. One of the most disciplined teams I've seen play besides service academies.
Spurrier and leach for their pressers and attitude that they are coaches and not university puppets.