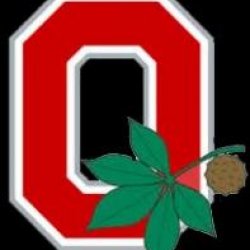 TennesseeBuckeye
from Collierville, TN
Member since 10 August 2013 | Blog
Born in Hayes Kansas in 1962, father went to University of Kansas, then on to University of Washington for his PhD, first job at The Ohio State University in 1969, my first Buckeye game was in 1972. Attended Worthington HS graduated '81. Flunked out of The Ohio State University, too much time on High Street and keeping up with OSU football. Graduated from William Carey College in Hatttiesburg, MS home of the USM Golden Beagles. Went back to Columbus, followed parents down to Memphis, TN where father works for Univ of Tennessee (Pharmacy and Med School there). Still bled Scarlet and Grey!
Favorites
SPORTS MOMENT: My only visit to scUM Stadium was a win in 1981.
COLLEGE FOOTBALL PLAYER: Archie Griffin
COLLEGE BASKETBALL PLAYER: Jimmy Jackson
NFL TEAM: "helpless" Cleveland Browns
NHL TEAM: n/a
NBA TEAM: Memphis Grizzlies
MLB TEAM: Cleveland Indians
SOCCER TEAM: n/a
Recent Activity
And this guy actually plays in NFL.
Maybe the former Gator coach would be interested.
Ugly helmets beating the greatest team ever in '68 is sadly the greatest upset in history of sports followed by Stanford Indians beating us in '71 Rose Bowl, Buster 3rd, USA beating Commies 4th. App State beating ugly Hemet 5th.
The key on offense will be long drives in the running game early maybe some deep passes (Hopefully One TD to D Smith for TD). On defense getting up 10-14 early will allow substitutions and keep our starting D rested to shut them down in 4th Q.
In the 1969 Rose Bowl we wore white uniforms even though we were ranked #1, the year before Indiana wore red and I'm sure they were ranked lower than USC. Not sure how they choose who wears what color we wear we got the Best Damn 3rd String QB in the land!
Before '98 there was 1972 and 1974. Perfect seasons ruined. If the Bucks go out and play tough, we'll be fine, if however they don't MSU is good enough to hurt us.
BTN isn't much better with friends like them who needs enemies
and then this:
22 wins in a row doesn't mean anything unless you're AL and they lost a game last year). Al started #1 haven't lost, didn't drop. OSU started #2 haven't lost but dropped. AL has had close game with basement dweller, "taking care of business". Closet we came was NW, and they were undefeated at time. We lost to a FL team last Bowel, But the two previous Bowls beat the #2 SEC team and #1 PAC 12 teams. Bend over folks as bad as ESPN, BTN is only making it wider and deeper. Eu Tu Brute?
Last time B1G Ten went B2B undefeated 1947-48 scUM.
tOSU could be riding into Ann Arbor with a 23 game win streak, while scUM may have a 20 home game winning home streak. Stop the run, Funchess may have a lot of receiving yards but we have Hyde and spread the ball around in the air. Force Garner in two some turn overs its a 24 game win streak headed for a rematch or meeting their "little Brother" in Indianapolis on Dec 7.
That's correct against Wisconsin
When Wisconsin has a 100 yd rusher Bucks are 8-8-1, when Bucks have a 100 yd rusher we are 37-2-1. With a 200+ passer we are 5-4, when they have a 200+ yd passer we are 9-2. Whether Wisconsin gets a 100 yd rusher is not as important as if we have one. I think Guiton starts throws it around a bit, we run a few plays outside, Braxton comes in and we pound the ball with Hyde and Miller, one of them gets over 120 yds. The other will be close to 100. I'm dying to see a jailbreak screen to Hall or one of the younger guys with Hyde blocking. We're going to wear them out stretching it out, then POUND them up the middle. The Defense has to tackle, wrap up, keep the ball in front of them. No big plays, they can have their 100 yd rusher, our offense wins this one, as long as the defense bends and doesn't break we win. We get a pick 6 in this one. Bucks are 22-0 when scoring 20+ pts at home, we are 29-3 (those 3 loses were '99-'04) when scoring 10+ pts. Last time we scored in 40's (42-22) at home 1989. Last time we scored 50's (59-0) 1979. I'm thinking 42-17. They get their 100 yd rusher (100-110), we have one (120-140) and two guys (50-90). 3 Passing TD's 3 Rushing TD's. 2 TD's over 40 yds (1 on a screen) 1 TD less than 20yds.
1 long rushing TD over 40 yds, 2 under 20yds (1 goal line).