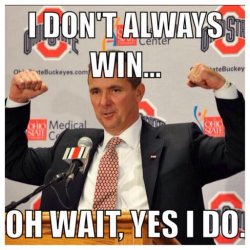 TennBuck16
---
Columbus, Ohio (via Marion, Ohio)
MEMBER SINCE July 26, 2014
Love Urban but miss Tress.

Favorites
COLLEGE FOOTBALL PLAYER: Krenzel and Clarrett
COLLEGE BASKETBALL PLAYER: Aaron Craft
NFL TEAM: Pittsburgh Steelers (don't hate)
NHL TEAM: Cbus Blue Jackets
NBA TEAM: Cleveland Cav's
MLB TEAM: Cincinnati Reds
SOCCER TEAM: Cbus Crew
Recent Activity
That's a load of bullshit.
The factory link is quite sobering. Because of this (and many other) reasons, I will never ever buy a G.M. produced car. Profits over people will never make you a good business to work for or with.
B1G is looking rough this year in the polls. Northwestern getting some love, makes UK and Miss St. still in the polls bearable.
This article is hilarious, while I agree with where Ohio state is positioned, as does 11W, the playoff committee seems to not know what a decent football team is... I mean Kentucky? WSU? Yeah.
The only 3 loss teams are SEC teams. Classic.
This is amazing news.
But the fact that Precourt Still gets his wish for an Austin team is criminal. Especially before other MLS extension teams.
Cincinnati finally getting some love.
Also, let's never do the wildcat again.
Out of everything I watched tonight, the only thing I can think of is "did these refs know what the hell targeting and holding are?"
If the media, especially ESPN, would practice what they preach and stop spewing so much hatred, misinformation, and straight up lies, this world would be a much better place. I just want them to report the facts, not their misguided opinions and hatred for a man that has done much more good than bad in his life. The only mistake Meyer made was keeping a man employed that obviously has a lot of personal things to work on. We may never know what happened on those days and in their marriage, but I do know Meyer is not the police and it seemed he wanted to let law enforcement do their job.
Things I don't agree with. Should Smith have been fired? Yes. Should Urban have his character destryoed over it? No.
Well, just more than before.
I'm disgusted with the national media right now.
Obligatory Miss St. preseason ranking.
I swear, if Urban loses his job over this disgusting situation, there will be a revolt.
I don't want to sound unsympathetic to potential DV, but has anyone at all come out in support and back up Courtney's claims?
This keeps getting worse as the day goes on. also explains why OSU might have not known more about it if information was redacted.
It is definitely a slippery slope for sure. This situation just sucks for everyone involved.
Listen, does this situation suck? Absolutely. Was it preventable. For sure. Does Smith look like a class A douchebag? Yup. But I don't see how this ties back to Urban having intricate knowledge of the situation. Some shoddy text message screen shots with no time stamps or proof of who actually sent them?? I could put anyone's name up there and say I got a text from freaking Santa clause. This situation looks pretty bad but I don't think there is any evidence pointing back to Urban doing anything wrong. He may have known they were having problems but there were no names listed on the cases and no charges were made.
That's definitely a uhhh take.
Why'd he want to transfer??