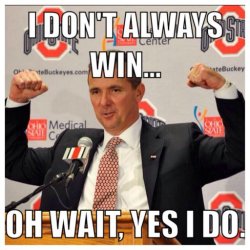 TennBuck16
Nashville, TN (via Marion, Ohio)
Member since 26 July 2014 | Blog
Love Urban but miss Tress.

Favorites
SPORTS MOMENT: It was early 2003, little 12 year old Nick didn't fully realize the major impact of what was about to happen when Dorsey was thrown to eternity and the football fell helplessly to the ground. Ohio State had done the impossible and beat one of the greatest college football teams ever. I remember it like it was yesterday.
COLLEGE FOOTBALL PLAYER: Krenzel and Clarrett
COLLEGE BASKETBALL PLAYER: Aaron Craft
NFL TEAM: Pittsburgh Steelers (don't hate)
NHL TEAM: Cbus Blue Jackets
NBA TEAM: Cleveland Cav's
MLB TEAM: Cincinnati Reds
SOCCER TEAM: Cbus Crew
Recent Activity
What about Sam Hubbard..? Did you know he played Lacrosse?
OSU is an acronym that could stand for anything you want to put in there. There is absolutely ZERO reason to trademark that. Ohio State is just getting more ridiculous with their licensing.
My only question is how Dan Gilbert owns this franchise and runs it as poorly as he does. I could run it better than he has.
And were likely paid to come there as well?
During the offseason they are definitely a required taste, still awesome nonetheless. But the #content definitely gets better during the season when there is much more news and games to report on.
As a long time dog owner and lover, I will never respect Vick for what he did to innocent animals who cannot stand up or protect themselves.
Pizza Crossing in Logan, Ohio. Best I've ever had.
A few others that are interesting that I've come across are Mogador (sounds like a prehistoric animal), and Bangs a town just outside of mount Vernon. Coshocton is also cool.
Love Ohio State and completely agree that it's a great place for both football and education. But this article doesn't do it justice. I disagree with most of it. It's actually a pretty dumb article. The fellow who wrote this must not watch Much college football.
A golf cart chop shop busted? DJ, your WMD's never cease to amaze me
Just when we get some good news and some momentum... this happens.
I'm white, I have no idea what it feels like to be black. So, I can have no opinion on this matter that is not biased. But, the overall murder rate for all Americans, including mass killings is just ridiculous.
So, it's okay to tweet at coaches, just not recruits right?
The past few olympics have been pretty rough...
Although this is still funny and an interesting read, I miss the days of cardale and tyvis being father and son.
Went to Moore on a mission trip a few months after the tornado hit in 2013. The devastation was unreal. I had never seen anything like it. It looked like a nuke had gone off on the entire town. Entire neighborhoods, trees, houses, cars, just gone. Not a place I would want to live, especially without a basement, which most houses didn't have...
Was I reading a 12 year olds writing in that camping "article"? Listen, camping may be miserable for some people, but camping is when I am at my happiest. No fucks given in the entire world while I am camping.
Crazy that those back roads are now no longer back roads.
Went there for two years 2009-2011. Transfered to trevecca naz in Nashville. Graduated in 2014. Where in Nashville do you reside??
Nice find on the WMD, DJ. I went to MVNU for a few years. Mount Vernon is a great town. They were completing some of those downtown projects while I was there. It's great the colleges are investing in the city.
Does it say something about the program, the coaches, and player development that each and every year it seems we are happy that an underperforming, lackadaisical, lazy player is leaving?
Jealous. Nashville and Vanderbilt are both amazing places to be. Good luck to you kid.
Public Intoxication is one thing... however depending on the severity of fleeing and resisting arrest might be another..