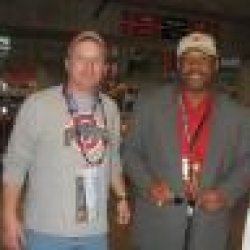 tedglover
St. Louis MO (via Minneapolis MN)
Member since 05 June 2011 | Blog
Favorites
SPORTS MOMENT: 85 yards through the heart of The South
NFL TEAM: Minnesota Vikings
NHL TEAM: St. Louis Blues
MLB TEAM: St. Louis Cardinals
Recent Activity
WOOOOOOOOOOOOOOOOOOOOO
OOOOOOOOOOOOOOOOOOOOOOOOOOOOOOOOOOOOOOOOOOOOOOOOOOOO
OOOOOOOOOOOOOOOOOOOOOOOOOOOOOOOOOOOOOOOOOOOOOOOOOOOOOOO
OOOOOOOOOOOOOOOOOOOOOOOOOOOOOOOOOOOOOOOOOOO!!!!!!!!!!!!!!!!!!!!!!!!!!!!!!!!!!!
The O-H-I-O chant is GREAT--when you're not in Buckeye country. When I lived in Alabama, nothing made me happier than wearing an OSU hat or shirt and hearing an 'O-H'. Now I live near St. Louis and love hearing an 'O-H', or throwing one out when there's somebody wearing OSU stuff.
Maybe it's overdone back home, but outside of Buckeye country it can be pretty cool.
Alex,
You're killing it dude. Awesome stuff. Thank you!
Wow, I've been quoted at 11W! I'm famous, I'm infamous, WOOO!!!!!!
I was very leery even asking that question, but I thought it had merit. I think every B1G team of import has felt crucified by ESPN over the last few years, and I am of the opinion that it is all because of the BTN. I think several B1G programs have been hammered on mercilessly, not just OSU. And OTE is conference specific, which is why I worded the question in the way that I did. But anyway, let's review, shall we?

Michigan--RichRod got HAMMERED mercilessly over some stupid buyout clause in his contract, and then by not documenting extra workout hours. Compare that with the nuclear test ground that has become Miami, or the shady dealings that occur on a damn near daily basis in the SEC and the lack of coverage by comparison. Extra workout time. Really? REALLY??
OSU--This column eloquently laid out the case against ESPN more than I ever could.
PSU--ESPN was non-stop for damn near a week on Sandusky, with the same stories and same clips. If you turned on Sportscenter you couldn't go more than one or two segments without it coming back to that story, and ESPN was quick to pounce on Paterno and force the ire of the anger on him, and not on Sandusky, where it should've been from the get go. They didn't mention Sandusky without mentioning Paterno.
The reason I think this is all BTN driven? I refer you to this article right here. Pull quote:
An amiable session in which the Big Ten and ESPN cleaned up "housekeeping matters" — schedules and announcers — took a nasty turn at the one-hour mark. That's when talk turned to a contract extension, a negotiating session that went nowhere. Fast.

"The shortest one I ever had," Delany told the Tribune. "He lowballed us and said: 'Take it or leave it. If you don't take our offer, you are rolling the dice.' I said: 'Consider them rolled.'
When BTN launched, Delany sent Shapiro a re-gifted bottle of champagne with a note that said, "see, I did it."
Jim Delany gave ESPN the ultimate 'Fuck You', and when BTN started to take off and make serious money, around 2008-2009, ESPN began hammering away at every little thing that occurred at a B1G school, and when they signed their SEC mega deal, began ignoring everything SEC unless they're compelled to write about it, a la Auburn, and began spinning the SECISTHEGREATESTEVERRAWR meme.
Coincidence? I don't think so.
ESPN will do everything in its power to drag down the name and brand of the B1G, because the B1G is on the verge of not needing ESPN. And if the B1G can do it, other copnferences and schools can do it.
And if other conferences and schools can do it independent of ESPN, ESPN will be rendered irrelevant. And ESPN will do everything in its power to prevent that from happening.
Just my two cents.
Dear Fellow Fans Of Ohio State,
Thanks for letting Luke Fickell know how much he was appreciated. It seemed like both he and Meyer were kind of taken aback, and it was GREAT to see everyone at the Schottenstein Center give him such a welcome.
THAT is why he stayed. THAT is what it means to be a Buckeye.
THAT was awesome. GO BUCKS!!
So can we just vacate March-June?
Please?
Fuck Desmond Howard.
That is all.
GO BUCKS!
My prodigous gut tells me that OSU has no shot. Bad offense, shaky defense, on the road.
But this is The Game. Weird things happen. And with the Urban Meyer backstory, this version of The Greatest Rivalry In All Of Sport is taking on more of a 1987 feel.
Those Buckeyes had no business going in the Ann Arbor and winning that game, but they did. The team rallied around an embattled and soon to be fired Earle Bruce and beat a better Michigan team.
And call me nuts, but I think we're in for something similar on Saturday.