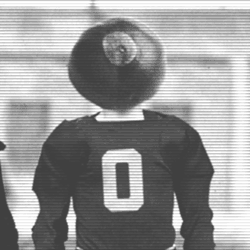 tcm1968
---
MEMBER SINCE May 04, 2012
Recent Activity
There will be a lot of.."Tate, Baldwin and Burrow would have hit that pass.."
Go Bucks!
Can be hard to come by ( most of the seats go out to ex players and friends of the program) but the best seats imo are the box seats. You get your own chair and tons of room for each person. Easy access to concession and bathrooms. They are in between A and B. They don't show up on most charts but they are there..
I also LOVE the AA seats. Like to be close to the field. B deck can have blind spots galore and I've never been a C deck fan. You can end up in binocular city up there or vice versa where you get the first handful of rows where you're thinking someone is going to bump into me and over I go.. C deck is the place to be for the band though imo..
Go Bucks!
Sorry, didn't necessarily mean start.. just their spot. Like if Jalen Gill looks better than CJ but they keep CJ at 2nd on the depth chart. Not saying that's going to happen or is even warranted at this point... just that there's a TON of history in sports of Coaches not wanting to move Captains down the depth chart.. just hope we don't see any of that.. Same for Tuf and Cooper...
Go Bucks!
It sure sounds like Fields is behind in grasping the offense and sounds more and more like it wasn't a smokescreen. Chug had a year plus in the system and Hoak has been in systems since high school that are a better fit for what Coach Day wants to do. So it's not exactly a shock if Fields is behind those two in understanding the overall offense. Total guess, but not hard to imagine Fields being a little too dual threat for their liking and maybe running more than they would like. Tuck it and run and pick up 8 yards or hang in there a beat or two longer and hit a 50 yarder over the top.. that kind of stuff just takes time and live reps..
It also shines a light on a comment Coach Day made a month or so ago about having to REALLY lean on JK through the early part of the season. He didn't expand on that at the time but sounds like Fields isn't ready and it's just going to take some time to get him where they want him to be.. and that time is going to be in live games..
Go Bucks!
None of his QB comments make much sense unless the QB play hasn't been great ( it may be the case). But Fields didn't separate himself from the guy who has only had 15 practices? Hopefully, that's a GIANT helping of coach speak otherwise that's worrisome..
Go Bucks!
Coach Day had a soundbite a week or so ago about not loving a bunch of captains so was hoping we would go back to 2-3 guys. Only problem imo with having that many captains.. you probably have 2-3 guys on that list that could lose their spot at some point this season and I sure hope "captain" isn't the thing that keeps that from happening. Give me the most talented person at every position whether they are a captain or not..
Come One Aug 31st!
Go Bucks!
I don't care if they've been on campus for a week or for 5 years.. give me the best 4 guys. Like Jonathon Cooper should destroy FAU off the edge. If that's not happening... next man up.. same for the interior guys. if you aren't "eating" against a lesser opponent you are either not dialed in or not the guy..
Love the depth and the potential but here's hoping some dudes separate from the pack and demand more playing time...
Go Bucks!
maybe playing two games a season in the historic arena instead of just one.
How about 2 games a month :)
Go Bucks!
Long TD pass saved him last night from a pretty not great night. That TD pass was huge. But nothing but punts and a fumble on his other drives. The fumble was all on him. He broke the huddle late and then tried to do a really late audible and the line never picked it up. Needed to step up in the pocket or get rid of the ball. He'll learn. That really changed the game though. Cincy was doing nothing and he fumbles in the red zone and got them back in the game. Minus the one big pass play Haskins was 6 for 13 for 59 yards.. Better than week one but still has a lot of work to do.
Go Bucks!
Probably worth pointing out a big part of the pre-season is about getting Haskins comfortable in the offense. I would guess you don't want McLaurin out there with Haskins at QB because he'd be too much of a security blanket. You want Haskins spreading the ball around and looking over the entire field. So with Haskins playing the bulk of the snaps in week 1 and 2 could be a reason why..
I'd imagine will get plenty of McLaurin in week 3... and then very little if any at all in week 4..
Go Bucks!
They've got a plan A,B,C,D and E it seems. If they get in a Purdue situation again they have options. If we get in a situation where someone is picking on Borland or Werner we have options. Some team goes 5 wide we have options.. Run heavy team we go base. Pass happy team lots of different looks..
Go Bucks!
The adults were "charged".. if you can call it that.... they agreed to step down and do community service.. the city just wanted to move on at that point...
Go Bucks!
I would add lookout for anyone in a vulnerable situation... not just friends..
The one girl in the movie was basically like if the girl was a friend she would have never have let her go with these guys... because she didn't really know here she didn't say anything...
Go Bucks!
Coach Mattison today;; " the bullet position for us is when teams spread us out and try to use a tight end to get us in a mis-match on our SAM linebacker. We're using the bullet position to have depth at SAM"... He mentioned Werner has speed but that they needed more flexibility to cover guys.
They like the idea of having White or Wint at bullet because they said they want playmakers out there... they want turnovers..
Quote from 11W..
The addition of the Bullet position to the Buckeyes' defense is a recognition from their new defensive coaches that they need to have a multitude of players who can match up with explosive athletes in space, and that not all traditional linebackers are equipped to do that.
Go Bucks!
I stand by my original post :) Part of my post was big picture and not just this season. Still looks like a team that can't compete outside the division. Tribe played the easiest schedule in baseball since the All-Star break in the worst division in baseball. They were bound to get back in the hunt. I think they miss the playoffs and it gets worse moving forward. They moved Bauer, Lindor will be moved, Puig was a rental and plenty of people saying Dolan wants them to trim even more payroll. I don't think they'll be bottom feeders but the reign over the central felt over to me when I posted this and still does today..
Go Bucks!
To be fair these new coaches have also realized we don't have speed at LB to hang with elite tight ends, wrs and running backs... that's why we now have the bullet position. They get an extra tough safety with speed playing up near the line where a linebacker would have played last year.
Go Bucks!
Context is everything. He said he likes everything about Tuf.. loves his thinking. toughness etc... and then goes on to say they need safeties at the bullet position for speed and need speed at linebacker to play against teams that spread the defense out.. talks about how great Mitchell and Browning have been in camp...
Go Bucks!
In the first individual period at the beginning of the practice, Dobbins was first through drills, and he was followed, in order, by Demario McCall, Master Teague...
I don't know where the "he hasn't been practicing" stuff comes from.. he was dinged up in the spring but blurb above from most recent camp update...
Go Bucks!
Dinged up or not, a guy two years in the program and guy 4 years in the program can't lock down the back-up running back spot... that's worrisome..
This is supposed to be Brian's Sneads gig.. but his mess threw off the depth chart for this season.. Seems like one of the Freshman could easily land the RB2 slot..
Go Bucks!
OSU went to bat for Martell and Fields... Reports are TCU didn't go to bat for Baldwin because they didn't have to ( he had surgery and they already have a 5th year senior QB. The were fine with whatever the NCAA decided). OSU was engaged in his transfer.
It's not about Harbaugh "not lying". He wasn't interested in the process. Read his quotes. He said it's up to the NCAA, that he shouldn't be bothered, didn't understand why Luke was calling him...
What Harbaugh should be doing and saying is/// "I signed this kid, brought him into the program, told his parents I'd take care of him.. if Michigan isn't a good fit I'll do WHATEVER I can to get home someplace else".....
Instead he just seems bothered by the whole thing..
Go Bucks!
Werner was solid in coverage and has enough speed to cover guys. His problem has always been shedding contact. Some guys have that skill set and some don't.. Watch Cade Stover in the few highlights OSU has put out. That dude can shed/avoid contact. Too often Werner would get locked up with someone and be out of the play. Hopefully he's gotten better at shedding blocking in the offseason..
Go Bucks!
No backup RB at this point speaks VOLUMES about DMC and Teague.
Have to think Tuf's days are numbered as a starter. Seems pretty clear they don't like him in coverage ( they don't ever talk about him in 2 LB or obvious passing down settings) and you can't dictate passing downs vs running downs. Any OC worth his paycheck can just switch to passing plays on early downs when Tuf is in there.
The goal should be to get one of the kids with speed ready by the end of the year. I still think in these early games you go with Mitchell and Browning and see what either of them can do running the show. Tuf is a known commodity at this point. If neither of those other guys can grab a hold of the position you can always go back to Tuf.
Go Bucks!
I don't think Harbaugh blocked the kid. I just think he didn't do anything AT ALL to help. OSU has gone to bat for every kid who has wanted to leave. Harbaugh is just being Harbaugh... You want to leave.... screw you.. I'm not lifting a finger to help.... total turd..
Go Bucks!
He's not wrong.... just should never say it..
Go Bucks!
Do the installments equal the total first agreed on? Like 12 payments could still be 11 months if the math lines up..
Go Bucks!