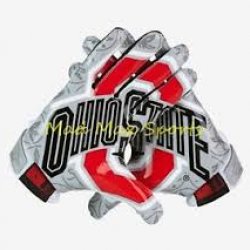 TBDBITL DAD
---
MEMBER SINCE October 15, 2014
Favorites
SPORTS MOMENT: 1a. 2002 National Championship Game
1b. Seeing my son march down the ramp for the first time as a member of The OSUMB. 2014.
1c. January 12, 2015
COLLEGE FOOTBALL PLAYER: All the Buckeyes
MLB TEAM: Reds
Recent Activity
I was at that same concert.
I have no problem with this even if a team did it to us. The game is 60 minutes. It's not play until you get a good lead then don't try any more. It's the D's job to stop you. If you want to be average just do enough to win. If you want to be exceptional you go hard the full 60 minutes and dominate.
Every tackle is targeting. If you don't target the player you won't hit them. If you don't forcibly tackle them you won't tackle them. If you don't lead with your head, shoulder, fore arm, fist, etc, what the fuck do you tackle with? Tripping is illegal too. Running backs lead with their head all the time. Are they going to have offensive targeting too? Good idea of a rule for safety but the application of the rule has been horrendous since the beginning. Flag football here we come.
I heard he may coach my softball team this sumner too. Haha
Never will I root for scum no mater who they play. SEC, ISIS, the Russians, the First Order, Viet Cong, Cobra Kai, are all people I would root for before scum. Haha
That's crazy the Bengals are that high. We sit on the home side and the visitors side is usually a ghost town except for the lower section. We were bored one game and started counting people in the upper deck. There were less than 100 people in the first 4 sections then we got bored with counting and got more beer.
Honestly there are less than 10 teams with a legit chance to win a Natty each year. Your list is a little too generous with some of the teams.
Sparty's best team ever got waxed by Alabama. Scum has had 1 good team in the last 20 years. Miami has been broken since 2002. No Pac 12 team has had a real chance since 2014. Texas hasn't been in the hunt for 10 years. FSU has fallen off the map. ND and PSU?
We are just lucky our team is one of the few that really does have a chance each year.
I've been to every home Buckeye game and all but one home Bengals game this year. There is no way the Bengals are averaging 50% attendance. It was probably 75% full for the Patriots but most of the other ones you can sit where ever you want. I'm sure teams with a pulse are different but I've seen some sorry crowds at the Bengals this year.
If you like to compete they have races on Zwift. You can get smoked by some for the Tour de France riders that ride Zwift over the winter.
I like to mountain bike too but it seems like the weather has not been our friend the last year or two here in central Ohio. Alum Creek, Chestnut and Great Seal are closed more than they are open. I end up road biking more.
I use my roadbike and put it on a trainer. I have a Cycleops Fluid 2 trainer. It was around $300. There are tons of different trainers out there that are a lot cheaper than one of those options you listed. You will need to get a speed sensor and cadence sensor. They are less than $50. Download a program on your computer like, Zwift, Trainer Road or Rouvy. They have training programs and virtual roads to ride. They have a monthly fees but it's not real expensive. I use Zwift and it is $14.99 a month.
If _ichigan is supposed to have such great academics how can these two be so dumb and bet against the Buckeyes?
Yes. You don't hear Alabama and Auburn complaining. Nor Oklahoma-Ok State, Texas and their 10 other D1 teams, The states of Florida and California with tons of teams. UM just can't face it they have fell to be a second tier team.
Why make your IQ go down by listening to him? If we stop listening or giving clicks to these morons maybe they will eventually go away.
Ferentz name must have not been on the ballot.
No
The talent gap started when Cooper was here. He just didn't take advantage of it like Tress, Urban and Day has. We have a more talented roster every year.
Their asshat fans deserve an idiot coach like him. Both are the most clueless humans on the planet.
One of the most overrated coaches in college football next to his boss.
My son was in the band just a couple years ago and they had a police escort to the Pumpkin Show in Circleville.
It could be the band. I've seen them get a police escort too. I think the team was leaving this morning.
I got to have a few good talks with Jim Stillwagon before he passed. He was always great and a super nice guy.
240
I almost transferred to OSU when I quit basketball but stuck it out. Less distractions in New Concord compared to High St. Haha