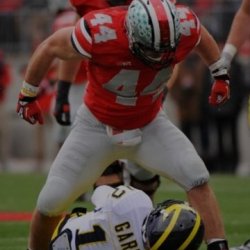 Tazmanimo
MEMBER SINCE August 31, 2019
Favorites
COLLEGE FOOTBALL PLAYER: Terry Glenn
NFL TEAM: LA Rams and NO Saints
Recent Activity
Actually, the next one is in 110 days. So, before the season starts.
Absolute Beast. love his size and speed. If he develops like he should, he will be a Sunday superstar. 5 star in the making without a doubt. Kids like this is what makes the The Ohio State University best in the BIG10. Suck it TTUN.
Hey, we did pickup a 3* (not even) that's not in the top 50 RB of his class, every single big 10, big 12, SEC team has at least 1 if not 2 RB ranked higher....we are on a roll. That scholarship is not available for The top RB for this class who isn't even signed or considering us.
ALL right, we went from early on 2 nd, to 3rd , to 4, now 5th best ranked recruiting class from 2020. I'm seeing a trend I don't like. AND... now we are recruiting 2022 unranked player, and another 3 star in 2022 class. ::::"":McBurrows, from St. Thomas Aquinas in Florida, is ranked as the No. 78 CB in the country while ranking No. 944 overall and No. 113 in the state."" WHY??? This is the trend we need to beat Clemson (who is raking in (5) 5 * in this years class...
Thanks for a great season to all the players and coaches. No fan can ask for more than your complete effort and great performance all year long. I feel this team has a great and enduring future ahead. GO BUCKS!
Forums are just discussion of interest for us fans. No one is trying to win the game through this...but, also no one is self righteous either....I hope.
How many of those has JK and the steam rollers offensive line. Heard this story prior to PSU game and first drive was all run for TD. I bet we get a top 5 run yards vs. Lemon. Offensive line well rested will be formidable.
The last of the three Amigos of big ten coaches. Woody, Bo, and now Haden. Go with Gods speed coach.
Sounds like a Christmas card, but, Wishing you the best coach. Thanks a great season...have a prosperous career at BC.
We can't come out the gate slow and get behind like last 2 games. Clemson needs 4 quarters of beatdown. Make it our mission to take care of business 1 quarter at a time. We also need to create more turnovers and win that battle. This is not ttun or Wisky. They wont put their hands on their hips on the 3rd and 4th quarters like the last 2 teams. Take it 1 quarter at a time and put up points.
Well deserved. Congrats to RD.
That's what I said above with 75% fewer words.
Hmmmm?
Georgia beats LSU and goes to 2. LSU drops to 4 to play Buckeyes in semi, while Clemson beats the dogs to play Buckeyes in the Naty.
Wisky, please refrain from stealing shoes, socks, pants. If you should see a guy flying low altitude, you might want to take cover prior to his landing. Good Luck....you'll need it.
That offensive line played awesome....the sucess of jk came on the backs of some of the best run blocks I've seen from us this year.....superstar players of the game is the offensive line
It's obvious to everyone but him....why? Because no one ever sat him down and taught him that taking responsibility and accountability as a leader is the path to growth and opportunities....hummmm.. maybe the same could be said for the powers that be who pays this genius.
Maybe if he spends more time coaching his players how to play better rather than taking them on European vacations, their chance of competing increase.....just a crazy thought from a guy that doesnt make 7.5 million a year
So proud of these young men and our coaches. Wow...they should get gold shirts with letter S on it to go with those gold pants. Thanks for the wonderful game gents
Well put my friend.
777
William's is the 43rd ranked back in his class. 10 out of 14 big ten team will recruit higher with1 team recruiting both of their 2020 backs higher than us. We have no reason to not hold the scholarship for a flip after we win the natty. We jumped when we shouldn't have. Not the OSU way. Sorry... go ahead and down vote me. Truth hurts sometimes. ..
Hogballs is a mess that no university has enough psychologists to fix. I think Urban broke him.
Day always wants to run to open up the passing game. He was prevented from opening up the passing game in the second half because bad weather. He knew based on the first drive that he can keep running and have some sucess so he kept it that way to mitigate pass protection risks and secure the win. Turning the ball over 3 times wasn't part of his plan.
I'm unsure if the sucess of the first drive didnt set the game plan direction. I believe we planned for a slop fest and not needing to put the ball in the air. However, I believe the score could have been much higher if we exploit their weak pass defense. Day didnt want to take a chance through the air because he lacks confidence on the pass protection? QB gets hurt more on sacks than on the run? Hummm? I hope our game plan for Shitigan exploits their weakness.