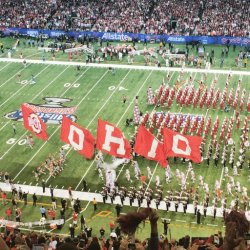 TarBuck04
---
Durham, NC (via Powell, OH)
MEMBER SINCE January 14, 2015
Recent Activity
My ticket has been sold. Hope it works out for you!
Thanks much. I just sent a message via hotmail and on here.
Stay safe- I know Charlotte's going to get a ton of rain. We're starting to see some downed trees around us, so i'm hoping power stays on.
Yikes- Harvey was harsh and unforgiving. I hope ya'll have recovered. You can click on my name and then when the user profile pops up, click contact in the top left. That should send me an email. If it doesn't work, I'll post it here (but would rather not if possible).
Glad you're able to soak in some sunshine. Its been grey and dreary, with on and off showers all day so far. A few larger wind gusts. Not as much rain as I thought there'd be so far, but I'm guessing its on its way. Enjoy the sun before the storm and stay safe and dry (as much as possible).
Update- we were able to sell three of the four tickets. Any takers for a single ticket? Ticket is $255 (face value). Seat is 3:C311, on or about the 50 yard line.
Hope you're safe, Xbuc. And hope you're also able to sell off your ticket.
The Brickhouse is a great time- so many Buckeye fans in these parts! We have a young child making it hard to trek over there now, but caught several great games there pre-child.
Thank you, Bucknut! I really appreciate that! It's been ok here so far- just a flicker of the lights every now and then, and a lot of rain and wind. How's it where you are?
pretty sure he's not going to go for that, but thanks!
Thank you- We're safe and prepared- just trying to stay dry this weekend. The storm has shifted away from my part of North Carolina, but we're anticipating a lot of rain, and alittle wind.
He's trying to sell all four, sorry!
Due to hurricane Florence, my brother can no longer use his tickets. He's got great seats he'd like to sell. Please send me a message if interested: 4 tickets to the OSU v. TCU game in Dallas this Saturday. Tickets are $255/ea. Seats are 3:C311 (club level), on or about the 50 yard line.
...when is this court case again?
I've wondered as well, why she went to the media to "ask for help". I've wondered if she wanted the limelight and attention that a big story caused, or was short-sighted enough to think this wouldn't impact her kids. Whatever it was that pushed her to do this, my heart is also with those kids. Going back to school, with this kind of toxicity at home and the comments they endure in the schoolyards, I can't imagine.
with Smith's arrival, that means something will likely be announced today...right??
yes, yes you are. Haven't commented in 4ish years and had to pop in today.
Anyone know who from the sports media is actually there? I see Thamel posting- what about others?
I had the same thought- but I also live in tar heel country so all I've heard for the last 48 hours is how UNC should be in over Ohio State (should they beat Clemson this weekend) and how no one respects them. Many of them are rooting for an Iowa win as they believe it will help their chances of getting in.
I was really surprised to see so many empty seats at the top of the stands! I was expecting a completely sold out stadium. I disagree with the comments about logistics- I was in section 18, and easily able to find restrooms and concessions. I was lucky enough to have some great, helpful seatmates tell us about some of the traditions and joke back and forth during the game. Tailgating was so-so; we had some really nice people around us who shared jello shots and some great conversation, but I think I've been spoiled by tailgates at Ohio State. I, too, was expecting it to be louder in there based on what's been shared on this board, but for the size of the crowd, it was pretty good! Coming from a marching band background, it really did irritate me that the VTech band played over ours, particularly during "Hang on Sloopy". Overall, some of the nicest fans I'd ever met, and a great atmosphere for a game. I haven't been to many away games, so don't have anything to compare this to, but I really enjoyed Blacksburg!
Thrilled to get an early birthday present of 4 tickets to the game! Will be driving up from the Durham area day of. Any other Buckeyes in section 18 by chance?
Had to share this- I wrote my contribution on Thursday evening above...went out to dinner in the Durham area on Friday and run into the entire Carolina Bball team and the coaches leaving a steak dinner. Made my weekend!
My personal favorite is running into Tress and his wife at the Panera near campus about ten years ago.
Also ran into Adrian Peterson after the Sugar Bowl in NoLA on Bourbon Street. I was several drinks in and couldn't recognize him until he walked away and ended up yelling his name down an alley as my friend wanted a picture with him.
Krenzel was also in several of my classes while at OSU- we had a few labs together and he was such a nice guy!
My dad works near OSU and often runs into Urban on his afternoon walks. I keep telling him I need a picture for proof, but no such luck yet.
I truly just laughed out loud. Well played Birm.