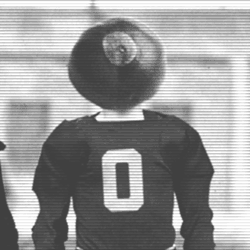 Tanner
---
Member since 26 January 2012 | Blog
Favorites
NFL TEAM: San Francisco 49ers
NBA TEAM: Golden State Warriors
MLB TEAM: Oakland Athletics
Recent Activity
I got chills watching that Albert Belle clip and I'm not even an Indians fan
We haven't had a tight end catch 35 passes since Ricky Dudley in 1995 so, yeah, I think it's fair to say Ohio State doesn't use the tight end that much in their offense.
I don't get it. Passes to the tight end are generally pretty simple routes and throws. Don't get why any offense wouldn't go to it.
I don't understand why so many athletes look so ridiculous throwing out first pitches either. I understand not everyone played baseball growing up but they look like they've never thrown anything in their life. Didn't they play quarterback or throw snowballs every winter?
I never played a down of football in my life but if you asked me to throw a 10 yard slant today I could complete that mission with no casualties.
I've about had it up to here with the Skyline abuse. Everyone does it now.
A 5 way and a cheese coney are both worthwhile options. Are they good, but also gross? Yes, yes they are. But so is every other fast food.
Some people out here dookie-ing on Skyline while acting like Swenson's is fine dining. FOH
Tbh that doesn't look like that loaded of a class, which shouldn't be that surprising considering how underwhelming the recruiting class of 2015 has been to date.
Only funny one was "Urban Meyer makes eye contact when he eats bananas"
Speaking of the Wire David Simon tweeting the other night "where Britton at, String? Where Britton?" was pretty great
DJ reads books? Now that is an upset
This is his 9th year coaching college football & he's only given out 106 scholarships?
100% agreed re: uniforms. I like seeing new ones or modern versions of old school ones. There have been dozens of Ohio State football uniforms throughout the years, there isn't one "classic" or "official" one. People who argue there are usually just mean they like the uniforms from when they were younger the best. I think the variations look cool and I think they also give the players a little extra juice, which can't hurt.
Now if they take the Buckeye leaves off the helmets, then we have a problem...
Good God. Glad I wasn't alive to see Purdue whip the isht out of us one year and then roll into the Shoe as a 13 point favorite the following year. That is not a reality I am comfortable with.
Why did Bosa take Watt's number?
From the amount of the times I've heard the weather conditions used as an excuse for the loss you'd think the game was played in a hurricane
As a Warrior & Buckeye fan D'Angelo's play yesterday gave me mixed emotions. Definitely happy to see him breaking out a bit though.
Better Call is awesome, Black Sails is unwatchable. It's Always Sunny & Broad City probably round out my top 3, maybe the OJ show.
Appreciate all the work you put in, Birm