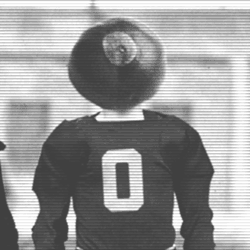 Tanner
---
MEMBER SINCE January 26, 2012
Favorites
NFL TEAM: San Francisco 49ers
NBA TEAM: Golden State Warriors
MLB TEAM: Oakland Athletics
Recent Activity
I'm a West Coast guy and Ive never liked all the 9 am kickoffs out here, especially for big games
why do so many people not know the difference between a part and apart
I thought coming into the year that the biggest difference we'd see between Haskins & JT would be the short/intermediate passes. IMO, JT's biggest flaw as a passer was not the deep ball, it was throwing short/intermediate passes on time and on target. Even when he completed them they often weren't the kind of accurate passes that lead to to YAC. Haskins is the distributor we all thought JT was going to be. Ohio State almost always has better athletes on the offensive perimeter than they team they are playing. Just get the ball into their hands.
Egregious oversight to not include the 'Sharts Happen' sign in this
Appreciate you doing this. I was looking around for snap counts after game 1 and couldn't find it. (I guess I missed yours...)
All due respect to him, I don't really understand why we don't have a better option than Terry McLaurin for 52 snaps.
What's the best way if there is one to print this out so it's neat and legible? (My dad wants a print copy.) I tried just highlighting and printing but it's a mess.
I got chills watching that Albert Belle clip and I'm not even an Indians fan
We haven't had a tight end catch 35 passes since Ricky Dudley in 1995 so, yeah, I think it's fair to say Ohio State doesn't use the tight end that much in their offense.
I don't get it. Passes to the tight end are generally pretty simple routes and throws. Don't get why any offense wouldn't go to it.
I don't understand why so many athletes look so ridiculous throwing out first pitches either. I understand not everyone played baseball growing up but they look like they've never thrown anything in their life. Didn't they play quarterback or throw snowballs every winter?
I never played a down of football in my life but if you asked me to throw a 10 yard slant today I could complete that mission with no casualties.
I've about had it up to here with the Skyline abuse. Everyone does it now.
A 5 way and a cheese coney are both worthwhile options. Are they good, but also gross? Yes, yes they are. But so is every other fast food.
Some people out here dookie-ing on Skyline while acting like Swenson's is fine dining. FOH
Tbh that doesn't look like that loaded of a class, which shouldn't be that surprising considering how underwhelming the recruiting class of 2015 has been to date.