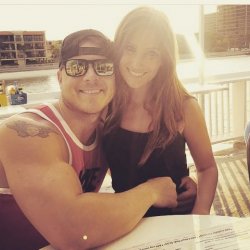 tampabuckeye20
---
tampa, fl (via Columbus)
Member since 01 August 2014 | Blog
Born in Columbus, reside in Tampa.
Favorites
SPORTS MOMENT: Any gameday
Recent Activity
Was just coming to comment this as well..#2 v #6
Gotta figure Tate Martell has been a huge piece to this prep for our defense. Could pay off big.
Wouldn't that be a double loss for him? lol You mean bets 50 mil on Mcgregor and tanks it
Cant believe he missed that Ray Finkle gimme....it was right there for the taking. These youngsters...
Haha I was just about to comment on the smokeshow with the one handed catch...well played BT
Good for Joel Hale. I was in Key West this year for the 4th of July and Joel and Jeff Heuerman walked into Dantes. Really cool dudes, they couldn't be more nice. My friends were trying to get me to go say whats up to them but I didn't want to be that dude bothering people on their vacation but as I was in the pool Jeff was walking by and I shouted him out with O-H and he turned around and gave me back an I-O and walked over to me to introduce himself. He then said he was running to the bathroom real quick but to come grab him after he got back to take shots at the bar and I just thought he was bullshittin. But sure enough I got a tap on my shoulder in the pool and he was like whats up man lets go take those shots. I was like well don't tempt me with a good time and he told me to bring my friends and I was like you don't wanna do that. He was confused I was like man there is 16 of us here and he said bring em all. Ended up meeting Joel as well and he bought more than 3 rounds of shots for everyone of us at the bar and we hung out pretty much the rest of the day with cheers to the buckeyes and the buckeye family haha.
My buddy works for the chargers and he said they're really high on Vannett. He said they really like him and wanted him to grow and learn a season or two under A. Gates to be their future TE...take it FWIW.
right now at bovada it has it at the over +170 and the under at -250
so for every dollar you put down on the over you win 1.70 back
for every dollar you put on the under you only get back .40
I am not saying he is yet but I think Curtis can be like a dalvin cook type of runner for us. He is explosive as hell. You can see it in the times he does touch the ball as soon as its in his hands he just has that explosive take off and no hesitation.
Weber can definitely be the power back and get the tough yards. I am hoping for a lightning and thunder just to keep the defense gassed.
Thanks for your help Cincy. The tickets I bought are in the south stands as well. I hope there's no issue.
OSU alum....just yes. I salute you sir...just so much sense in the above...
That's good news to hear BN. Im flying in tomorrow night and bought two student tickets but the guy I bought them from is providing me two IDs that I will need to meet up with after to give back. Is it a pretty smooth process regarding the IDs?
I would stay away from shakes in general. The best thing you can do for the body is eat real food. Real meats, good carbs and tons of veggies. Cant tell you the difference it made in my transformation from being a protein shakes and all that taker to switching to just 6 meals a day. 3 big meals and then 3 snacks (greek yogurt excellent source of protein, almonds and nuts, fruits, etc.) The results were night and day. I lost that gut you would get from shakes and turned it into real solid lean muscle.
27
I lift usually 6 times a week. I like to heavy lift for 3 days and then the other 3 I like to do higher reps and concentrate on the squeeze, pump and form. I also like to mix the major muscle groups together sometimes for an intense workout chest/back, legs/back, chest/arms, shoulders/chest.
To look good naked...jp kinda, other than that to just be as strong as I can and live a healthy lifestyle. I love being in shape and take pride in it. I didn't start working out religiously till about 4-5 years ago. I was going through a rough time in life and working out started as my therapy and honestly it has grown into that now. It is my escape and downtime to where I can just focus and let it all out and recharge.
resources: My dad has always worked out and showed me stuff and also one of my best friends always worked out and then went to the military where he met some good people who were highly educated in it and I started with him and just picked up certain stuff along the way. The internet is a huge help, certain videos or articles. You can never know enough.
My inspiration: Not really sure, I just love working out and having that shut the fuck up and get it done attitude so it kinda goes hand in hand. I just recently joined the 1200 club a few months ago and just want to continue to grind and go further.
10 man league
phillip rivers, Derek carr
odell beckham jr, calvin Johnson, deandre Hopkins, larry fitz, Sammy Watkins
carlos hyde, lesean McCoy, tj yeldon, Alfred blue, duke Johnson
jimmy graham,
st Louis D
Heading to Puerto Rico for my buddies bachelor party. Yes I suggested this weekend and yes I convinced the others in the party to vote for this weekend to. "How cool will Halloween be in PR"...who gives a shit, its a bye week and I can carelessly black out and make bad decisions without trying to figure out how to watch the game now...
This 100%. The old lady knows I don't ask for much in this life but no matter what I am watching my buckeyes
Conley with 2 picks
Braxton with 3 Tds