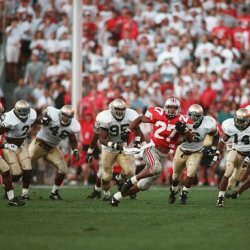 TampaBuck813
Tampa, FL (via Grand Rapids, MI)
MEMBER SINCE July 31, 2015
Favorites
COLLEGE FOOTBALL PLAYER: Eddie George
COLLEGE BASKETBALL PLAYER: Jimmy Jackson
NFL TEAM: Cleveland Browns
NHL TEAM: Tampa Bay Lightning
MLB TEAM: Cincinnati Reds
Recent Activity
Maybe tomorrow you can link her follow up 2013 hit titled, Saturday.
62-39 Sounds about right tonight.
UCF fans are becoming about as annoying as michigan fans - Not sure what is worse, claiming a fake title or talking about how great you are because of your titles before the great depression. As a season ticket holder to USF (married an alum) and Buckeye since birth, nothing would please me more that both michigan and ucf going winless
Best of luck DJ, some people can't start their day without a coffee, I couldn't start mine with out a Skully. I have always enjoyed dropping the random knowledge I learned from the WMD's on people in my life to sound like such a well cultured renaissance man. Thank you for making me seem smarter than I actually am. The 80th Ohio House District won't know what hit em!
So I am already hired before I interview??? Nice!!!
Excellent story linked about Otto Skorzeny, a Nazi SS Officer, becoming a hitman for Isreal. Insane that something like that actually happend. As always, thanks for the excellent reading material at the end of the Skull Session. Keep up the good work D.J.!
I have reservations at Cooper's Hawk tonight, I am going to tell the waiter that I will have the Darron Lee (Calamari and Steak), will know right away if they are an 11W reader or not. Then when my wife asks me what the heck I am talking about, I will explain the back story and she will go, "Wow, is everything about Ohio State with you?" and I will just smile..... Good luck in the pros Darron and all other Buckeyes entering the draft, the last few years have been a fun ride. Go Bucks!
Made it back to the great state of Ohio for this Christmas, this weather is insane!!! Feels like I am back at my home in Tampa.. Merry Christmas 11W readers across the world!! I think I need to listen to Buckguyfan1 and get the Merry Marys going... Go BUCKS!!
So a British woman married a Nigerian man, whose father had 5 wives, was surprised that he had another wife back in Nigeria?? Seems like a great Christmas Story to start today off with!! Go Bucks and Merry Christmas!!
Looks like an amazing event. I think next year, I will have to plan my annual trip to Columbus for a game around this event. Thank you 11W for supporting such a worthy cause. I really didn't understand much about Down Syndrome until I met my wife, who has a sister with DS. Now, I have the coolest sister in law that anyone could ever ask for. Honestly, she probably is the most honest, loving, fun, kindhearted, and best person I have yet to meet in my first 34 years on this planet. Make sure to donate with the link above if you are able to and as always Go Bucks!
In college, in 2003, I attended a CCHA Hockey tournament at Joe Louis Arena in Detroit. Though, I am a long time Buckeye Fan, I was a student at Ferris State, which only has 1 D1 sport on campus and that is hockey (which at the time, Ferris and tOSU were in the same conference). Was odd who to chose who to root for when Ferris played tOSU. I had media credentials through my school, Ferris, and ran into Archie up in the press box. So I decided to walk over and just say hello. I didn't want to bother this 2 time Heisman trophy winner but growing up my dad had always told me stories of Archie and I just wanted the chance to shake the hand of a Buckeye legend. But he did much more than just say hello back and shake my hand. He took a real interest in talking with me, we ended up talking Buckeye Football and life in general for probably 25-30 minutes. He asked me what my major was, what I wanted to do when I graduated, etc.... He took the time to influence a young kids life, who was actually wearing a polo at the time from an opposing team in the tournament (and a school that happened to be located in "that state up north"). I always wondered if he thought to himself, why some kid from a school in Michigan so excited to talk Buckeye football. Even if it did, that didn't matter to him, he took the time from his busy schedule to make a difference in a strangers life. That is the Archie Griffin I know and the Archie that I will always remember. Oh yeah, and those 2 Heisman's ain't to shabby...
I never thought I would see a toy hat on a bird. Now I have. It feels good. Can't believe someone took 1.5 years to gain the trust of a bird, I barely have the patience to teach my dog to roll over. As always, solid read and Go Bucks!!
I may not live in a small town like Tuscola, but will make a point to bring a piece of Tuscola with me, and make an effort to simply....just wave. Great article and please hand over the kleenex. Looks like I have some people to call tonight to tell them that I love them, to thank them, and to just shut up and listen.
Go Bucks
Beat VaTech
Just Wave
My Buckeye Leaf hat confuses people too. Always get odd looks from people down here in SEC land when I wear Buckeye Leaf gear. They are also confused when they find out I did not attend OSU nor am I from Ohio. When they ask where I am from I always start it off with, Oddly enough, I am from Michigan (My wife says, its always funny the facial expression that I get when I say this). Then I have to explain to them that my Dad is a proud OSU alum and I quote him, "There is absolutely no way any son of mine will route for that team." Thank God he raised me right, to be a Buckeye. Been a big Buckeye fan my whole life and couldn't imagine being anything else. My dad took me to one football game a year down in Columbus and now that I live in FL, I try to make it to The Shoe at least once per year. Being 34 years old and growing up in Michigan during the Cooper era, man that was awful time for me. But wow, the present is amazing and am making up now for all that trash talking they did in the 90s. Go Bucks!! Beat Va Tech!!!
I just don't see anyway that JT doesn't win the starting job. I love Cardale and I will miss his the back and forth between him and his room mate father on twitter when he is gone. But everything is lining up and pointing towards JT. He has experienced this defense before, albeit his poorest performance on the year. But he will know what to expect, to some extent, and probably wants a little payback for the only blemish for OSU on the year. He just runs the offense at a more efficient pace without the reliance on Zeke so much. As great as it is to see Zeke get 25-30 carries for 250 yards every game, that is a lot of wear and tear when you plan on playing 15 games. If Cardale plays, that is what Zeke will have to do (or what the 3 game sample size shows happened). With JT, he isn't so reliant on the dominant back and it will save Zeke for when it matters most, late in the season and into the playoffs.
Anyone hear as to what leg bone he fractured? Not that it matters, any of them are a severe injury. Was just curious. Get well soon NB!
The promotion machine that is Urban Meyer and Ohio State is unreal. How could a HS athlete with multiple offers not succumb to the "Urban Meyer Effect??" It is just amazing what is going on with the football program currently. Have to pinch myself to make sure it is not a dream.
Now if Ivan starts wearing pleated khakis without a shirt, we will know the Dr's were lying....
Best piece of writing I have read in a long time. You had me at Ramzy. Nothing tops 11W, nothing.
I can't recall another time when I wanted to crush an opponent so thoroughly in week one as I do VT. (especially after watching the game last year at a VT watch party). These next few weeks are sure going to drag on slowly...
Happy Birthday 11W.
I knew my now wife was marriage material when.... back in 2011 she stole Buck I Guy's hat from his head in Miami and he almost had a mental breakdown. A woman willing to upset/annoy Buck I Guy, just for the heck of it, is good in my book!
Maybe after Thanksgiving in the 11W Dry Goods shop you will see a tee that states, "85 yards through the heart of Ann Arbor," with EzE doing the Heisman pose in the end zone. I don't think I have ever been more excited for the start of a season than this year. It's going to be a fun ride.
If only the press release was in Cantonese and not Mandarin I would have fared much better at my comprehension.
Going to be fun watching this Buckeye offense running all over the field like Bo Jackson in Tecmo Bowl. Zig and Zag Brax, Zig and Zag!