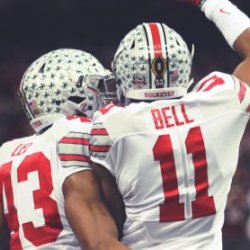 TACWSSHFTFSO
---
from Dublin, OH
MEMBER SINCE July 27, 2015
Born and raised in Columbus. Buckeye for life.
Recent Activity
Zach strikes me as a very mature person.
You off the meds GlueFingers?
He makes me nervous because what are the odds a Mccaffery is going to be bad at football?
The linebackers may be inexperienced but boy am I excited to see them fly around. So much talent in that room. I'm particularly excited to see what Browning and Keandre Jones can do, both of them are so athletic it's crazy.
He did everything 100% by the book!
You assuming this is just as bad as the media assuming he was covering everything up for years. I hope hope hope hope and pray he did everything 100% by the book, but we won't know that until the investigation is done and all the facts come out. Let us not be hypocrites.
He'll do whatever the committee recommends.
Ok let me flip it around for you. Okudah better win this matchup, hes a future first round pick with an elite PBU rate. The CB room is stocked full of NFL players.
This seems weirdly aggressive. Okudah may very well be an All-American by the end of his career. Why "better" Victor win this matchup?
http://newmediacentral.net/gallup-poll-only-32-trust-the-media/
There's a reason this is a thing. Pathetic state of the media in this country.
My boy Jeff Heuerman stood up for him and got retweeted by Nick Bosa.
The quick rush to judgement on Coach Meyer without the facts is pathetic and shows all that is wrong with the social media platform. You should know not to mess with the GOAT. pic.twitter.com/Nwss3uE8tb

— Jeff Heuerman (@JHeuerman86) August 3, 2018
https://abc6onyourside.com/news/local/osu-fans-planning-rally-to-support-coach-meyer
Does anyone else think the rally planned on campus is going to make us look bad? I hate the national, sensationalist media with a passion and think they will just use it as a way to slander us as a fan base IMO. I think laying low and letting the story die down a bit is the way to handle it.
Is a suspension possible for Urban or is it fired or nothing? I could see a 4 game or so suspension getting the message across and would fit the "crime" much more than a firing. If he did know, he made a mistake, albeit a mistake many would make in his same situation, but a mistake none the less. This mistake however is no where near firing worthy in my opinion.
It's about damned time the Bengals started drafting Buckeyes. Wish they would have got the memo last year and grabbed Marshon or Malik but hey ill take Price and Hubbard. Now the question is which of their jerseys should I buy?
Nick Bosa. Imagine him getting the snap, pitching it to Dobbins then lead blocking. Auto TD every time.
I think he earns playing time in our new look offense (assuming Haskins wins the QB comp). With an NFL arm guy like Haskins in there CJ will eat guys alive with precise routes while the burners like Parris and Dixon take the top off and the box has to be loaded to stop the 2 headed monster at RB. The offense this year may be the best weve seen in the Urban Meyer era.
His dad Tim Saunders is actually a living legend baseball coach at Dublin Coffman. Been there for decades haha.
It's tough to replace a rockstar like Coombs, but im sure Taver will do great. Welcome aboard coach!
Why does 247 say Nicholas Petit Frere is announcing at 9am?
Looks at salaries, looks at bank account, can I please be grossly underpaid?
Pat Mcafee being stoned off his ass in the back is so good.
He acts exactly like I always thought he did on the field. A silent assassin.
JT is going to New York baby!