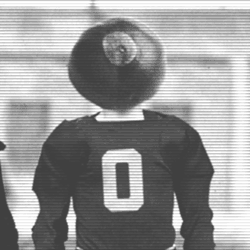 swyfte
---
MEMBER SINCE November 30, 2014
Recent Activity
Yes the one that stood out to me was Jimbo, as well.
Don't forget the legal battle between Parker and Huey Lewis as another claim to fame! Apparently the producers of Ghostbusters wanted Huey Lewis & the News to make the theme song (it was 1984, so of course) but they decided against it. They hired Parker to do it and Lewis thought they plagiarized one of his band's songs. The case was settled out of court.
So is Day officially considered to be 3-0 on the record books?
Call it what you will - the it factor, juice, what have you - but I feel Ryan Day has it. Based on his demeanor and the same interviews. Best of luck I hope I am correct!
I agree with you about the Achilles and taking a wait-and-see approach. His freshman year Borland reminded me of a Wisconsin linebacker; not necessarily a physical specimen that will wow you but he had a knack for the ball and was in position to make a play.
Having said that if his speed of play doesn't get back to that freshman year level I think you have to pick someone else.
Ramzy Nasrallah: #genXJackPark
We are used to having a stocked roster of QBs which lends the safety net if someone goes down. Moving forward it looks the hope is to have your main guy, a serviceable backup, and whatever you can find for third string. Although this is a sea change for the college game it sounds like the NFL; thinking about it that way makes it less daunting to me.
Wow, no comment yet on 'Lloyd McFarquhar'? Really?
I DID actually laugh out loud to this!
Agreed, especially since he had multiple operations on his leg. I do remember being impressed with his time on the line before his injury so fingers crossed to get back to that, would be a great redemption for him.
You win the comments section this morning, congrats!
Is there any doubt he would ascend to Athletic Director eventually? I wouldn't bet against that, depending on what he chooses to do in TV of course.
D.J.,
Long time reader but comment section lurker. However, I had to log in to give you a bravo for this gem:
We need all grandmas with Buckeye tendencies to start a prayer email chain in the name of McCall's ligaments.
Get off my lawn! Tradition and such and whatnot!