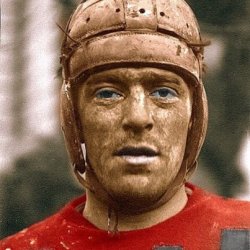 sword52
---
MEMBER SINCE September 28, 2015
Recent Activity
I would not mind seeing the 1966 and 1967 unis with the scarlet helmets.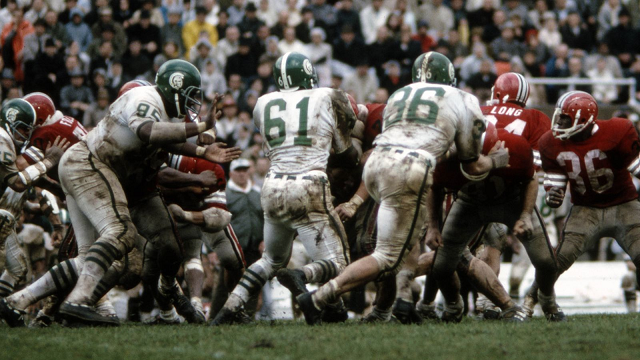 Boring. Need to wear legitimate throwbacks more often. Not the faux throwbacks either. Wear unis resembling unis worn in the glorious Buckeye past.
GrandTheftHarley that is from the 1919 game but only shows a play or so. I like the shot of the bench. But after it says the worm turned, the other footage is not Ohio State Michigan. Note the opponent has white helmets. That is the Purdue game.
The clip from the 1919 game worked for me. It is short but great quality. Chic does a dropkick near the end. Then note the ref on ground before he hops up and signals good for a placement kick.
Maybe Ohio State can wear 1919 replica jerseys this year. The jerseys for the 1919 game were slightly different with the friction strips in front.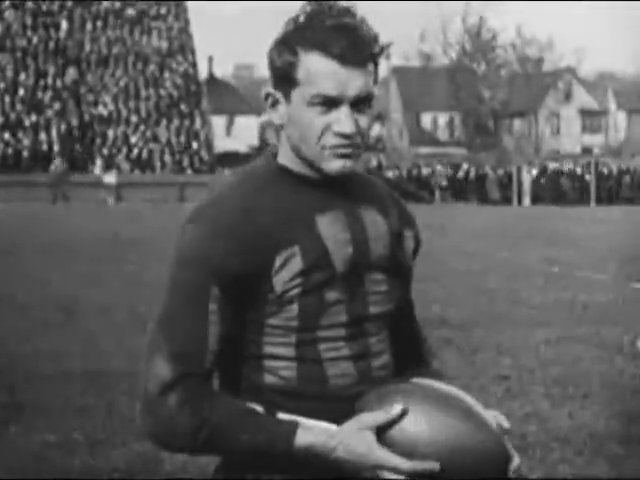 There is Chic from the 1919 game film I posted.
https://www.dailymotion.com/video/x11n5y3
Hope that works. It is the 1919 game with Chic Harley. I did some screen grabs of that game and Chic attempts FG in it. Again Ohio state has the striped socks.
Anyhow good stuff about Chic. One of my all time favorite Buckeyes.
The video is actually not from the 1919 game but is from the 1923 game that Michigan won. I posted about this in the past. I have studied Ohio State uniform history thoroughly. In the clip shown it is Michigan guy scoring a TD. Ohio State wore socks with 2 stripes from the early 1910s up until 1928. I will post the actual 1919 game film. It was better quality. Below are images from the 1923 game Note Ohio State socks.
Thanks DeacBuck, I wondered about it after reading they got wiped out.
I glanced at a couple posts about the Dothraki charge. I may have read someplace that the Dothraki got wiped out or extinct now. I had wondered before where were any older or younger Dothraki people. Men or women? Seems like early on in the series they only showed the warriors.
That was great. I did not like the dark scenes for most of it. I figured that would happen. But the ending was fantastic. They made you think Arya was a goner. I just read the post about who died tonight. Thanks.
I have to watch it again soon.
Great thread and great modern pics. I think this one of Pete Stinchcomb is iconic.
I agree with the OP. I had wanted a playoff for decades. Every other division has had working playoffs for a long time. The nonsense about playoffs diminishing the regular season games and now if they ever expand that will diminish regular season is silly.
Conference Championship games are for making money and that is it.
I am ok with 4 but think 8 would be better. Especially since some schools are getting the most love. I know Ohio States ugly loss to Purdue hurt but I can not see how the committee thought Oklahoma was so much better than Ohio State. Georgia being ahead of Ohio State didnt matter since neither made playoffs but how the heck did they get ranked ahead?
2015 was the worst snub of Ohio State. That was the best team in the country. Lost a last second game on a FG. Did Stanford with 2 losses end up ahead of the Buckeyes?
I doubt 8 teams is on the way soon but the reasons and old narrative about regular season should not stop an 8 team playoff.
who knows if the committee got it right. It is all opinion. I think it is strange to have Oklahoma 6th and Ohio State 10th. But Ohio State did not help itself getting clobbered by Purdue.
I think they should have worn these all year long to honor the 1968 National Champs. Cooper did it in 1993 for the 25th anniversary.
Well actually they should be the permanent uniforms.
I am not the kind of person who is afraid for my team Ohio State. I would much rather have the chance to win it all. The Rose Bowl would be no big deal to me. The playoffs is always where Ohio State should aim for.
I agree with you Buck298
It would not hurt to have Tate get some playing time. Will it happen? We shall see.
The recruits love them line is total BS. Since there are so many teams wearing so many alternate unis. If only one program did it such as Oregon used to do it makes sense.
I for one am not crazy about Urban Meyer seeming to go more after out of state kids when Ohio kids really wanted to be Buckeyes. As of now I am not worried about Kentucky but it is an improving program and getting plenty of Ohio kids that could have helped Ohio State. State pride has always been big for me.
I can say it is not a bad looking uniform. Just so boring due to the fact that so many other schools have worn black and have for years. As posted above look how similar to South Carolina.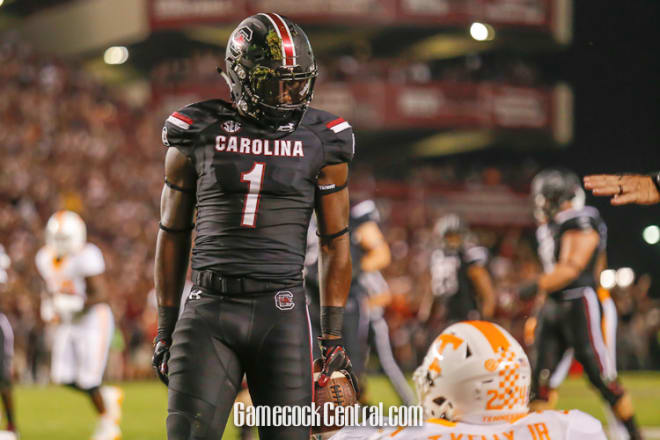 Was going to post this too. Hmmm is right
Interesting to think about it. We know Ohio State has to fix some issues but it can be done.
Oh boy look on TV tonight. Ohio Bobcats are wearing all black and so is Western Michigan. Pay attention Ohio State.
Boring, Does anybody connected with Ohio State watch college football? They should take notice of how many teams have been wearing black for blacks sake. It is overdone. And I dont fall for the black is in Ohio States color palette. I would rather see throwbacks that were actually worn in the past. Or an all scarlet uniform or a better looking all gray. The last 2 alternates were not good and this is nothing to be excited about.
Surely OSU can do better than copying every other school with the black.
Awesome Kevin. The Buckeyes need to bring back the gray sleeves. I figured they would honor the 1968 champs by wearing the unis. I was a teenager during that magical season.
I realize I am one of the very few who wishes Ohio State would wear throwback uniforms and then I would be ok with alternates. Other teams do wear throwbacks. The wearing black uniforms is so overdone by everybody else.