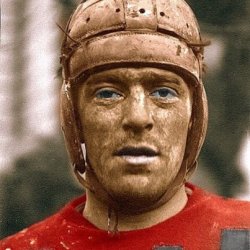 sword52
---
MEMBER SINCE September 28, 2015
Recent Activity
Great thread and great modern pics. I think this one of Pete Stinchcomb is iconic.
I agree with the OP. I had wanted a playoff for decades. Every other division has had working playoffs for a long time. The nonsense about playoffs diminishing the regular season games and now if they ever expand that will diminish regular season is silly.
Conference Championship games are for making money and that is it.
I am ok with 4 but think 8 would be better. Especially since some schools are getting the most love. I know Ohio States ugly loss to Purdue hurt but I can not see how the committee thought Oklahoma was so much better than Ohio State. Georgia being ahead of Ohio State didnt matter since neither made playoffs but how the heck did they get ranked ahead?
2015 was the worst snub of Ohio State. That was the best team in the country. Lost a last second game on a FG. Did Stanford with 2 losses end up ahead of the Buckeyes?
I doubt 8 teams is on the way soon but the reasons and old narrative about regular season should not stop an 8 team playoff.
who knows if the committee got it right. It is all opinion. I think it is strange to have Oklahoma 6th and Ohio State 10th. But Ohio State did not help itself getting clobbered by Purdue.
I think they should have worn these all year long to honor the 1968 National Champs. Cooper did it in 1993 for the 25th anniversary.
Well actually they should be the permanent uniforms.
I am not the kind of person who is afraid for my team Ohio State. I would much rather have the chance to win it all. The Rose Bowl would be no big deal to me. The playoffs is always where Ohio State should aim for.
I agree with you Buck298
It would not hurt to have Tate get some playing time. Will it happen? We shall see.
The recruits love them line is total BS. Since there are so many teams wearing so many alternate unis. If only one program did it such as Oregon used to do it makes sense.
I for one am not crazy about Urban Meyer seeming to go more after out of state kids when Ohio kids really wanted to be Buckeyes. As of now I am not worried about Kentucky but it is an improving program and getting plenty of Ohio kids that could have helped Ohio State. State pride has always been big for me.
I can say it is not a bad looking uniform. Just so boring due to the fact that so many other schools have worn black and have for years. As posted above look how similar to South Carolina.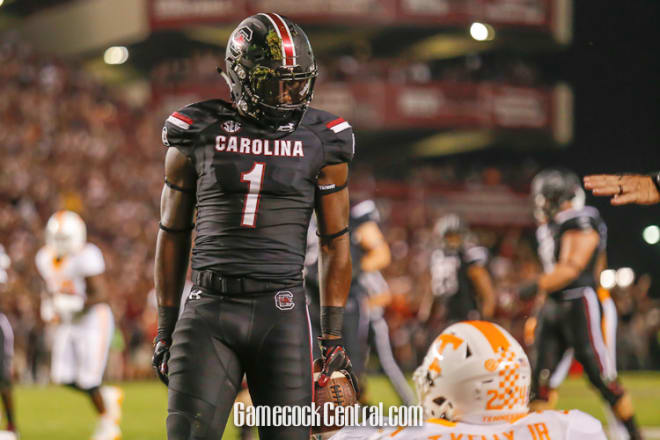 Was going to post this too. Hmmm is right
Interesting to think about it. We know Ohio State has to fix some issues but it can be done.
Oh boy look on TV tonight. Ohio Bobcats are wearing all black and so is Western Michigan. Pay attention Ohio State.
Boring, Does anybody connected with Ohio State watch college football? They should take notice of how many teams have been wearing black for blacks sake. It is overdone. And I dont fall for the black is in Ohio States color palette. I would rather see throwbacks that were actually worn in the past. Or an all scarlet uniform or a better looking all gray. The last 2 alternates were not good and this is nothing to be excited about.
Surely OSU can do better than copying every other school with the black.
Awesome Kevin. The Buckeyes need to bring back the gray sleeves. I figured they would honor the 1968 champs by wearing the unis. I was a teenager during that magical season.
I realize I am one of the very few who wishes Ohio State would wear throwback uniforms and then I would be ok with alternates. Other teams do wear throwbacks. The wearing black uniforms is so overdone by everybody else.
Bring back the gray sleeves.
Wah wah. Bottom line is Ohio State has been beating up penn state in Big Ten play.
Buckeyes should wear these all white throwbacks. White helmets red stripe, white jerseys and white pants. Add white shoes. This was 1951 vs Wisconsin.
I too thought more whiteouts have been played. And Ohio State has done ok in those games.
Heck we may as well all mark down every game AT Penn State in the future is going to be a white out for them.
Frantic Francis is a pretty good book about Schmidt. It is not all about his Ohio State time but it covers Ohio State a lot.
This chrome helmet looks better that that wide striped one. Although showing it with a darker background would be better. Not much contrast with the chrome and white background.
Yep, that is what it should look like. I think Illinois "gray ghost" excuse is really lame. As for PJ Fleck and the Row the boat oars and crap should not over rule any schools history or look. If he somehow became a future Buckeye coach would we have to have the Oar and his gimmicks on OSU unis?
I too would like to see color on color for the Michigan game. Maybe not every year but once in a while. Ohio State did wear white in that game often before the 1950s because there was no rule for away games having to be white. I think Ohio State first wore white vs them in 1929. I have not been crazy about the alternates worn vs Wolverines. Or how often they wear them. Oh well. I don't lose sleep over it.
As some may know I want legit throwbacks or close to what was actually worn in the past. Mix those in with alternates. The 1942 alts were one of my favorites because they were closest to what the Buckeyes actually wore. Those supposed 1954 ones were not even close. They were liked by many here for looks but the real uni would have been sweet. They wore vs USC in the RoseBowl.
Ohio State should wear this throwback. 1951 they wore red pants all year but for one game. But wear white helmet with red stripe.
And of course gray sleeves, should have gray sleeves all the time.