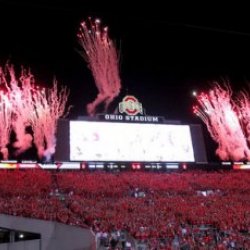 SwnsnGody
---
MEMBER SINCE June 13, 2014
Recent Activity
Not sure if this has changed recently, but gate 23 is/was usually open M-F during the day
All great points above / probably repeating some points below but here are some tips I have:
Try and hop on a presale when single game tickets are released (June/July). Odds are you won't have any luck, but it's worth a shot. Either bookmark the OSU ticketmaster page and check back every week to see when they go on presale or hop on here. There's always someone who either asks for a presale code or gives dates when tickets go on sale
If you strike out on the presale and don't really care where you sit, definitely wait until the last minute to buy. Sellers will drop prices as the event gets closer.
I recommend Ticketmaster / Stubhub. You can create price alerts on Stub that will notify you when tix go below a price you're willing to pay.
Not sure how old your daughter and son are. If they're old enough to walk around, you could also try to scalp. This isn't a popular option because most people think scalping = getting scammed. Not always the case. You never know what kind of deal you can run into.
Final option would be to go to will call right before kickoff. My girlfriend and I did that for the um game last year. They had tickets for face value.
You seem triggered. Are you triggered?
I plan on checking this out, thanks!
Thanks for the recommendations!
Bumping this because I'm heading to NY for the first time this weekend. I've read some good ideas above... Any other suggestions on food/places to visit (avoid)/bars/etc? It's a guys trip so I'm sure there will be quite a few watering holes on the itinerary.
Can't wait to watch him in Columbus
I'm not giving that guy a click. Someone please paraphrase. Better yet, just look at this
I witness the whole altercation and this didnt happen.. You think a group of African American young men will sit there and let something like this happen? Say what you want but this isnt true at all. https://t.co/FrteEDIa9H

— Johnnie L. Dixon III (@YoungKing_JD5) November 13, 2018
I was shocked to see Patterson and Haskins have same odds right now at 12/1
If you're not too picky with seat location (just stay out of high rows in B deck and you should be good), I'd wait until the week of the Game. People / Bots usually have tickets way too overpriced throughout the season. As the game gets closer, the sellers confidence drops
I see Shelley brought Urban a change of clothes for practice today
I'm still shocked Gene Smith kept his job
For the SJA game, I'm really hoping tOSU allows tailgating from Fri AM to Saturday PM. One can dream
I graduated from Lex in 2006. What about you? Friday should be a fun time
Upcoming schedule for this weekend at the Schott:
Thursday, March 22nd
Division IV
10:45 AM - Berlin Highland (23 - 5) (Rank 8) vs Willoughby Cornerstone Christian (20-7) (Rank 9)
2:00 PM - Pandora Gilboa (26-1) vs Maria Stein Marion Local (23-4)
Division III
5:15 PM - Cleveland Heights Lutheran East (14-13) vs Cincinnati Deer Park (27-0) (Rank 2)
8:30 PM - Canal Winchester Harvest Prep (28-0) (Rank 1) vs Columbus Africentric (20-6) (Rank 10)
Friday, March 23
Division II
10:45 AM - Trotwood-Madison (25-3) (Rank 5) vs Byesville Meadowbrook (22-6)
2:00 PM - Lexington (23-5) vs Akron St. Vincent St. Marry (19-8) (Rank 9)
Division I
5:15 PM - Cincinnati Archbishop Moeller (25-3) (Rank 2) vs Lorain (22-5)
8:30 PM - Pickerington Central (18-8) vs Solon (25-1) (Rank 1)
Saturday, March 24
10:45 AM - Division IV Final
2:00 PM - Division III Final
5:15 PM - Division II FInal
8:30 PM - Division I Final
Charlie Bear was a top 3 bar on campus.
That felt good to get off my chest
It should go without saying, but Scarlet course is amazing.
Another favorite is Westbrook Country Club in Mansfield, OH. It's a Donald Ross design and the greens are unbelievable
I know it's been brought up in past (and here), but is that bball hype video hinting at them playing at St. Johns soon?
Have you or anyone ordered directly from Michael's Meats website? Is it worth it?
http://ohiostatefb.io-media.com/web/index.html#
This was posted on 11W a while back. Thought I'd share again