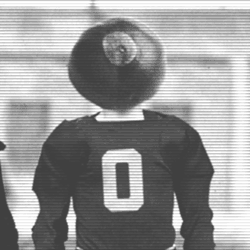 SweetBabyJames
---
Member since 30 June 2012 | Blog
Recent Activity
he would rather study than be a part of the team
is Orlando Brown still alive? for some reason, I think he might not be???
we had enough players in the game to spell OHIO 2 and a half times!
didnt see the game, who won MVP...who was player of the year?
I see sheff playing 1 year...running 4.3 in combine and get drafted in the first 3 rounds
If Urban doesn't recognise you...you are probably a thee star....
i kid
i kid
Its funny seeing the names Al Blades, Asante Samuel, and Patrick Surtain all in the same class...
i guess this means i am getting pretty old...
Pro bowl's in Orlando this year fwiw
Hopefully they hire someone who fits their system to a Tee!
His parents can carpool to Columbus with dobbins okudah and Brownings family's
I made that Maurice Clarett video!!!
steve young's mom ran onto the field in one of his games...grabbed the other kid who kneck tackled him...
that seems like more of a funny story than this one
Hope he has a great time!
he could end up having a better career than wilson, maybe even drafted higher...so much can happen
imagine if in 2013 if urban had to make a decision between 5 star texan mike mitchell or 3 star darron lee...what would we all have said?
mitchell mitchell mitchell!
so you never can tell...
if we get marvin wilson, i think we can all guess the player they would ask to greyshirt
A 24 yard pass to Samuel on 3rd & 25 helps...also catching the ball off the defenders back is good too...you can practice all this stuff but in the game you still have to make the plays!
also forgot to list chase young as a commit down near the bottom table...
can never have enough proof readers :)
McCall should return kicks then....something to him touches....I also think lattimore would be a great kick returner...I think the staff saw mccalls td run and said "we need to see what else this kid can do
mccall will prolly take his high school number back when dontre graduates
Word on the street is that he's already committed
a fellow Mainer like myself