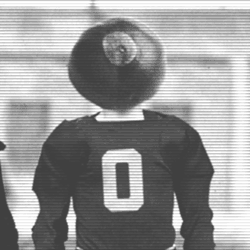 Swaggy
---
MEMBER SINCE October 10, 2017
Recent Activity
Pac-12 refs clearly protecting their top team. Wish the B1G would follow suit.
I don't have very much "inside information" but I was told by someone who would know that Grinch had no say over the defense last year. Schiano essentially had carte blanche over that side of the ball The linebackers walking up to the LOS was all part of Schiano's scheme and we all saw how well that worked out. After the Maryland game last year Schiano was interviewed and had the most pompous, elitist attitude when questioned about the defense. I truly believe that Tennessee fiasco affected him not only as a coach but personally as well. I'll be shocked to see Schiano coach again at any level.
I definitely don't think he got "stupid" overnight. I do believe that the Tennessee debacle totally demoralized him to the point where he felt that he didn't want to be at Ohio State anymore. I do know for a fact that Grinch wasn't to blame for last years defense. That busted scheme that you saw and the subsequent stubbornness to change it when it clearly wasn't working was on Schiano alone.
While I think that Grinch's comments are more sour grapes than anything - anyone who believes that Grinch was the cause of Ohio State's pathetic excuse for a defense last year is misinformed. The 2018 D began and ended with Greg Schiano. Grinch had absolutely no say over scheme, personnel or play calling. That was Greg's defense and his alone. The issues started with him and need to placed at the feet of one Urban Meyer.
Wait...wasn't MSU's D supposed to be the "benchmark" test for Ohio State's O? Wisconsin ain't ready for the ass whooping that's coming their way.
My goodness did we actually recruit that Guarantano kid? He is just awful lol.
Totally agree. It's laughable that THE GAME gets the noon slot while the gotdamn Iron Bowl and the SEC are in prime time with the chance to own the ratings going into the playoffs. Honestly what's the reason why THE GAME isn't a prime time kick? The weather (it's gonna be cold regardless)? Security reasons (all night games are rowdy as hell and The Game wouldn't be any different)? Or is Fox and their Big Noon Kickoff the real culprit here? I remember Gene Smith saying a few years ago that The Game would never be moved to prime time. I just don't understand how at least playing in prime time just once would ruin the tradition of the rivalry. I actually think it will enhance and elevate the rivalry even more.
How in the hell is TAMU ranked but Minnesota and Baylor aren't?
I think I'm out of the loop but what why is there no marquee out of conference game this year?
Lincoln Riley is the best playcaller in college football. I know that Day is only giving Fields a handful of the playbook right now but Oklahoma's playcalling makes me jealous.
Rutgers is a fucking embarrassment
I understand the argument here but this article comes off as arrogant and suggests that Ohio State should look past a "weak" opponent in FAU. I agree with the other commenter that this article could look very bad in retrospect.
It's just good to hear Antwaun's name mentioned by the D-line coach. Glad he hasn't been lost in the shuffle and has a role going forward.
No disrespect to Master but I think Crowley is better than him and will be named RB2.
I just hope that the staff doesn't take a risk by signing a kid in the 2020 class that isn't good enough to play here just to take a body. If that is the case I'd just rather hold pat and sign 2 4*/5* kids in 2021.
-Seeing middle aged men from our fan base wearing the jerseys of 18-22 year olds on game days makes me cringe. That shit is creepy.
-Greg Schiano is a mediocre coach who single handedly destroyed the defense last year. His former Buccaneers players hated his guts and he got way too much clout for winning 11 games at Rutgers in 2006.
-Urban lost his killer instinct the last 2 years at Ohio State. When he didn't politic for Ohio State to get in the playoff in 2017 and 2018 and watching him trot out a one legged JT in the 2017 BTCG solidified this theory.
Ohio State will beat the shit out of Nebraska
I would love to see Ohio State in the Peach mainly because I work for Chick-fil-A and would be able to get free tickets.
Eh...his comment was a little off color but it's just crazy how bitter some Ohio State fans are of Dabo. The man is a great coach plain and simple who 31-0'd and flat out embarrassed an Urban Meyer team in the playoff semis. As I've said before I'm just as big of a Buckeye as anyone else here but Dabo has my respect as a football coach. Some fans need to lose the bitterness and jealousy towards Dabo and Clemson. Ryan Day will lead us to the promised land soon enough.
Disagree. Greg was the reason Ohio State almost lost to Nebraska and Maryland. He was too stubborn to change his scheme and needed to go.
I've been saying this all along and I'll say it again. Ryan Day is going to kill it at Ohio State. With all due respect towards Urban and all of Day's predecessors Ohio State has never had a head coach with the offensive acumen that Ryan Day has. Chip Kelly knows this and so does Urban (hence his recommendation and endorsement of the in house hire). Louis Riddick has even praised his passing concepts and the job that he did developing Dwayne. I'm laughing at the poor fools from UM and the rest of the nation that think that things are going to be easier for them now that Urban is gone. Ryan Day is going to win a ton of games at Ohio State. He got rid of the dead weight on the defensive staff and got his guy at QB. This is a new era for Ohio State football and the rest of the country doesn't even know how fucked they truly are.
I feel that Ohio State is going to be in the running for most of the top players in the country on the offensive side of the ball, especially after this year when Ryan Day can showcase what kind of brilliant mind he is as a head coach. You're already seeing it in play - what other school besides Clemson has the clout with quarterbacks and receivers that Ohio State does right now? I do think Ohio State is going to be a DISRUPTIVE force under Ryan Day but I'm a little worried about defensive recruiting. It all depends on how this new staff works together and whether or not Hafley and Mattison can clean up the shitshow on defense that Greg Schiano left behind.
I truly believe that Bill Davis fucked up Browning's development up to this point. I hope Al Washington makes this a true competition and puts the best backers on the field. If Browning doesn't start then so be it but Davis and Schiano surely didn't develop him.
Florida had the more aggressive coach, the better D line and as a result they beat the living shit out of us.