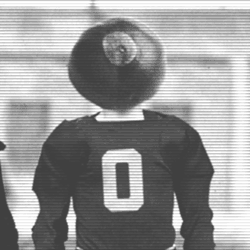 SuperFanBuck
---
MEMBER SINCE April 29, 2016
Recent Activity
Missed most of the first half where can I see a replay? Didn't find the full game on YouTube.
Unfortunately missed most of the first half. Will there be a full replay available on BTN? YouTube?
Sloooooooww time for recruiting, sheesh. Legend better kick things off soon and let's get this thing rolling.
Wasn't this kid getting owned by most O-lineman at the opening regionals?
Photos like this are nearly impossible to judge heighth, a lot of times it's an illusion because of one guy being closer to the camera, etc. Having said that, Thomas looks like he's fairly close to the other guys.
This was just speculation that the coaches could've given him a contingency, but personally I doubt that his offer isn't commitable right now. They held off for quite some time before pulling the trigger, probably just doing their due dillegence in evaluating him. OSU likely already knows he grows into a DE at 6'5.
Referring to when Thomas camps here in June.
Christman looks like a man who plays with bad intentions.
Would love to see him come in around 330 and a bit lighter on his feet. Learn for a year or two and earn his stripes then really start to compete for big boy playing time.
I thought NPF redshirted? This says he's a true soph. If that's true what a terrible waste of a year with his unlimited future potential.
Crap! Just tuned into NFL network and it just got over with. Will there be a replay anywhere?
Time to get our first defensive commit of 2020! Go get em Hafley!
Solid commentator, I have no issue with his analysis, I just get tired of his voice over the course of a game.
Let's get Zinter on board
This happens every season where there is a discrepancy in numbers between what's on the ticker, nfl.com, and other sources. I'm not sure why honestly, always been a mystery to me.
What?? Romo is amazing! Superstar commentator and analyst.
Booger and Witten are both awful.
Best part is when he gets back to Columbus he will have filled out considerably and will be like 21-22 years old by the time he's competing for serious playing time. He could be a very important piece to our OL In the future. I like it!
Sucks if the news on Nester flipping is true, I think he'll be a very good player at this level, but he's been trending away for awhile it seems.
Just a side note about one of our other OL candidates. I'm not sure why so many are excited about the kid from Hawaii. He won't even be here with the potential to make an impact until 3 years down the road. According to Bill Greene on the Morning 5 he said after his freshman season he goes off to do his 2-year mission as the kid is Mormon. So essentially, we know he won't contribute his true freshman season, then he leaves for 2 years and wouldn't be back in the program able to compete until like 2022.
He's a good looking prospect, but the 2-year hiatus for a Mission trip really takes the luster off his commitment.
This is a weird situation in my opinion, not sure what to make of it. Ohio guy leaving after one season here? He likely would've been promoted to sole DC in another year after Schiano moves on.
Big blow. Was hoping to see him back at left guard next season.
It's nothing new... been going on since Urban got here. We've had very unfortunate luck with our commits and also freshman getting injured. Seems like it's usually knee or shoulder injuries.
There doesn't need to be "creativity" in the offense, we aren't Oregon. There needs to be execution in the run game and a balanced attack instead of throwing it 73 times. A successful run game would cure all as we already know Dwayne can sling it.
I think it's chemistry with who's out there. I never did like the Jordan move to C and still don't. Just seems like a weird switch, like they are overthinking things. His natural position is guard, let him continue to excel there. The fact that we couldn't find someone else good enough to man that spot and command the line calls, snap the football, etc, is pretty darn pathetic.
I truly feel like it's chemistry moreso than scheme with the run-pass option game. Hell other teams are able to execute their running game out of the same offense, we should be able to do the same. It's the players who are out there in my opinion, and that falls directly on Studwara.