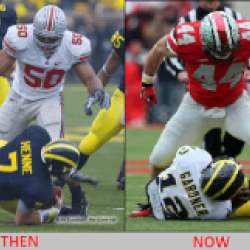 SuperBuckFan08
Columbus Ohio
Member since 31 August 2010 | Blog
Favorites
SPORTS MOMENT: Holy Buckeye & Holy Buckeye 2.0
COLLEGE FOOTBALL PLAYER: Antonio Pittman/Ted Ginn/Troy Smith/XBrax360
NFL TEAM: Cleveland Browns
NHL TEAM: Blue Jackets
NBA TEAM: Lebron
MLB TEAM: Indians/Reds
SOCCER TEAM: Crew
Recent Activity
Honestly, he would best showcase his talents with the Browns. Of this I'm sure
Let's be honest, the BEST thing the Browns could do would be to pick up Cam Johnston. Talk about a perfect fit for their offense lol
Well ain't that just peachy?
ill see myself out...
My fault, suited up for the good guys
While I find it hard to believe that we will have the same production in the back end like we did this past season, I will be definitely hoping for similar results
We love recruiting tall receivers but I can't for the life of me remember really seeing a guy make an impact that was over 6'2" or 6'3"
correct me if im wrong though
He had a critical block for Miller that allowed him to turn the corner just before he hit that epic spin cycle
What has been seen, can't be unseen
So when we hang 100 on Va Tech, we should be unanimous up until Michigan State .
I feel ashamed to ask this but what is the premium lounge? I thought it was just a running joke. I feel I have shamed myself because I damn near religiously keep up with the site and that goes over my head
Is this the destruction of Namek?!
either way. This was the sole reason for me to login. All DBZ references get up votes from me
"Go photoshop a win" that's my winner. It was beautiful and I might have cracked a rib thanks to the sudden laughter
I believe this has just made my day.
Consider me a fan of his name to start with. I imagine buckeye nation could get all kinds of creative with that if he pans out to have a great career
So we just might get a rematch against Minnesota. In a dome. With heat.
It never hurts but isn't T. Gibson pretty tall? C Jones we all know is pretty built too.
Record for most rushing yards by a qb in a game too?
I hate upvoting anyone with pride for TTUN so stop posting in such a well mannered and positive, informative demeanor.
That being said. I appreciate the info
Good post but I'm a little confused on the use of the male "excitement" tool at the end.
Hey look, there's a beam of light in this dark times. Barrett just has to get the ball out of his hands and into EZE's and the skill guys around him and we will be fine.
Coach Coombs definitely just came up with the best name for Saturday yet.
#SuperSilverBulletSaturday